Estimated read time: 2-3 minutes
This archived news story is available only for your personal, non-commercial use. Information in the story may be outdated or superseded by additional information. Reading or replaying the story in its archived form does not constitute a republication of the story.
(Photo courtesy Jake Spurlock)
News release
EAGLE MOUNTAIN -- Utah County's first free bike park—designed and built completely by volunteer—held its grand opening Saturday afternoon.
The Mountain Ranch Bike Park at Eagle Mountain features three downhill trails, a jump line, a pump track and a skills area where riders of all levels of experience can hone their skills.
"We wanted to build a park that would allow for skill progression and appeal to a wide variety of riders," said Cougar Hall, who worked with fellow Eagle Mountain resident Darin Garrett to conceptualize and guide the development of the park over the last two years.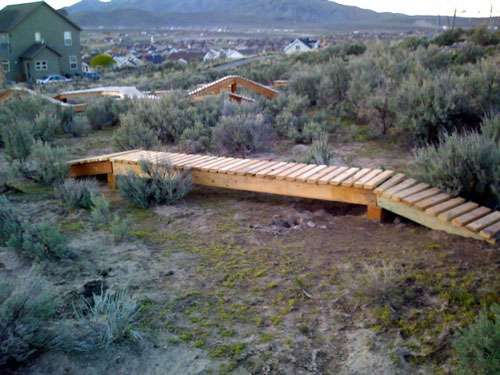 The park, which sits on a 20 acre utility easement—was built in cooperation with the local HOA, citizens of Eagle Mountain, The City of Eagle Mountain, and the Wasatch Area Freeride Trails Association (W.A.F.T.A.)—making it a unique partnership between city government, private industry, a non-profit organization, and volunteers.
Hall and Garrett first thought of pursuing building a park after they vacationed in Canada. Recently, bike parks have been springing up in communities across the country from Boise, Idaho to Boulder, Colorado to Park City, right here in Utah. Similar to the movement to build municipal skate parks, cities are now increasing considering bike parks, putting Eagle Mountain on the cutting-edge of this latest recreation innovation.
"The bike park is a great destination for an afternoon of riding that the whole family can enjoy. It's a great addition to an already fantastic community," said Garrett.
But Hall and Garrett see the bike park as much more than a recreation destination. "Parks of this type offer communities, and especially young people, an opportunity for fitness outside of traditional activities like youth baseball and soccer. Our hope is that the bike park will introduce the next generation to a healthy and fun pursuit that they can enjoy into adulthood." said Hall.
Garrett added, "It's been great to see kids in the community get excited about the park. It is clear that there was a need for a park like this in our area."
The bike park is free to the public, open from dawn to dusk each day, and will be maintained by the City of Eagle Mountain with the continued help and support of local bikers.
For more information or to get directions to the park—which is located at 3450 Golden Eagle Road, Eagle Mountain, visit www.mountainranchbikepark.com.
(Courtesy: Mountain Ranch Bike Park)
×
Most recent Utah stories