Estimated read time: 2-3 minutes
This archived news story is available only for your personal, non-commercial use. Information in the story may be outdated or superseded by additional information. Reading or replaying the story in its archived form does not constitute a republication of the story.
SALT LAKE CITY -- Two separate lawsuits charge the Department of Interior improperly withdrew a series of oil and gas leases in three Utah counties. Now the counties, as well as the energy companies, are taking Interior Secretary Ken Salazar to court.
The lawsuits claim the leases were bought and paid for, then improperly withdrawn. It's ultimately a fight over environmental concerns in an area rich with natural resources.
Oil and gas drilling operations are crucial for the economies in Uinta, Carbon and Duchesne counties. The counties' lawsuit cites that potential loss in the hundreds of thousands, even millions of dollars.
The counties' attorney Mike Lee said, "These are counties that really rely on this revenue, that can't live without it. They can't operate without it."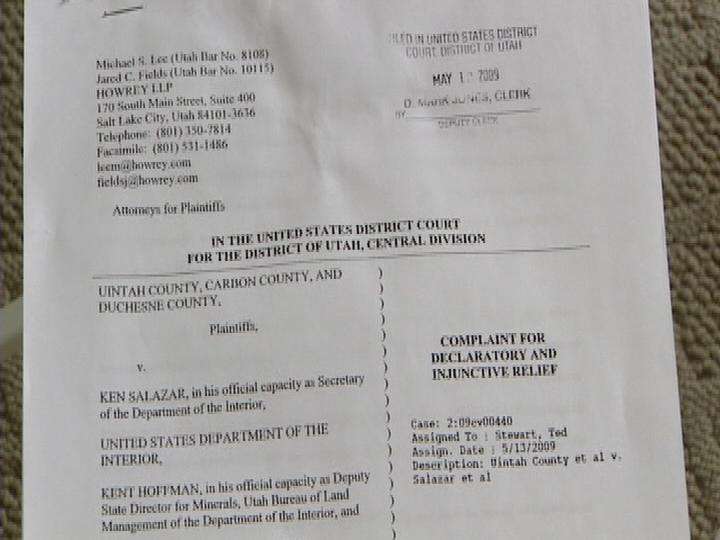 The lawsuit claims the Interior Department reversed itself improperly after saying oil and gas drilling was OK on 77 parcels. It happened in February, about two months after the leases were sold.
The reason for the sudden change is officially "environmental concerns."
Environmental groups like the Southern Utah Wilderness Alliance say the Bush Administration rushed to grant permits near Utah treasurers like Arches, Canyonlands and Nine Mile Canyon.
Heidi McIntosh, with the Southern Utah Wilderness Alliance, said, "There wasn't really anything done site specifically, the environmental impact studies they did were shabby, in their look at the damage oil and gas was going to cause."
"They're confident it was undertaken the right way," Lee said. "That the proper steps were completed."
Politically, the lease withdrawal is causing Secretary Salazar problems.
Utah Sen. Bob Bennett cited that as a reason to put a "hold" on David Hayes, the nominee for Assistant Interior Secretary. On Wednesday, Bennett said, "The problem here has to do with the credibility of the Department of Interior. They've made a series of statements that aren't true. They say the leases are too close to the national parks. Sixty miles away is not too close."
Oil companies have filed a separate lawsuit also claiming the Interior Department improperly called off their drilling deal.
E-mail: rpiatt@ksl.com
×
Related stories
Most recent Utah stories