Estimated read time: 3-4 minutes
This archived news story is available only for your personal, non-commercial use. Information in the story may be outdated or superseded by additional information. Reading or replaying the story in its archived form does not constitute a republication of the story.
SALT LAKE CITY -- Drug agents in Utah are gearing up for what may be another busy summer searching for huge marijuana plantations hidden away in Utah's mountains.
The pot grows create numerous issues that go far beyond more drugs on the streets, including trash, chemicals and the potential for violence against those who may unknowingly discover the illegal operations.
Last summer was the busiest ever for the Drug Enforcement Administration in Utah. The agency investigated 11 pot-growing sites on public land in the state; more than 90,000 marijuana plants were seized.
On July 30, 2008, 7,500 marijuana plants were seized in Washington County. A month later, 15,000 plants were destroyed in Iron County. Then, law enforcement officials said it was probably the largest marijuana grow in Utah history.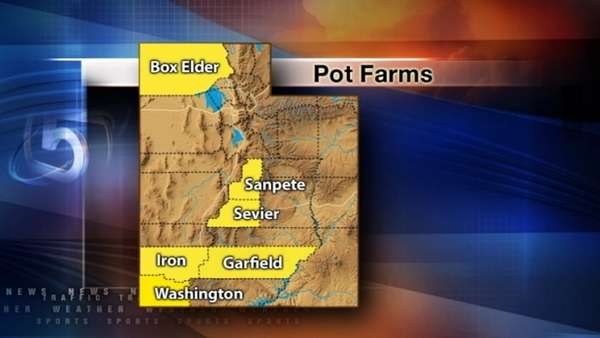 Within a day or two, however, there was another record setter. This time it was in Sevier County: 18,000 marijuana plants burned. A handful of other grow sites were also busted in Utah in late summer and in mid-October
Deer hunters found a site in Sanpete County, the whopping 23,000 marijuana plants had a street value in the tens of millions. Two suspects were arrested as they tried to run from their makeshift camp.
At the Sanpete County site, law enforcement found what they had seen in other grow sites over the summer: natural springs and hundreds of feet of irrigation piping, with sprinklers to water the plants. Garbage was everywhere, including containers of fertilizer and other chemicals, some used to spray the plants for bugs.
All the marijuana plantation busts were complex operations, requiring a summer of hard work that was all for nothing. "It's pretty intensive. It is not something you throw in the ground and come back next fall and hope you have a good crop. That's not the way it works," said DEA Supervisory Special Agent Michael Root.
The drug cartels have encountered more trouble smuggling marijuana across the U.S.-Mexico border since 9/11, so they've moved growing operations to the United States.
California, Oregon and Washington have dealt with the issue for years. Drug lords are now seeing the green in Utah -- remote areas, but with easy access to interstate freeways -- to ship their product to California and the Midwest.
One of the reasons pot operators are migrating to Utah may surprise you. "They are not legitimate businessmen. They are out there breaking the law, so to steal from another marijuana grower is not beyond them," Root said.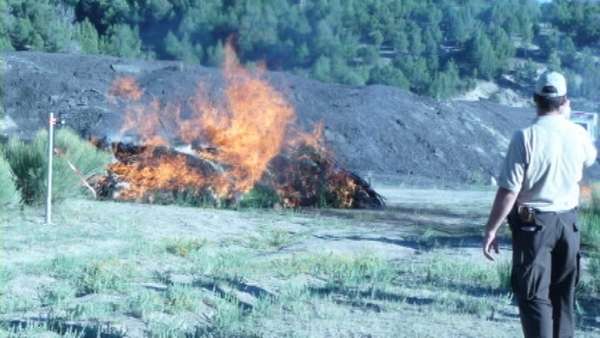 In other words, rival growers often steal another's crop that is left unguarded, and many growers are searching for new areas to plant. They're also arming themselves with guns, as evidenced in every bust last summer.
"Every grow had a weapon associated with it, whether it is for keeping away animals or warding off other growers trying to steal their stash. So, there is that element of danger associated with firearms at these grow sites," Root said.
Most of the suspects arrested were illegal immigrants hired to do the work. For those operations that are harvested and make it to the street, the payday is millions of dollars.
"This is an expensive cash crop, and if it is successful, they are looking at a big profit. If it is unsuccessful, they are looking at 10 to 20 years in federal prison," Root said.
DEA agents warn that if you stumble upon a pot grow, you should leave quickly and quietly. They also ask that it be reported to the nearest sheriff's office.
Local DEA agents are in yearly training right now, preparing to cleanup and destroy the marijuana plantations they expect to find in Utah later this summer.
E-mail: spenrod@ksl.com
×
Most recent Utah stories