Estimated read time: 2-3 minutes
This archived news story is available only for your personal, non-commercial use. Information in the story may be outdated or superseded by additional information. Reading or replaying the story in its archived form does not constitute a republication of the story.
SALT LAKE CITY -- A Utah woman is out thousands of dollars and had to cancel all her online accounts, including bank accounts, PayPal and e-mail. It's all because of a virus she got from Facebook.
"I keep on thinking back to that one click to that one e-mail that was sent to me, and that opened Pandora's Box," Joanna Hudson said.
What Hudson clicked on seemed harmless enough, a link from a trusted Facebook friend. In the subject line: "Last Video" or "Video from the last party."
When she clicked on it, something started to download and she canceled it.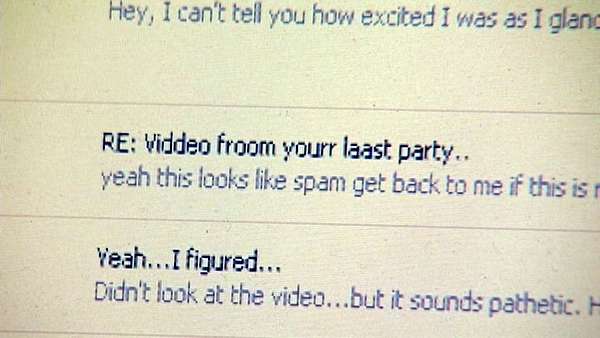 "I thought everything was fine until I started getting calls from people who said they were getting e-mails from me that were out of character," Hudson said.

Her Facebook account had been hacked. Hudson thought changing her password would take care of it, and she didn't get back online for a week.

"When I came back and logged onto my bank account, the balance was zero," Hudson said.

It was much more than just Facebook. The hackers worked their way into her PayPal account and spent $3,000.

"They bought something from a place called Foxy Roxy. I have no clue what that is," Hudson said.

Her e-mail accounts were also hacked, and they were reading her e-mails. "Someone had got on and was forwarding all my personal e-mails to darknight@gmail.com," she said.

**Online account safety tips:**

- Change passwords frequently - Don't use same password for all online accounts - Don't open any questionable videos/links from friends until you've talked to them

Hudson was told to go to the FBI's Internet Crime Complaint Center at [www.ic3.gov](http://www.ic3.gov/default.aspx). From there, it's now Petra Castleberry's case. "This is called the 'Koobface' worm," Castleberry explained. "What this worm is looking for is your cookies and browser, and see if you have logins."

Castleberry says it's been around a while but is more sophisticated now and targets social-networking sites. "Facebook is working on way to correct the problem," she said.

Meanwhile, Hudson is working with PayPal to get her money back. "I'll get my money back, and I'm not going to screw up in the future," she said.

E-mail: abutterfield@ksl.com

×
Related links
Most recent Utah stories