Estimated read time: 2-3 minutes
This archived news story is available only for your personal, non-commercial use. Information in the story may be outdated or superseded by additional information. Reading or replaying the story in its archived form does not constitute a republication of the story.
John Hollenhorst ReportingRoger I. Price, Personal Choice Party Senate Candidate: "I don't know what I would have done if I'd got elected senator. I'd throw my hands up and say, 'Oh, what the heck do I do now?'"
27-thousand Utah voters chose this man's party as their straight-ticket preference when they went to the polls yesterday. Was it all a big mistake?
You might call it the "Smiley Face Foul-up." It probably didn't affect the outcome of any actual races, but it certainly ran up some big numbers for a previously obscure party and a man who is pretty handy with an axe.
Did you fall for the Smiley Face? This symbol sucked in a lot of people, since it was near the top of the ticket. In fact, in ten Utah counties, more people chose this party than chose the Democratic party.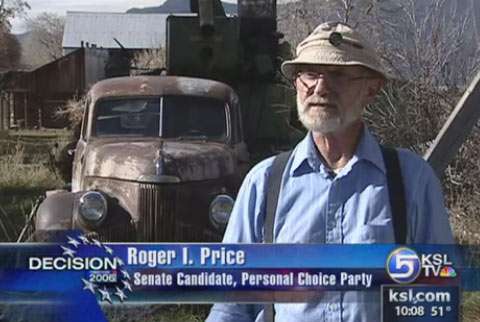 Roger Price ran for the U.S. Senate because, like Lincoln, he believes in freedom.
Roger I. Price, Personal Choice Party Senate Candidate: "We have so many people that don't understand what liberty is, what freedom is."
It was his good luck to align himself with a party that stood out boldly near the top of the straight-ticket option on the ballot; a bright yellow smiley-face labeled "personal choice". Many voters evidently thought it meant, 'I want to personally choose my candidates."
Sherrie Swensen, S.L. County Clerk: "And they were touching that smiley face thinking it didn't mean a particular party, but it is a ballot-qualified party."
The result was something of a triumph for the Personal Choice Party. A highly respectable 27,000 voters selected it, indicating they were voting a straight party ticket. Contrast that with 916 for the much better-known Libertarian party.
Roger Price: "I don't care whether I benefitted or not. What I wished was people would listen to my message and take it so they could benefit themselves and each other."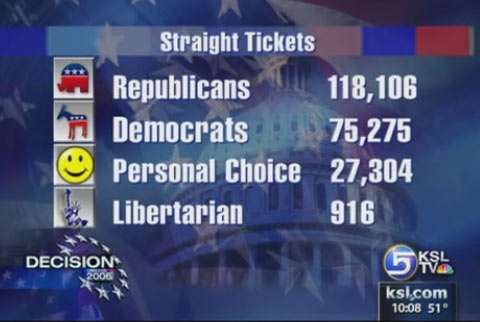 Actually, most voters caught their error when they went down the ballot to the senate race. On thousands of Personal Choice straight tickets, Price's name was de-selected. He still got almost 9000 votes, a stunning number for an unknown candidate, but he's disappointed.
Roger Price: " I wanted to get people to think. I was hoping I'd get more people to think."
He says if voters were confused they should have read the ballot more carefully.
Roger Price: "You see, liberty is a duty! It places responsibilities on us."
By the way, the Salt Lake County clerk says the Personal Choice party did better than ten percent on the straight party selection. That means they automatically qualify to be on the ballot next time.
×
Related Links