Estimated read time: 5-6 minutes

This archived news story is available only for your personal, non-commercial use. Information in the story may be outdated or superseded by additional information. Reading or replaying the story in its archived form does not constitute a republication of the story.

OGDEN -- Two teenagers on their way home from playing basketball Wednesday night were killed in Ogden when suspects fleeing from police plowed into their car.

The two boys, 18-year-old Derek Jasper of South Ogden and 19-year-old passenger Blake Strebel of South Jordan, were roommates who worked together at Dominos Pizza.

Teens killed while driving home

Before Jasper and Strebel went to play a game of basketball, they had worked their shifts at Dominos. Co-workers Deon Taylor and Jill Koer were working with them the night they were hit.

"We were the last ones to see them alive," Taylor said.

"They always had smiles, made you laugh. They would say, 'Oh, doggies!'" Koer said.

The two could hardly believe it when they the boys never mad it home from work. "I'm shocked," Koer siad.

Jasper and Strebel were driving through the intersection of 28th Street and Washington Boulevard just after 10 p.m. when they were T-boned by a Cadillac that was fleeing from police.

![](http://media.bonnint.net/slc/1090/109008/10900856.jpg) **Blake Strebel** - 19 years old - From South Jordan - Working at Domino's Pizza - Attending Weber State Univ. - Studying to be police officer - Coaching hs lacrosse team - Had just asked grandparents for list of memories

"The Cadillac ran the stop light at 28th and Washington Boulevard and struck a northbound vehicle driven by the two victims," explained Ogden police Lt. Scott Sangberg. Police say Jasper and Strebel died at the scene.

The driver of the Cadillac, 17-year-old Mark Mora, was knocked unconscious. His passenger, 21-year-old Andrew Gomez, fled on foot, but officers caught him and arrested him.

At a press conference Thursday morning, Ogden Assistant Police Chief Randy Watt said, "This is a tragic and terrible event that occurred, and we wished it wasn't so."

The burglary that led to the chase

The chase began when police tried to pull Mora's vehicle over because it matched the description of a vehicle that had been involved in a burglary earlier Wednesday morning.

![](http://media.bonnint.net/slc/1090/109008/10900872.JPG )**Derek Jasper** - 18 years old - From South Ogden - Graduated from Bonneville HS - Working at Domino's Pizza - Expecting LDS mission call next week - Planned to go into law enforcement - Family said he loved to sing

Just after 11:30 a.m., police say two men were spotted burglarizing an Ogden home. Eyewitnesses gave police a license plate number and physical descriptions of the suspects and their car. Throughout the day, police searched for that vehicle. At one point Wednesday afternoon, officers spotted the vehicle but decided not to pursue because of the large amount of traffic.

Then, just after 10 p.m. that same day, an officer spotted the Cadillac in the same general area, tried to pull it over, and began pursuit.

The chase only lasted two minutes, then ended with the deadly crash.

Ogden police say they followed protocol

The Utah Highway Patrol is now heading up an investigation into the chase and the crash that killed two teens.

Based on the information available right now, the Ogden City Police Department says the officer did exactly what she was supposed to do and followed protocol.

"At the current time there is no indication that our officers did anything wrong," the Ogden Assistant Police Chief Randy Watt.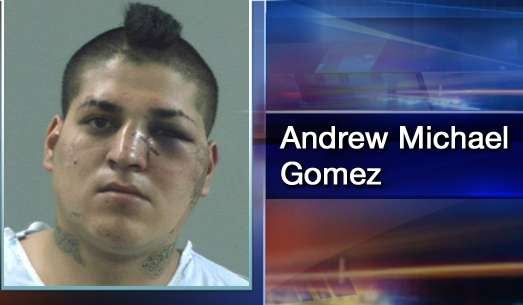 He said the Ogden Police Department has a history of shutting down pursuits. In fact, they shut down a pursuit on the same car earlier in the day.
Watt says officers always consider time of day, traffic and gravity of the offense as they give chase.
"It's a constant balance for us, between accomplishing the mission the police department has in protecting its citizens against risk," he said.
Suspects' families speak out
The mother of Gomez and grandfather of Mora showed up outside of the Ogden police station Thursday morning to speak to the media. They claim no lives should have been lost and the chase should not have even happened.
"If the police had handled this in the intelligent way, it wouldn't have happened," Mora's grandfather, Eddie Mora, said.
Related:
Gomez's mother, Stacey Mora, expressed her sorrow for the death of the two teens. She said, "I'm so sorry. I just can't imagine how my son feels, I mean, my heart goes out to them. I can't even express how I feel, what they're going through. I'm so sorry. If I could've done anything to change it, I would've."
Stacey says her son was not involved in a burglary and that he likely fled from police because he had been harassed by Ogden police officers in the past. [Click here to hear more from the suspects' families.]
Suspects had a history with police
Police say both suspects are known gang members and have a lengthy criminal history. However, officers will not say if Mora and Gomez are the two wanted for the initial burglary.
The Utah Highway Patrol is heading up an investigation into the chase and the crash to determine exactly what happened.
The suspects are expected to face numerous charges dealing with reckless driving and vehicular homicide once they are released from the hospital.
------
This story compiled with contributions from Sarah Dallof, Andrew Adams and Shara Park.
×
Photos
Most recent Utah stories