Estimated read time: 2-3 minutes
This archived news story is available only for your personal, non-commercial use. Information in the story may be outdated or superseded by additional information. Reading or replaying the story in its archived form does not constitute a republication of the story.
MOAB -- After decades of controversy, a huge pile of radioactive waste near Moab is finally on the move. A train load of waste is expected to pull out of Moab Monday evening -- the first of thousands of trains over the next decade or two.
The pile of red dirt blends into the red rock scenery so well, it's hard to make out how big it is, but "big" is the word. There are 130 acres of uranium mill tailings, 16 million tons of radioactive waste.
Many Moab residents will be glad to get rid of it. "This is one of the happiest days in our town's history, actually," said Mayor David Sakrison.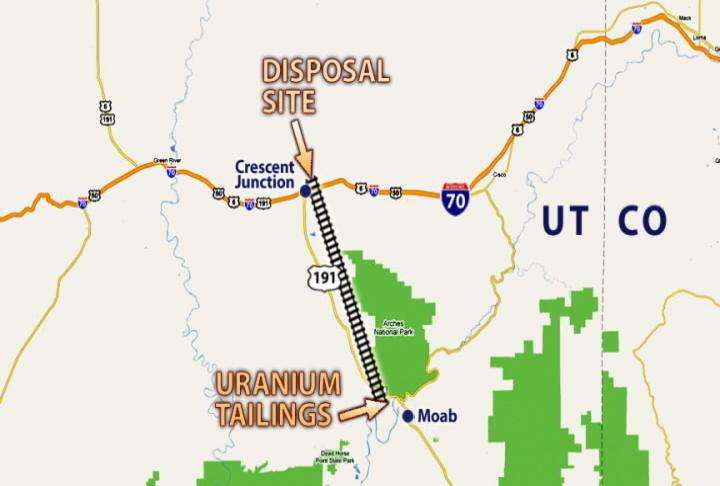 The waste is being loaded into sealed containers and hauled by truck to a nearby railroad. Trains will haul the waste 30 miles north, nearly a train a day for at least 10 years. Near Crescent Junction on Interstate 70, the radioactive red dirt will be placed in a covered disposal cell.
The hot dirt was left alongside the Colorado River when the Atlas uranium mill shut down 25 years ago. Many considered the mildly radioactive pile a black eye to Moab and a threat to drinking water for millions of people downstream. After years of battles, Congress agreed to fund the removal.
The overall cost will likely approach $1 billion, and the lion's share of the contract will go to Utah's big radioactive waste company EnergySolutions. All those dollars should give Moab a boost.
"It's really going to help economically. We're going to employ about 150 people out there, and good-paying jobs and good employment," Sakrison said.
The Obama administration is speeding up the project with $108 million in stimulus money. The completion date is 18 years out, but if the money keeps coming, it could be finished in 10 years.
The Atlas uranium mill was built in 1956 by legendary prospector Charlie Steen. When the uranium market went into steep decline, the mill closed in 1984.
E-mail: jhollenhorst@ksl.com
×
Related stories
Most recent Utah stories