Estimated read time: 1-2 minutes
This archived news story is available only for your personal, non-commercial use. Information in the story may be outdated or superseded by additional information. Reading or replaying the story in its archived form does not constitute a republication of the story.
WEST VALLEY CITY -- Forty intricately carved eggs are on display in West Valley. The eggs are unique, all done by a Utah artist, by hand.
Brian Baity uses a modified dentist's drill to carve the hollowed out ostrich and emu eggs with precision. To him, the sound of the drill is relaxing, no matter where he is.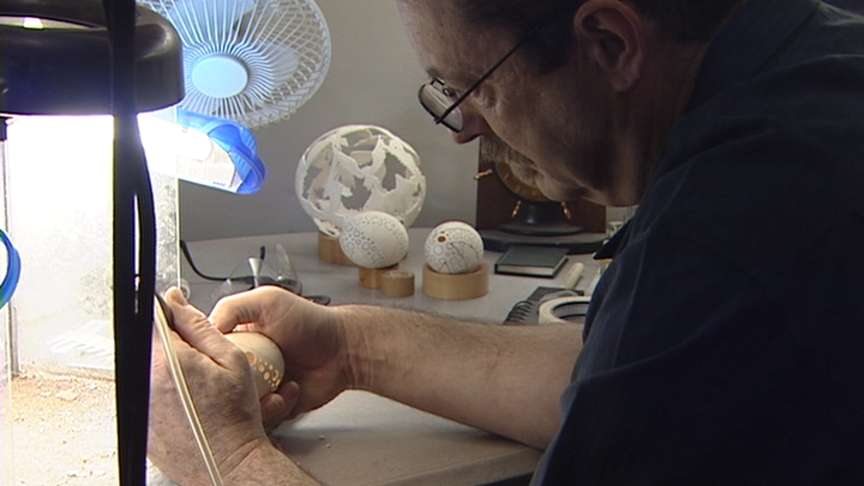 "Like everyone else, I hate the dentist. The last time I fell asleep," he said.
"This is therapy," he said of his craft. "After a stressful day, I'll come and carve."
Brian has only been carving for four years. He started because it was a challenge. "I've pushed egg shells beyond what a lot of people do," he said.
Now even he admits he's pretty good at it. "They're beautiful. It catches people's attention," he said.
The collection of his eggs on display at the Utah Cultural Celebration Center have drawn about 100 people a day.
Jessica Lowry saw the eggs. "The detail, like the swirls, it's amazing how he can maintain those angles and stuff," she said.
Another admirer, Peggy Fletcher, said, "They're just fantastic."
Perhaps the most fantastic egg took 200 hours to make. It was on display at an art museum in New York for a month and would sell for thousands of dollars.
The next major project for Brian will be a parakeet egg. Only a hummingbird egg is smaller, and there are laws against getting those.
You can see Brian's eggs on display at the Utah Cultural Celebration Center at 1355 W. 3100 South in West Valley. The exhibit is free, and runs Monday through Thursday, 9 a.m. - 6 p.m., until Thursday, April 30.
E-mail: abutterfield@ksl.com
×
Most recent Utah stories