Estimated read time: 2-3 minutes
This archived news story is available only for your personal, non-commercial use. Information in the story may be outdated or superseded by additional information. Reading or replaying the story in its archived form does not constitute a republication of the story.
SALT LAKE CITY -- Tuesday's gas leak in Salt Lake City triggered a mass notification of tens of thousands of people and an orderly evacuation of the University of Utah campus. That was possible thanks to new alert systems at the university and in Salt Lake City.
The University of Utah's technology team issued an alert detailing the leak and possible road closures. It went out at 3:10 p.m. to the entire campus. 70,000 people got an e-mail; 20,000 got a text message on their cell phones.
A mile away, at Salt Lake City's public safety building, the fire department's technology director got on the city's new InstaCom alert system, which sent a recorded phone message to 3,500 phones telling people to evacuate.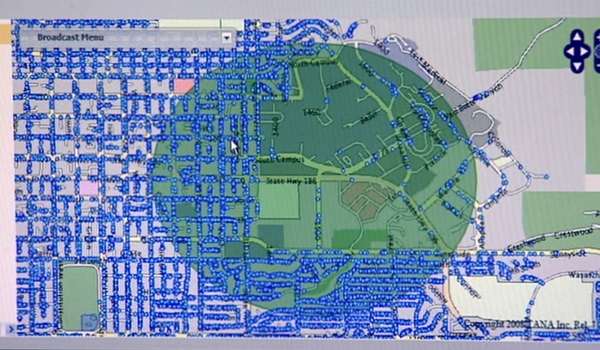 A little later, the university issued a second alert, saying the campus had been closed.
All Utah campuses now have such systems, which were installed in the wake of the mass shooting at Virginia Tech in 2007. The new systems make it much easier to disseminate critical information.
"Prior to this, it was a matter of 'OK, we're going to call department chairs and deans and they're going to get information out,' and it was very cumbersome and difficult to do. So, this is great to have in place," said Les Chatelain, special assistant for emergency management at the University of Utah.
Salt Lake City just installed its system in January, with the help of an $180,000 federal Homeland Security grant.
"The system is incredibly valuable. It allows us to notify literally thousands of individuals simultaneously of the need to protect themselves and their families," said Dave Herrmann, technology director for the Salt Lake City Fire Department.
At 5:42, the university issued an "all clear." The danger was over and, thanks to the new system, confusion seemed to be at a minimum.
Both systems save a lot of time for fire crews, who can go to the scene rather than having to evacuate a neighborhood door-to-door.
If you received an evacuation alert Tuesday afternoon, you can give the fire department feedback about how things went by clicking HERE.
E-mail: jdaley@ksl.com
×
Related links
Most recent Utah stories