Estimated read time: 2-3 minutes
This archived news story is available only for your personal, non-commercial use. Information in the story may be outdated or superseded by additional information. Reading or replaying the story in its archived form does not constitute a republication of the story.
OGDEN -- The former police officer hailed as the Trolley Square hero pleaded no contest to sexual battery today. The charge stems from an incident involving a 17-year-old girl in 2005.
Ken Hammond was supposed to have a hearing today to determine whether that felony case would go to trial. Instead, he took a plea deal, avoiding the possibility for a felony conviction.
With his attorney beside him, Hammond pleaded no contest to sexual battery, a class A misdemeanor. In exchange, prosecutors dropped the felony charge of unlawful sexual conduct with a 16- or 17-year-old.
In court, we heard details of the allegations for the first time. Prosecutors say on July 12, 2005, an 18- year-old girl called police to report a disturbance in the parking lot of her apartment complex. Hammond responded to that call and took a report from that 18-year-old and her 17-year-old friend.
Prosecutors say Hammond left around midnight and returned an hour or two later. They say Hammond was in the teen's apartment when the 18-year-old encouraged her 17-year-old friend to perform a sexual act on Hammond, which she did.
Hammond was in uniform and on duty when the incident occurred. Prosecutors say there was no reason for him to have been there.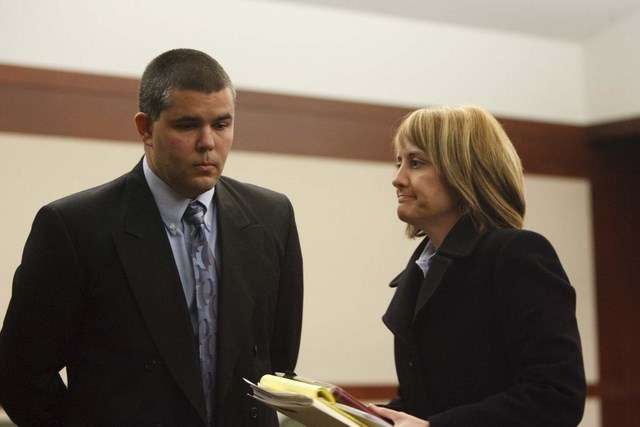 "There was no follow-up investigation going on. The call had been terminated prior to midnight, I believe, on the incident call, initially," said Deputy Weber County Attorney Christopher Shaw.
After the hearing, Hammond let his attorney do the talking. The attorney said Hammond does not agree with the facts that prosecutors presented, but he took the plea deal to avoid a possible prison sentence. If convicted, he would have also had to register as a sex offender.
"He's had an opportunity to talk to his wife ... and his mother and father and other family members and friends with regard to all of this. And he's at a point in his life where he would like to move forward, and he would like all of this to be done with," said defense attorney Brenda Beaton.
Hammond resigned from the Ogden Police Department in January, but he's also dealing with a civil complaint filed against him by a woman who claims he used excessive force and assaulted her during her husband's arrest in May of last year.
Hammond will be sentenced for this sexual battery charge next month. He could face up to a year in jail. Prosecutors say the 17-year-old girl, who reported the indent only last year, is satisfied with the plea deal.
-----
Story compiled with contributions from Sandra Yiand Randall Jeppesen.
×
Photos
Related stories
Most recent Utah stories