Estimated read time: 1-2 minutes
This archived news story is available only for your personal, non-commercial use. Information in the story may be outdated or superseded by additional information. Reading or replaying the story in its archived form does not constitute a republication of the story.
More than 100 soldiers returned home today from Iraq, and a woman who sent them hundreds of care packages while they were away was there to greet them.
Last October, Linda Larsen was packing goodies to send to her son's task force. Today, those soldiers returned home to cheers.
Larsen's son Christian won't come home for another week or so, but she had to support the Ghost Rider Task Force. The group received care packages through her Operation Adopt a Ghost. "We shipped 1,272 pounds, 813 boxes. So, we've shipped a few boxes while they've been gone," she said.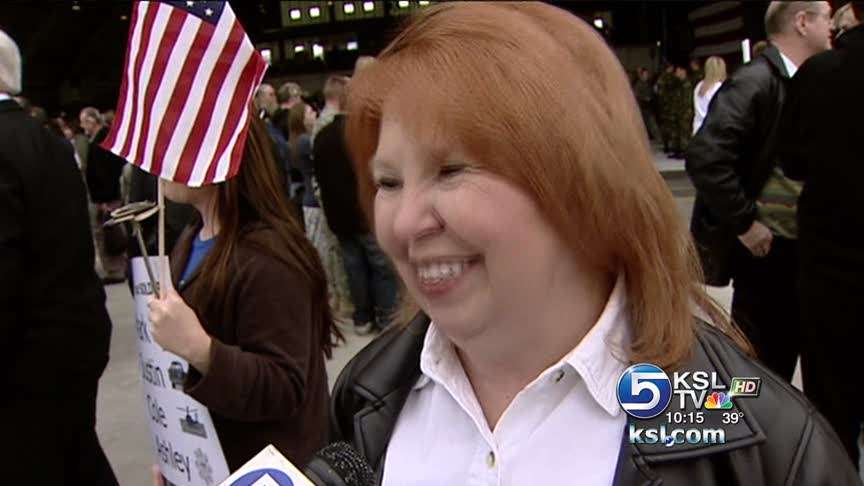 Larsen started the cause because her son told her there were soldiers who never received anything in the mail. Her group sent hundreds of letters, toiletries, Halloween candy and Christmas bags to nearly 200 soldiers from Utah and New Jersey.
"Whenever I'd get a box -- or several boxes, in most cases -- we'd send out a group-wide e-mail, and usually within 30 or 40 seconds I'd have people pounding down the door," said Capt. Gene Whitmore, of the Utah Army National Guard's 2nd Battalion.
Whitmore was the group's chaplain. His spiritual guidance also included making sure the troops were taken care of.
"When we receive a package, it shows that Americans still support what we're doing," said Sgt. Gary Darcey.
"It was nice to know they weren't forgotten, that their absence, however small their part was, their absence was noticed," Whitmore said.
Today their actions were applauded.
Larsen says her group has spread across the country, and she hopes more people will join in. If you'd like to help with Operation Adopt a Ghost contact Larsen at 801-668-0928, or e-mail her at llarsen@weber.edu.
E-mail: ngonzales@ksl.com
×
Related stories
Most recent Utah stories