Estimated read time: 2-3 minutes
This archived news story is available only for your personal, non-commercial use. Information in the story may be outdated or superseded by additional information. Reading or replaying the story in its archived form does not constitute a republication of the story.
New statistics show crime in downtown Ogden has dropped significantly in the past year, and police give most of the credit to a unique "Crime Reduction Squad."
Ogden Mayor Matthew Godfrey says he was was certainly shocked by the results. He didn't expect to see such a decrease so quickly. The police department, on the other hand, wasn't surprised at all, just proud of its work.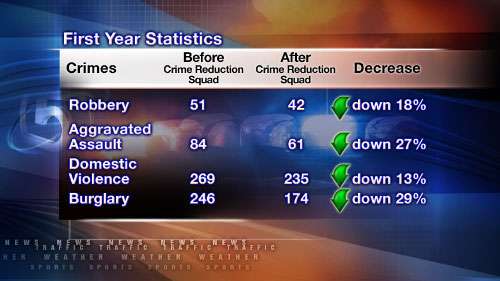 Late summer 2007, gang violence seemed to take over the city of Ogden. Five people were killed in three days.
"People started to get panicked, like, 'Oh no! It's coming back," Godfrey said.
So Godfrey decided to do something about it. With the community fed up, he approached Ogden police about adding a special squad.
The Crime Reduction Squad was made up of five extra officers and focused on the trouble area of 20th Street to 30th Street between Washington Avenue and Harrison Boulevard. Those officers didn't have to respond to any dispatch calls; their mission was to reduce crime.
"I would say, let off the leash in terms of not being directed to calls for service and being reactive. Everything they do in that area is proactive," explained Ogden police Lt. Mike Ashment.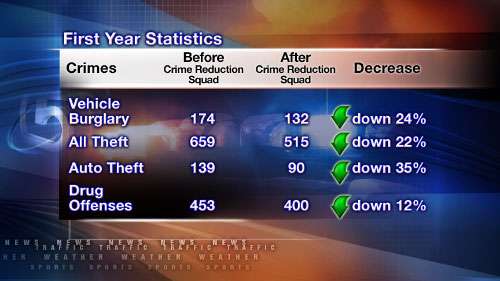 In a year's time, they proactively reduced crime by double-digit percentages. The statistics look at the year before the squad's service and compare it to the year after. Aggravated assault went down 27 percent; burglary saw a 29 percent drop. Auto theft was the largest decrease, from 139 cases to only 90; and drug offenses dropped the least 12 percent.
Ogden police say they really tried to zero in on parolees, gang members, drug homes and ordinance violations. They also say high visibility helps. "We did put the officers in marked cars with overhead lights for a reason, because we want that visibility factor there," Ashment said.
Now Mayor Godfrey hopes the new numbers will dispel Ogden's high crime reputation. "It's just not reality. The numbers don't prove it out. We're so much lower than everyone else around us," he said.
Godfrey says it cost the city a quarter million dollars to implement the squad, and even in these tough economic times, he plans to keep funding it.
E-mail: ngonzales@ksl.com
×
Most recent Utah stories