Estimated read time: 2-3 minutes
This archived news story is available only for your personal, non-commercial use. Information in the story may be outdated or superseded by additional information. Reading or replaying the story in its archived form does not constitute a republication of the story.
For many, today's inauguration brought powerful meaning, perhaps none more so than African-Americans. It certainly that was true at Calvary Baptist Church, where hundreds gathered to watch the moment when President Obama was sworn in.
It was truly a once in a lifetime experience. The moment came with the oath itself. Barack Hussein Obama placed his hand on the Bible used to swear in Abraham Lincoln, the man who freed the slaves.
Alonzo Solomon said, "I'm just overjoyed with everything that took place in my lifetime, and that let's me know that anything is possible, anyone can be anything they want."
"It was great," said Jatavia Smith. "I like Obama because he's our president."
Denise Elbert added, "It takes my breath away because it's just such a powerful time in history, and I'm just overjoyed."
"It was so overwhelming to see a person my color being president because I didn't think it would happen in my lifetime to be honest," said Ericka Townsend.
The oath, just 35 simple words, could not be more profound to Rev. Eric Townsend, who as a child was told by his grandfather he could be almost anything. "He said, 'You can do anything you want to do, just don't count on that,'" recalled Rev. Townsend.
Reita Lee's parents picked cotton and survived segregation in the South. She said, "My father would be so excited that there's a black president. That's something I never thought I'd see."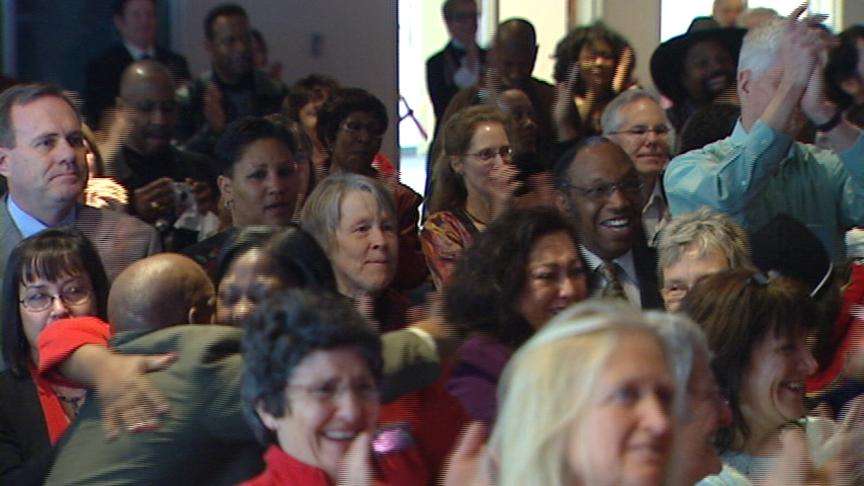 The most emotional moment followed the oath. Emma E. Houston said, "To see the man, his hand on the Bible of Abraham Lincoln, taking the oath of office for the president of the United States of America, it don't get no better than that."
Houston helped organize the event that hundreds attended, including Bishop Willie Dunn Junior of the Worldwide Gospel Church.
Dunn grew up in Alabama. He was particularly touched by television coverage cutaways to a viewing event in Selma. He said, "To see him be inaugurated as a president of the United State, it just really, had a, it just touched me deeply."
Martin Luther King Jr. dreamed of a nation where people would be judged not by the color of their skin but by the content of their character. Today, that dream deferred felt like a dream delivered. Solomon said, "He's jumping around up there. He's jumping around, and I believe the dream has come to life."
"I know we've achieved a lot of accomplishments, but to be the president, that means you can reach for the stars and touch the moon," Lee said.
Ecstatic, overjoyed, excited; those were the words people used to describe today's inauguration, but it was the tears on the faces which told the story today as well as anything.
E-mail: jdaley@ksl.com
E-mail: mgiauque@ksl.com
×
Most recent Utah stories