Estimated read time: 2-3 minutes
This archived news story is available only for your personal, non-commercial use. Information in the story may be outdated or superseded by additional information. Reading or replaying the story in its archived form does not constitute a republication of the story.
It was an emotional evening for a South Jordan couple who had to give up their adopted baby tonight. The couple lost a custody battle to the birth mother and her Native American tribe; tonight they had to turn over their baby to a tribe representative.
Emotional doesn't begin to explain what happened at the couple's home tonight. There wasn't a dry eye in the house. No one wanted to see that baby go.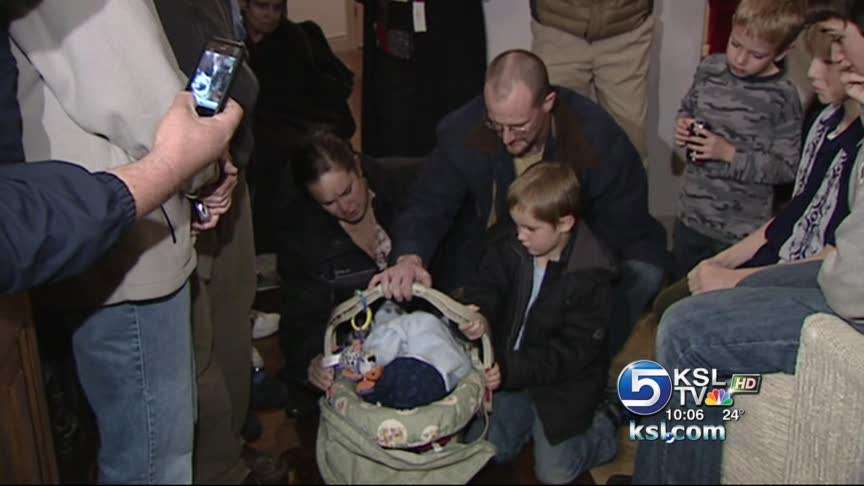 The family savored the last moments they'll ever spend with little Talon. It was filled with tears of sadness, not wanting to let go.
The boy's adoptive mother, Heather Larson, said, "There's not enough words to describe it. We're losing our son."
They're losing him to his birth mother, a member of the Leech Lake Band of Ojibwe Tribe. According to Heather and Clint Larson, she's a heroin addict. Because of that, Talon won't go to his mother; instead he'll go into tribal foster care.
He leaves a stable home, a loving home, with people who obviously love him. And he's going to strangers," Heather said.
Friends and family gathered tonight to support the Larsons, everyone wanting to hold Talon one last time.
Kami Larson, Heather's sister-in-law, said, "It's going to be devastating to them. I don't know how she's going to be able to handle today. I don't think I could do it."
Toni Worthington was there to support the Larson family. She said, "Heartbreaking, that's why we're here, it's heartbreaking to even think of the possibility of your child leaving."
And as the time neared to say goodbye, the feeling in the air was devastation. The family walked out of their home carrying Talon while supporters sang a hymn. Heather, Clint and their older son kissed Talon goodbye. The tribe representatives sat in the car and waited.
"He's ours, no matter what they do tonight, no matter what the judges say, no matter what the tribal attorney says, he's ours," Heather said.
E-mail: ngonzales @ksl.com
×
Related links
Most recent Utah stories