Estimated read time: 2-3 minutes
This archived news story is available only for your personal, non-commercial use. Information in the story may be outdated or superseded by additional information. Reading or replaying the story in its archived form does not constitute a republication of the story.
A significant winter storm moved into Utah today, bringing with it wind, snow and cold temperatures.
The Utah Highway Patrol says the roads today were not as bad as it expected. Troopers responded to nearly 200 crashes and slide offs. All of them were minor with no serious injuries. But it meant a lot of work for emergency crews.
UHP's Sgt. Jeff Nigbur said, "They've been going really hard clearing the accidents. Ad you can imagine it keeps them busy."
Utah County dealt with the most severe weather today. "We've got slide offs everywhere in Utah County," Nigbur said. "It snowed a little bit more, and they had more crashes. So, it varies."
The benches and canyons received the most snow. The Salt Lake County Sheriff's Office is offering a text message and e-mail alert system to let motorists know when canyons close. You can find out more about that at the link on this page.
At Salt Lake International Airport, this isn't a major storm but a good dress rehearsal for the days to come. Inside the airport all was calm. But outside, an army of snow machines worked non-stop to keep the runways clear.
Airport spokesperson Barbara Gann said, "We get about 60 inches of snow every year."
The so-called "conga line" includes plows, snow blowers, sweepers and chemical trucks. Last year, they used 94,000 gallons of runway deicer as well as 1,700 tons of salt.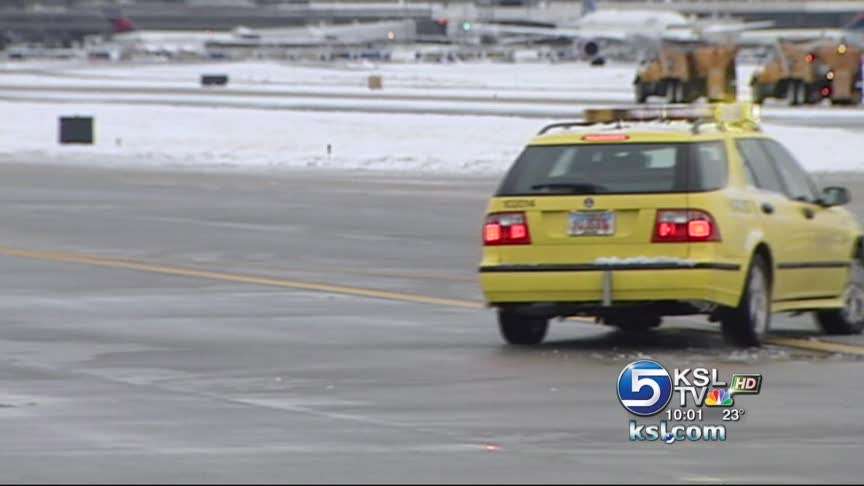 "We close a runway at a time," Gann explained, "keep the other two open so we can keep operating, and the conga line goes down and sweeps and cleans."
A Saab with a fifth wheel measures friction on the runways. If there's not enough, planes won't fly, and the conga line starts again.
"We also keep clean all the ramps and sidewalks and roadways out front. It's a massive undertaking," Gann said.
This year there is an international glitch, however. A strike at a Canadian mine that makes a key ingredient in deicer has reduced supply by a third. But Salt Lake International isn't worried.
"We bought more than we used last year, so we should have more than an adequate supply of that chemical this year," Gann said.
Airport officials say they are looking at other options, like alternate chemicals, just in case. Meanwhile, they're working two teams of 35 people around the clock to keep the runways ready for takeoffs and landings.
E-mail: sdallof@ksl.com
×
Photos
Related links
Most recent Utah stories