Estimated read time: 4-5 minutes
PROVO — In what felt like the blink of an eye, the BYU men's basketball team went from contending with a top-10 Gonzaga team en route to a 1-point loss in the Marriott Center to being pushed to the brink of the West Coast Conference.
The Cougars' road trip to the Bay Area was not kind, with losses to Santa Clara and San Francisco dropping BYU to fifth in the league with a 4-4 conference record. And it doesn't get any easier for the Cougars (14-9).
BYU welcomes No. 22 Saint Mary's to the Marriott Center on Saturday night (8 p.m. MST, ESPN2) for the final time as WCC mates. Don't expect any parting flowers or tears shed, though; that's not Randy Bennett's style.
The 22nd-year Saint Mary's coach brings the same type of Gaels team to Provo as he usually has: a gritty, hard-nosed, defense-first program known for flashy play. Saint Mary's has the fourth-best scoring defense in Division I and holds opponents to just 57.2 points per game to go along with its 72.1 scoring average.
"What's magic about Randy is that he can do the same thing over and over and over again," BYU coach Mark Pope said. "His guys know it, are committed to it, which is why he is one of the best coaches in the country in terms of the product he's able to put on the floor with the talent he amasses. It's incredible.
"This is Saint Mary's. If you took off all their jerseys and watched them play a game, you would say, 'Yup, that's Saint Mary's.' This is a great team that is playing really well together and they have some superstars on this team."
The Gaels (18-4, 7-0 WCC) are led by Kyle Bowen and Mitchell Saxen, a pair of top-50 rebounders nationally who patrol the paint while letting 3-point specialist and lead returner Alex Ducas average 2.5 3-pointers per game, the 13th-best mark in the country.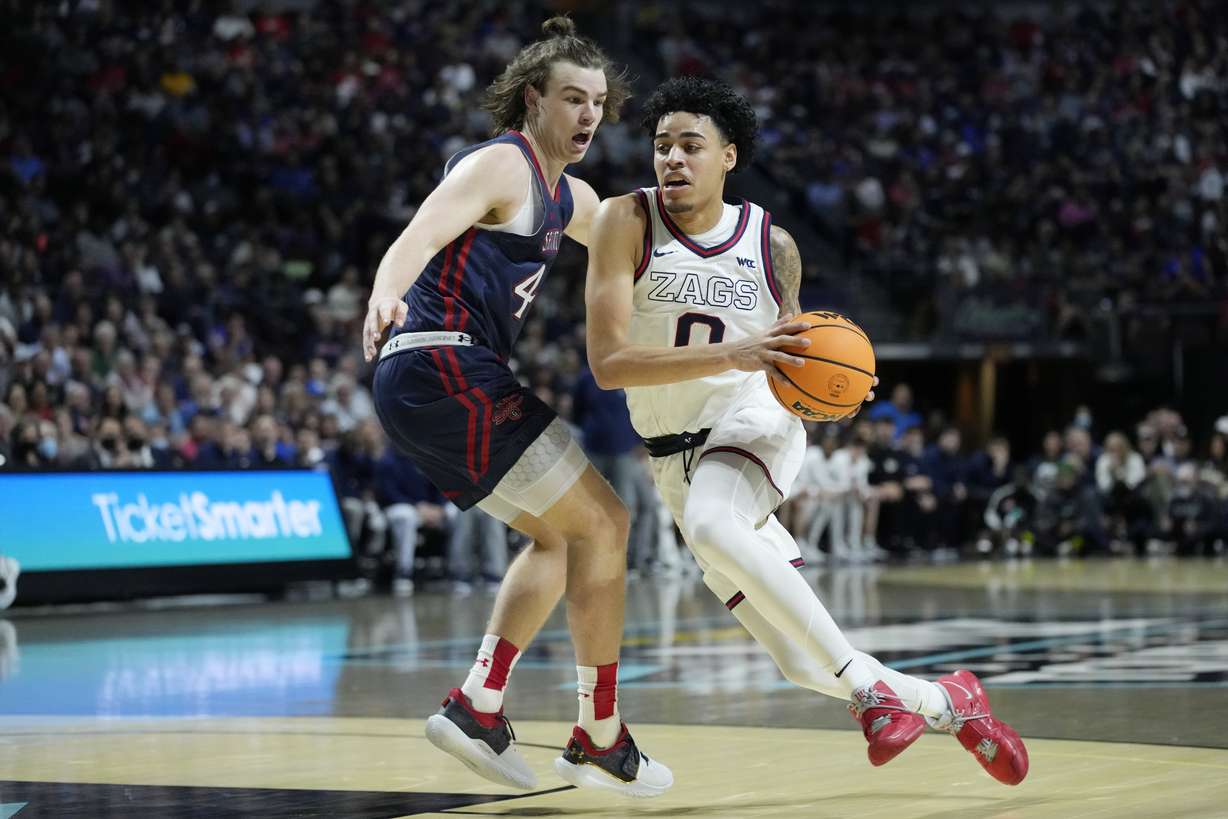 Then there's Aidan Mahaney, the freshman breakout from Lafayette, California, who is the Gaels' leading scorer at 15.0 points per game on 46.0% shooting, including 43.2% from 3. He's averaging 17.1 points per game on 51.6% shooting in WCC play, and has been named the league's freshman of the week seven times.
"Clearly, they're the best team in our league and one of the best teams in the country right now," Pope said.
Best, even if not always the most flashy.
"They have been really deliberate; they're going to walk the ball up," said BYU guard Rudi Williams, who leads the team in scoring at 12.8 points per game after a season-high 28 off the bench against USF. "They are going to make you guard for 30 seconds. They are going to shoot two-foot shots in the paint.
"It's not sexy basketball but they are a good team and get stuff done."
The Cougars are coming off a pair of frustrating road losses, 83-76 to Santa Clara and 82-74 to San Francisco, where BYU struggled with two physical teams and caused everyone in the program — Pope included — to look inward for answers. He cheekily asked reporters this week, "Did I sound frustrated Saturday night?" in reference to a post-game interview on BYU Radio, but then explained his frustrations.
"We can't afford backwards steps," Pope said. "It happens in growing, and if I was more mature and a little bit of an adult I would be willing to accept that. But we are just running out of time; we have so much work to do, and so many ways we need to get better … I feel the pressure of time right now.
"I think our guys feel the pressure of time right now to try to get better."
His chief scoring guard off the bench echoed the sentiment.
"Obviously, when you go on the road and lose two straight, no one is happy about that," Williams said. "We had all of Sunday off, and everybody could just get the bitterness out.
"Guys have just kicked last weekend under the rug, and now getting ready for Saturday."
Saint Mary's won't be the first physical game BYU has played this season. But it will be a uniquely physical contest, Pope admitted. And don't look at the sidelines or the referees when the physical challenge comes, he told his players during one practice.
"Clearly, it's a challenge for everybody in our league right now," he added.
How to watch, stream, listen to the game
No. 22 Saint Mary's (18-4, 7-0 WCC) at BYU (14-9, 4-4 WCC)
Saturday, Jan. 28
Marriott Center, Provo
Tipoff: 8 p.m. MT
TV: ESPN2
Streaming: WatchESPN
Radio: BYU Radio Sirius XM 143, KSL 102.7 FM/1160 AM
Series: BYU leads, 18-17
×
Most recent BYU Basketball stories