Estimated read time: 3-4 minutes
PROVO — Tyrell Roberts must really like playing BYU.
In last year's NIT quarterfinal, the Washington State guard scored 11 points in a 77-58 road win over the Cougars. One year and a transfer later, Roberts out-did even that.
The graduate transfer poured in a career-high 30 points, including four 3-pointers, for San Francisco as the Dons raced out to a big lead and never looked back in a 82-74 win over BYU at War Memorial Gym at the Sobrato Center in San Francisco.
Khalil Shabazz added 21 points and five rebounds for the Dons (14-9, 3-5 WCC), and Zane Meeks scored 13.
Rudi Williams scored a season-high 28 points on 10-of-12 shooting to lead the Cougars, who have now lost three of their last four games. It's the fifth time all season Williams has topped the 20-point plateau, coming off the bench in all but one of those games.
Jaxson Robinson added 11 points, four rebounds and two assists for the Cougars; and Gideon George had 12 points, five rebounds and three steals. Fousseyni Traore added 10 points and three rebounds for BYU (14-9, 4-4 WCC).
Instead of preparing for a standalone game with league leaders Saint Mary's next Saturday, the Cougars now must turn inward after what is arguably the worst stretch of the season, the only four-game run with three losses and only the third time they've had back-to-back setbacks in 2022-23.
"Unfortunately for us, it's not a laser-focus week for Saint Mary's," said BYU coach Mark Pope, who took all of the blame for the loss himself in his postgame interview with BYU Radio. "The wheels fell off the bus tonight, and that's disappointing.
"We took a major step back, and that's 100% on me," he added. "I've got to get my act together and we should find some answers."
The head coach later said the Cougars didn't win "any facet" of the game and were "brutally out-coached," something that was "really, really concerning."
"We've got good players and they want to get better and they want to win, but we took a major step back and that's 100% on me," Pope said. "I've got to get my act together and find some answers because we should never have a performance like that — ever, ever, ever, ever, ever."
Yet, this one had a similar theme as 48 hours previously at Santa Clara: 15 turnovers leading to 25 points. The key difference? BYU never led Saturday night.
Much like Thursday, the Cougars got off to a torrid start. San Francisco hit four 3-pointers in the first six minutes, and the Dons used a 13-3 run to take a 16-5 lead with 14:44 left in the half.
USF turned 11 turnovers into 18 points in the first half, but BYU battled back and creeped within five on George's layup with 5:39 to go — his first made field goal in nearly three games.
But Roberts had 16 points, and the Dons made seven 3-pointers and went 8-for-8 from the free-throw line to help the hosts to the 37-28 halftime advantage.
San Francisco led by as much as 16 in the second half, but BYU shot over 59% from the field to cut the deficit within single digits a few times.
The Cougars just couldn't get any closer as the Dons knocked down 12 3-pointers and made 24-of-27 free throws to coast to the finish, overcoming 17 turnovers that BYU turned into 19 points.
Ironically, the Cougars finished plus-two in turnover margin, thanks to 11 steals that helped force 17 turnovers. The 19 points off turnovers helped keep it close, but only so far.
"We've got to get our hearts right first," Pope said. "That's the most disappointing part, and that comes from my leadership. Then we've got to get our minds right. Then we've got to be able to execute.
"This lies with me. It's not these guys; it's 100% on me."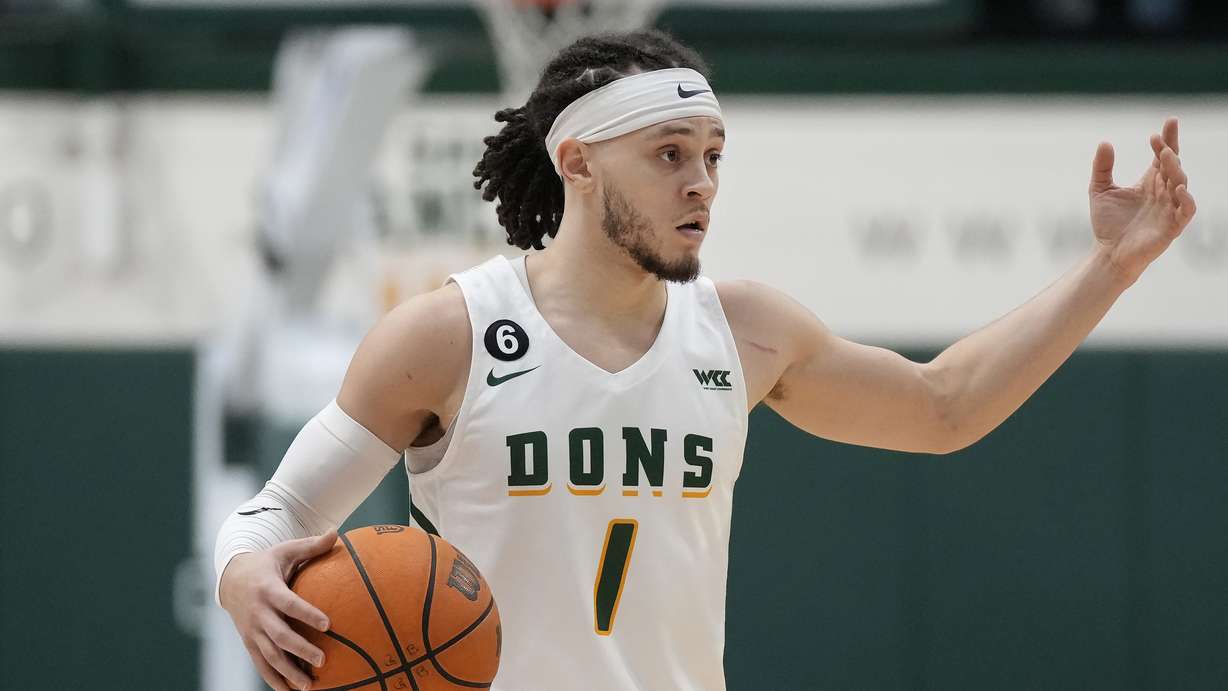 ×
Most recent BYU Basketball stories