Estimated read time: 4-5 minutes
PROVO — Rudi Williams had every reason to pack it in.
After setbacks to South Dakota and Utah Valley, the BYU point guard found himself out of the starting lineup. He could've packed it in. One of the so-called "one-year mercenary" transfers from Coastal Carolina, the native of Hamilton, Ontario, didn't owe anything to BYU coach Mark Pope, to the university that brought him in, or even – in some ways, at least – the teammates who accepted him as one of their own for his final year of eligibility.
He could've shut it down, or at least gone through the motions for the rest of the 2022-23 season, playing a part but never fully embracing it as he deferred to freshman Dallin Hall in his place.
Perhaps nobody would've blamed him. Maybe everybody would. Likely, the truth lies somewhere in between.
We'll never know how much blame he would've taken, though. Because rather than sit on the bench and sulk, Williams opted to make the best of his situation. He came off the bench Saturday and poured in a season-high 26 points in the Cougars' 83-80 win over then-No. 21 Creighton in Las Vegas, a win that may have saved BYU's season or at the very least provided a glimpse into what the Cougars can become after the darkest week of the year. He's one of just 15 players in NCAA Division I men's basketball to score at least 26 points off the bench this season.
The Cougars' 38-8 run off the bench over the Bluejays marks the sixth time this season BYU has outscored an opponents' bench, and also included Richie Saunders' 10 points and Atiki Ally Atiki's alley-oop dunk to help control the paint, 42-24.
The 6-foot-2 guard displayed true leadership in his moment of adversity. But it wasn't easy.
"The gravity of the game, of fans, of the media just wants to pull you away from focusing on being a great basketball player," BYU coach Mark Pope explained. "Everything is trying to tear you away from that focus, and circumstance can do that to you, for sure.
"For Rudi's situation, he was starting and now he's coming off the bench. For mere mortals, that would be super distracting, especially for a senior. But for those really special guys, facing a lot of criticism and a billion reasons to come in and have a bad day. … He's one of those rare guys who won't let circumstances prevent him from getting better every single day."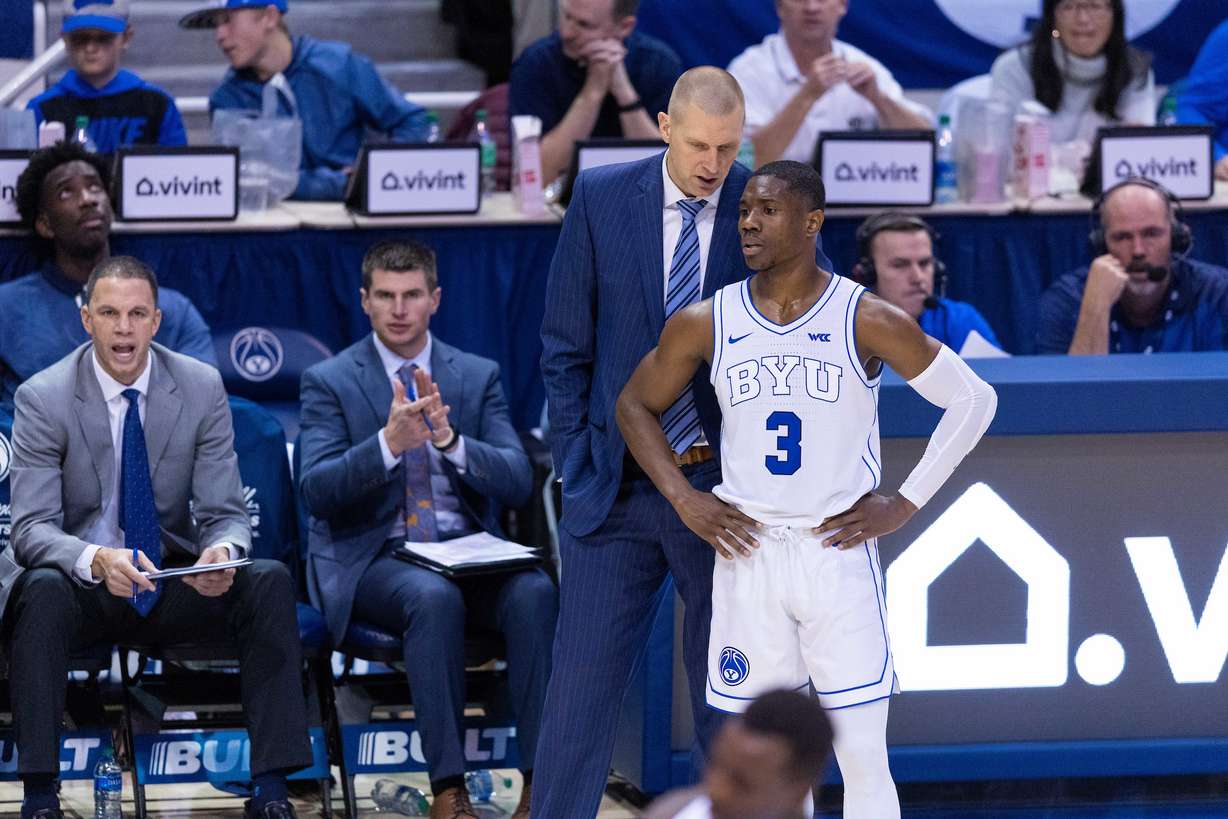 Pope compared Williams' plight to that of Jalen Hurts, whose starting spot at Alabama was deferred to freshman Tua Tagovailoa after winning a national championship game, or Jalen Brunson, the former Villanova star who saw his own role diminished by Donte DiVincenzo.
But neither one of them shrunk at the challenge. They took their role in stride, got better, and Hurts grew to become the starting quarterback for the playoff-bound Philadelphia Eagles, while Brunson rebounded to lead the Dallas Mavericks past the Utah Jazz in last year's NBA playoffs.
Saturday's win doesn't mean as much as an NFL game, or an NBA Playoff series. Williams knows that, and so does his team.
But falling behind, rebounding, falling behind again and rallying to beat Creighton on Hall's last-second putback means something for BYU (6-5).
"It means that we're going in the right direction," Williams said. "We try our best to get better every day, and one of our team slogans is GBED; we try not to worry about the past but get better every day.
"Nobody's good in November and December. We're preparing for March and being a really good team then."
That's the challenge BYU faces every day, including Thursday night against Division II Western Oregon (7 p.m. MST) and Saturday against rival Utah in the Marriott Center (4 p.m. MST, CBS Sports Network). Both games will test the Cougars, thought likely in different ways.
Can BYU set aside the distractions, the social media hype and/or controversy, and the once oversized expectations that have turned the opposite direction from some corners for the No. 92 team in KenPom and No. 183 team in the NET?
One player did that, at least for a night. Which is why Williams' example may be the ultimate show of leadership for BYU basketball, even from the bench.
"He made the sacrifice," teammate Jaxson Robinson said. "It puts things in perspective for our entire team that we need to sacrifice.
"It's obviously not something he expected. But he's accepted his role, and kudos to him."
Helping feet
The Cougars will be hosting a shoe drive in conjunction with senior forward Gideon George and the Gideon George Helping Hands Foundation, urging fans to bring any new or lightly used shoes to donate to the Sneakers for Africa Shoe Drive.
The drive, which is co-hosted by Timeout 4 Africa, the BYU Black Student Union and BYU's Global Supply Chain Association, has set up large storage bins outside the Marriott Center Annex, with a goal of collecting 10,000 pairs of sneakers to send to George's home country in Nigeria and other African nationals.
Last year's drive during the Cougars' home game against San Diego State collected 6,000 pairs of shoes.
How to watch, stream, listen
BYU (6-5) vs. Western Oregon (4-4)
Thursday, Dec. 15
Tipoff: 7 p.m. MT
TV: BYUtv
Streaming: BYUtv.org
Radio: BYU Radio Sirius XM 143, KSL 102.7/1160 AM
BYU (6-5) vs. Utah (9-2)
Saturday, Dec. 17
Tipoff: 4 p.m. MT
TV: CBS Sports Network
Radio: BYU Radio Sirius XM 143, KSL 102.7/1160 AM
×
Most recent BYU Basketball stories