Estimated read time: 6-7 minutes
SALT LAKE CITY — Chris Mazdzer has vivid memories of the four Winter Olympics cities he's competed in.
Whether it was Vancouver, Sochi, PyeongChang or Beijing, he and his fellow luge competitors had to travel to the cities well in advance so they could become comfortable with the track they would eventually ride on. These trips offered him a front-row seat into all the construction that goes into hosting the Games, from new venues to other infrastructure to handle such a large global event.
And there's plenty of construction that's happened in recent history.
"It's got to the point where Beijing built all brand new infrastructure. You have Sochi that built a highway down a river gorge, which was absolutely crazy," he said, recalling his adventures.
That's not the case with Salt Lake City, which is currently vying to host either the 2030 or 2034 Winter Games. Mazdzer notes that the Utah Olympic Oval in Kearns, the Utah Olympic Park in Park City and many of the other major venues used for the 2002 Winter Olympics are very much still in use, which isn't always the case for previous host cities.
Salt Lake City Mayor Erin Mendenhall argues that Utah's Olympic infrastructure is strong enough that it could host the Games tomorrow if needed. That's why she contends Salt Lake's bid is "unbelievably unique."
"We have all the infrastructure that we need in a phenomenal way," she said, sitting around an unlit campfire pit set up for Outdoor Retailer's Community Conversation Tuesday afternoon.
Trade show attendees buzzed by roundtable — or campfire — chat as the participants spoke, some lingering for a few minutes before heading to nearby booths. The discussion centered around the relationship between the changing climate and outdoor sports, a fitting discussion for Outdoor Retailer.
Several brands opted to boycott this week's trade show because Emerald Expositions moved the event back to Utah after spending the last five years in Colorado, citing ongoing complaints with Utah public land policies, particularly its stance on shrinking the size of Bears Ears and Grand Staircase-Escalante national monuments.
It's also an important topic for Salt Lake City as Utah navigates through the impacts of an ongoing drought and when it comes to trying to host a future Winter Olympics. Members of the International Olympic Committee announced last month that they were delaying their decision on which city will host the 2030 Winter Games so they can see how climate change impacts all the cities seeking to host it.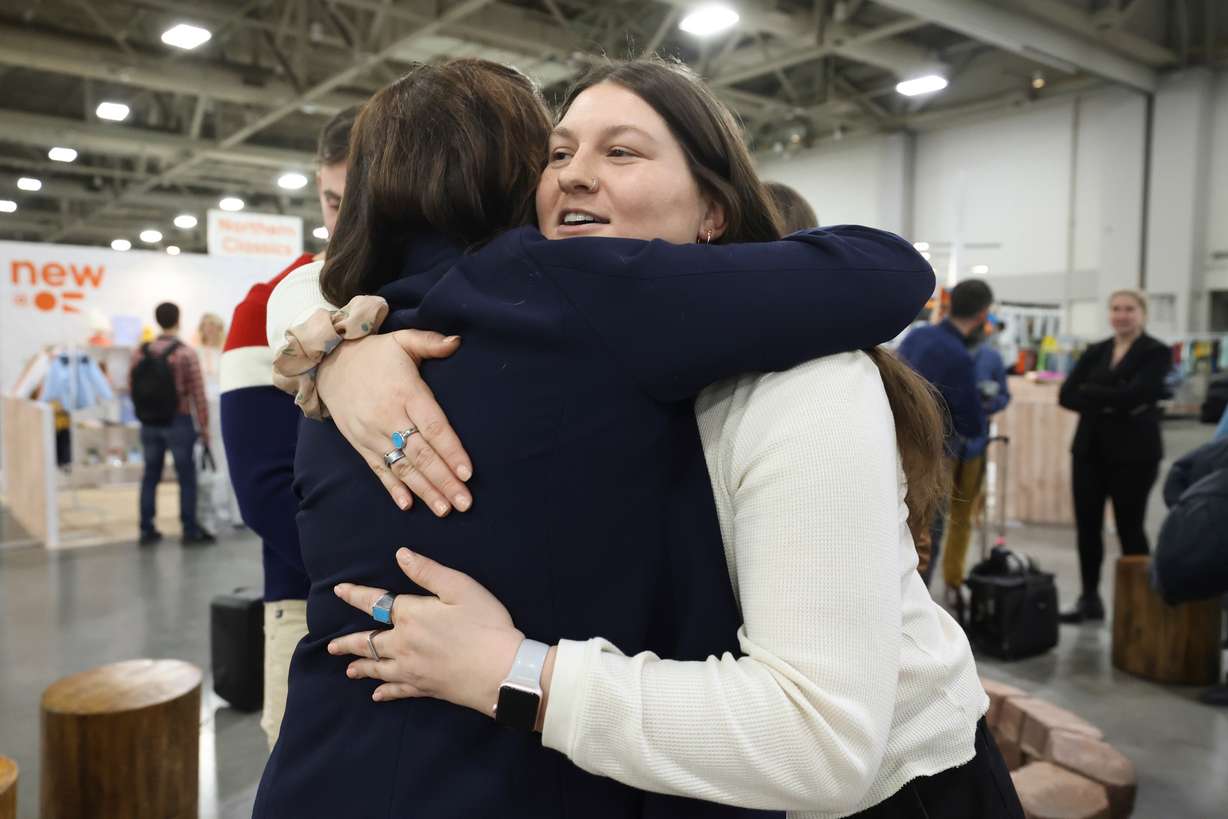 Even though Utah is currently enjoying its best snowpack since 2011, Devin Logan, an Olympic slopestyle ski silver medalist and Westminster College student, asserts that it hasn't solved Utah's drought situation yet and doesn't guarantee future success, either.
"Just because we're getting a lot of snow right now doesn't mean that next year won't be bad," she said. "Look what we've seen in the last three years."
The same inconsistency is playing out in different cycles in other parts of the world, which led to the IOC's announcement.
Why the Olympics won't influence Salt Lake's goals
Mendenhall isn't worried at all about the IOC's climate goals for host cities.
She believes Utah's Olympic-ready venues offer the most important item, which is the ability to reuse existing infrastructure. This infrastructure includes TRAX, the light-rail transit system in Salt Lake County. The service has only expanded since it was constructed ahead of the 2002 Olympics, offering a way to move people without additional cars.
But the main reason she isn't concerned about the IOC's criteria is that she believes Salt Lake City was already on the path to reducing carbon emissions just because of the impact it has on air quality, drought, wildfires and other key environmental factors.
For example, the Elektron Solar project, an 80-megawatt solar farm located in Tooele County, could be completed this year, though it likely won't be online by March as it was originally scheduled to be. That's expected to be a major step in helping Salt Lake City reach its goal of 100% net renewable energy by 2030, set well before the IOC voiced concerns about climate.
"The truth is, we're targeting those goals for ourselves," Mendenhall said. "I think it's what makes us such an attractive future host city because we're going to do it anyway."
The mayor added Tuesday that Utahns' ability to conserve billions of gallons of water over the past two years shows that Utahns are willing to make sacrifices in the name of conservation. If anything, hosting a future Games may only speed up project timelines for new infrastructure projects that improve transit service or reduce carbon emissions in the region, she said.
How collaboration factors into the equation
None of these goals can be reached without collaboration, though. It's a potentially difficult task considering Salt Lake City is, in Mendenhall's words, "a blue dot in a red state," but some issues are important to both Republicans and Democrats.
---
It's been called the 'secret sauce of Utah' that we can come together across party lines or other divisions when we recognize the mutual benefit of coming together to solve (a problem).
–Salt Lake City Mayor Erin Mendenhall
---
While there are several topics the city and state don't necessarily agree on, Salt Lake City and the State of Utah have been unified in their efforts in hosting the Winter Olympics again. The same can be said about other issues, such as concern over the drying of the Great Salt Lake. Those are topics where the best solutions may come from a variety of viewpoints.
The mayor clarified after Tuesday's event that she doesn't think that Salt Lake City can afford to leave statewide discussions over politics, especially when eventual decisions may negatively impact the city in the long run.
"It's been called the 'secret sauce of Utah' that we can come together across party lines or other divisions when we recognize the mutual benefit of coming together to solve (a problem). ... For me, it means, as this blue dot, we have to stay at the table," she told KSL.com. "We can't afford to get angry and walk away the way the city has so many times in the past."
The importance of the Games
Meanwhile, the Olympians participating in Tuesday's event agree that hosting the Winter Olympics again would be great for Utah. That's because the state is still benefitting from hosting the event before.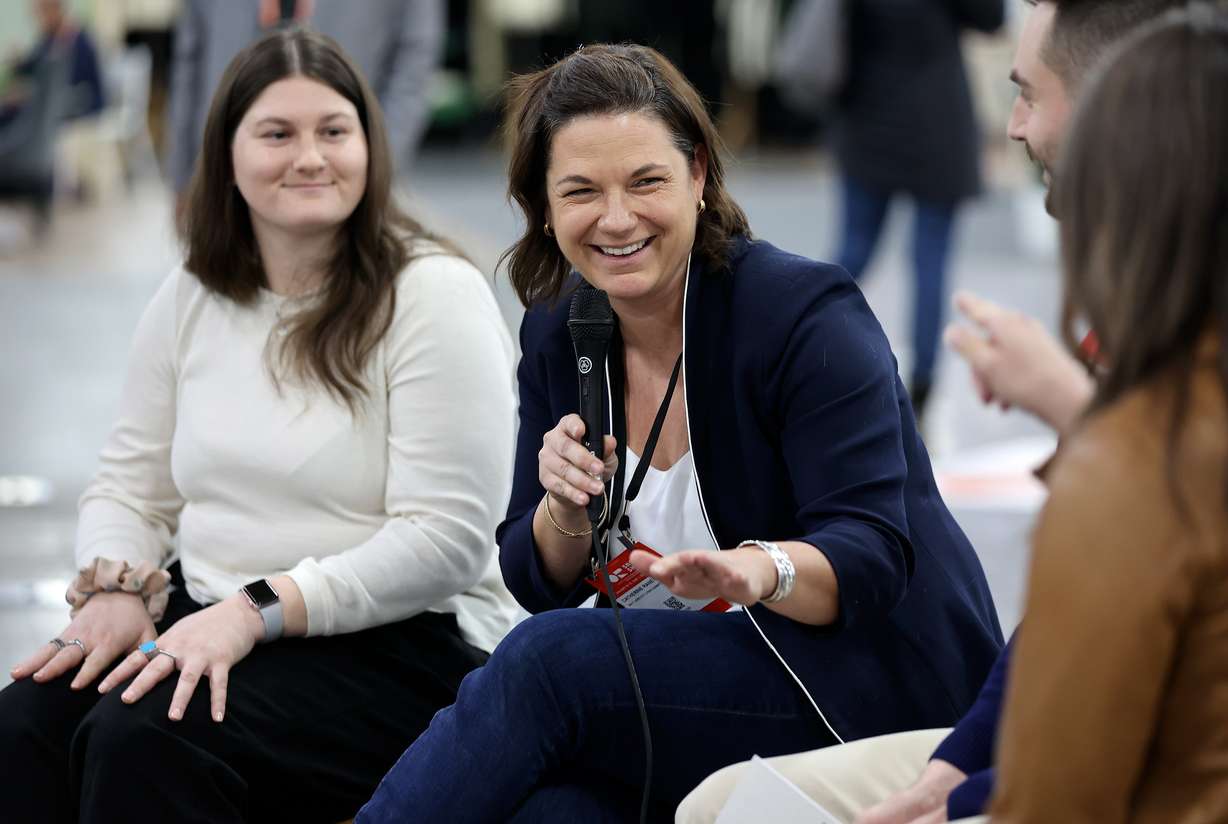 Mazdzer and Logan each moved to Utah to be closer to the Olympic training action and at the venues used 21 years ago. Both have glowing reviews of Utah since moving in.
Children who aspire to be future Olympians have a rare opportunity to train in the same venue as them, oftentimes even learning from the Olympians themselves. It's helped grow the number of Utahns who compete in the Winter Olympics.
"I still live in this community and I want to see it grow," Logan said. "(My passion) happened to be athletics, but passion toward anything can help you grow as a person and grow as a community, in general."
However, having that platform may only exist for as long as there is a Winter Olympics. It's why both Olympians invested as much time as they have in environmental issues.
Logan is an athlete alliance member of a group called Protect Our Winters, while Mazdzer became the IOC's first sustainability ambassador.
"We see what sport can bring to a world, what it can bring to the community," Mazdzer said. "I think sport is such a powerful way that we can tie all of this together — sustainability, climate (and) all these amazing initiatives."
×
Related stories
Most recent Utah Olympics bid stories