Estimated read time: 5-6 minutes
STANFORD, Calif. — The path to BYU's first win over Stanford lied on the ground.
The Cougars had to work for a program-first against the Cardinal; and by work, that means they had to run the ball.
When they were done running and their dual-threat quarterback went down with an apparent ankle injury, they ran some more — all the way to a 9-point victory on the road to wrap up a 7-5 regular season.
With Jaren Hall on the mend, Chris Brooks did his best Tyler Allgeier impersonation, running like a workhorse back for an eye-popping 164 yards on 23 carries. The graduate transfer from Cal averaged 7.1 yards per carry, eclipsed only by Hinckley Ropati's 85 yards on nine touches (9.4 yards per carry).
No matter who it was — even star receiver Puka Nacua ran the ball, with 38 yards on three carries that included a 25-yard jet sweep to cap the first drive led by backup quarterback Jacob Conover — BYU (7-5) found something in its run game Saturday night and exploited it against a banged up and beaten down Cardinal squad playing in the season finale.
The Cougars' 358 rushing yards are the most since posting 385 against Virginia last year.
"It was exciting to get the ball in our hands," offensive tackle Blake Freeland said. "The running backs were killing it, running really hard down hill and making great plays. I'm just grateful for the opportunity to run the ball as well as we did."
Hall, too, was excited to put the ball in the hands of his backs and ride the offensive line to a win. The redshirt junior signal caller with 3,078 yards and 29 touchdowns prior to Saturday ran for 69 yards and a touchdown to take advantage of a Stanford defense that had been gashed by injuries and limped to the end of its campaign.
"We knew we'd be able to run the ball coming into this game," said Hall, grimacing but powering through an apparent ankle injury in the second half. "Couldn't dream of it any better. It was fun to watch; handing the ball off to Chris and Folau, it makes my life very easy."
The Cougars weren't just running because their starting quarterback went down (though they obviously hastened the move). Hall himself only attempted 11 passes, completing seven of them for 93 yards and two touchdowns.
But the efficient offense was driven by the run game, a staggering 50 rushes in 62 plays on offense, with a majority of BYU's 451 yards coming on the ground.
The Cougars ran 11 times in the fourth quarter alone, trying to run out the clock with just one pass attempt — a floater by Conover that ended at the feet of tight end Isaac Rex on third-and-7 with about eight minutes remaining in the game.
If it ain't broke, don't fix it. And BYU's run game was far from broken.
"I feel like we were really physical tonight," said Rex, who caught two touchdown passes on the anniversary week of his gruesome ankle injury suffered in last year's regular-season finale at USC. "We obviously had a chip on our shoulder, because early in the year, we weren't running the ball very effectively.
"I knew that getting the run game going would help out Jaren and his receivers. Chris' jersey after the game was just green, red and white; he was killing it, and Hinckley, too. Those guys are warriors, and we wanted to make it easy for them."
BYU didn't just buoy its run game; it also stopped the run from Stanford. The Cardinal were banged up at running back, only listing sophomore Mitch Leigber on the roster at the position, along with a blocking fullback.
The Cougars held him to 40 yards on 12 carries, including a 1-yard touchdown where Leigber flipped over his line and into the end zone with 7:41 left in the first half to pull Stanford within 21-9.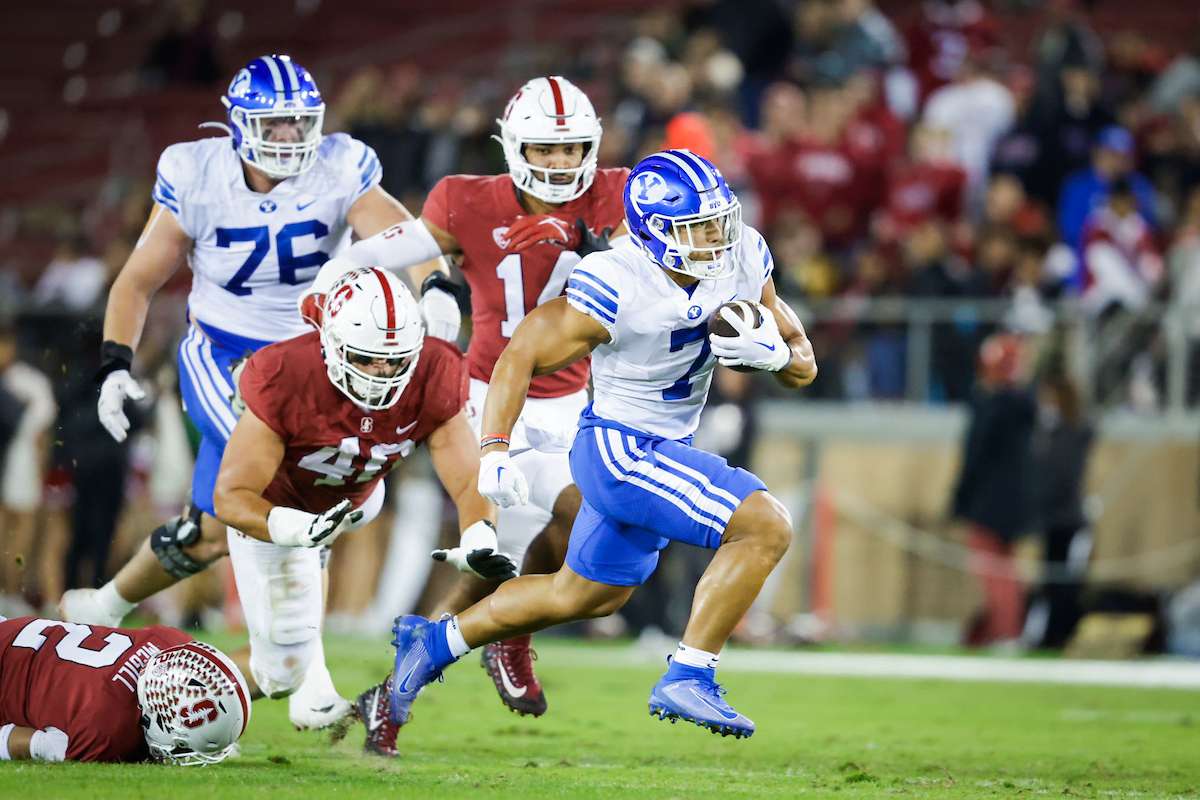 But the Cardinal finished with just 53 yards on 19 carries. Some of that can be attributed to quarterback Tanner McKee, the future NFL quarterback who completed 31-of-40 passes for 313 yards and a score.
But plenty of credit goes to a defense that forced three sacks — three times as many as the last six games combined — and was led by nine tackles from Ben Bywater, eight more from Micah Harper, and six tackles and a sack from Tyler Batty, to go along with 1.5 sacks from Lorenzo Fauatea.
"Honestly, we knew they were banged up and had a lot of new guys at the line," said cornerback Gabe Jeudy-Lally, who had five tackles, two pass breakups and half a sack on a corner blitz. "Just from film, we saw when he got flustered, he wouldn't be able to throw the ball well.
"We just did what Kalani schemed up, and it worked really well. It wasn't something that was a surprise to us; we just saw that we were getting the job done."
Credit also goes to the offensive line, who played a perfect game with no penalties — the first penalty-free game in the Cougars' record history, dating back to 1972.
It was enough to end the regular season on a three-game winning streak, the longest of the 2022 campaign, as BYU awaits word on its bowl destination from ESPN, which will come no later than Dec. 4.
"We've been on that losing streak, and winning three in a row now is big for us," Freeland said. "We tried to take these last three weeks as a one-week season, and try to take it game-by-game."
×
Most recent BYU Football stories