Estimated read time: 5-6 minutes
PROVO — Kelly Poppinga pulled into the parking lot next to the Student Athlete Building on BYU's campus Thursday morning, found the spot he had used seven years prior, and got out of the car.
Before the end of the morning, he had done a television interview with BYUtv, met with members of the local media via video conference, and introduced himself to a few players, coaches and staff members in the football office, then got to work.
Of course, he didn't need much introduction; in a lot of ways, it was like he had never left.
"The building felt right; it felt like home," Poppinga said during that video chat. "I was hoping for the opportunity to come back here one day. I didn't think it would be seven years later.
"But I grew up at BYU. My dad took me to games when I was a kid. My first three kids were born here. It's just who I am, and it's exciting to be back, to contribute, and to be able to be back and help this team progress and grow, getting into the Big 12, and compete for conference championships."
Thursday was his first day "home" for the Wyoming native, a product of the BYU and Utah State football programs who always felt like a Cougar. So when incoming defensive coordinator Jay Hill was called up to replace Ilaisa Tuiaki, Poppinga was the first hire he made.
Along with retaining cornerbacks coach Jernaro Gilford, Poppinga's hiring as a defensive assistant and special teams coordinator was announced just moments after Hill had stepped foot on campus for the first time in a team meeting Wednesday morning.
It was the first time Hill had told any players personally of his arrival. No coaches had mentioned it Tuesday night when news broke through ESPN and confirmed by a variety of other media outlets that the profoundly successful head coach at Weber State was coming to be the associate head coach under Kalani Sitake.
But Hill already knew one person he wanted on his staff. It was the hard-hitting, All-Mountain West linebacker who led the team with 113 tackles his senior season that he remembered coaching against during his days as an assistant at the University of Utah, before Poppinga had spent a year in the NFL and sent Kyle Van Noy, Spencer Hadley, Alani Fua, Sione Takitaki and Fred Warner to the league.
"That was an easy one for me because I got to coach against him when he was a player, I knew just how tenacious and what a tough guy he was," said Hill, a Lehi native who is also making a full circle in his football life. "Also, when he was a coach, he developed some of the best linebackers in the last 10 years here at BYU, some phenomenal NFL guys. That one was a no brainer for me."
Poppinga spoke with Hill in the office Thursday, and the two sat in the BYUtv studio chairs in a pair of segments to talk about their plans for the future. The duo "speak the same language" of football schemes and plans, a defense that Hill helped then-defensive coordinator Kalani Sitake pattern during their nine years together at the University of Utah.
Poppinga's role on Hill's defensive staff is still undefined. He's coached linebackers, outside linebackers and edge rushers in his career, as well as scheming special teams and defense, and it's likely to be something with which he's comfortable, with decisions to be made regarding safeties and edge coach Preston Hadley and linebackers coach Kevin Clune.
But his comfort is also in scheme, a 4-3 defense that prides itself on causing havoc, even if it occasionally gave up a broken play or busted coverage.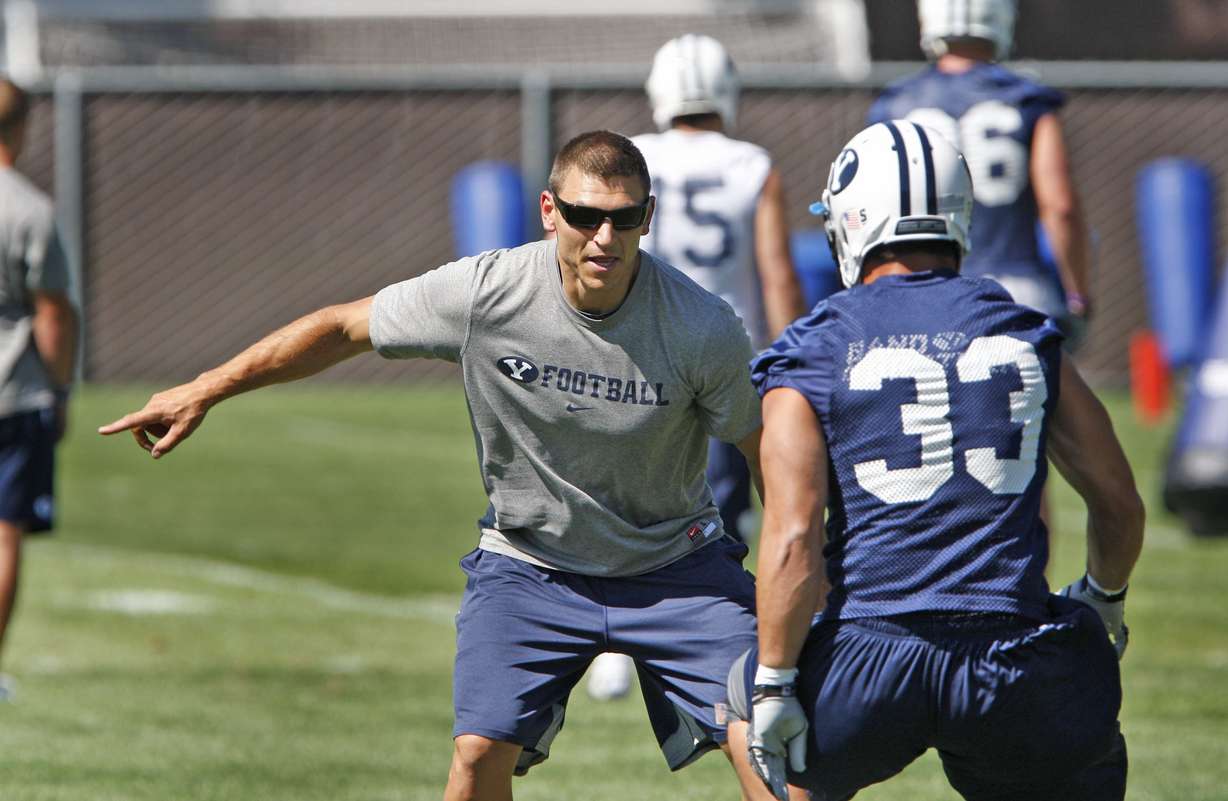 Less than a day after officially beginning their tenure together, the new coaching colleagues were already on the same page of what Hill calls an aggressive, attacking defense, one that allowed 324.1 yards per game at Weber State in 2022, but just 20.38 points with 29 sacks, 15 interceptions and 22 turnovers gained — all top-25 marks nationally in the FCS.
"The words that he was using are the same words that I grew up in in this profession: accountability, discipline, toughness," Poppinga said. "Those are the things that he's wanting to instill this defense, and those are things that I've been taught from the very beginning. I think we're aligned in a lot of ways with that."
If it feels like the hire happened fast, Poppinga would agree. The former Boise State edge coach and special teams co-coordinator was in the Treasure Valley only a week ago preparing the Broncos to host the Mountain West championship.
Just moments after Boise's 28-16 loss to a surging Fresno State team Saturday evening, head coach Andy Avalos told him that Sitake had already called and asked permission to speak to Poppinga about a forthcoming coaching vacancy.
Those who know Poppinga aren't surprised. He wanted to give everything to help the Broncos win a Mountain West title. He won two of them at BYU, and he wants to win — even against his old team, which he had a chance to do two years in a row at Virginia and Boise State.
His one regret, then, may be that he couldn't pull one over on his new colleagues Aaron Roderick and Fesi Sitake.
"At no time in my career did I want to beat a team more than those two games; I wanted to beat them bad," he said. "But with that being said, I really respected A-Rod and Fesi, that whole staff and what they've been able to accomplish the past 3-4 years that they've been rolling on offense."
A day after speaking with Sitake, Poppinga and his wife, Rebekah, had decided to move their four daughters back to Provo, where three of them were born during his seven-year run from defensive intern to outside linebackers coach and special teams coordinator under Bronco Mendenhall.
Winning a conference title is special; Poppinga knows that, from his days winning the Mountain West in 2006 and 2007 to helping Virginia to an Orange Bowl appearance in 2019.
"There's just something more," he said. "When you're independent, t's kind of like you're playing for your pride. Each week you're playing great opponents, but ultimately, there is no conference championship there that you can really be able to compete for it, so this is a different deal. I'm excited for us to be back in this opportunity to compete for conference championships."
×
Photos
Most recent BYU Football stories