Estimated read time: 6-7 minutes
STANFORD, Calif. — Everything good about Houston Heimuli as a football player can be seen in just one play.
It was late in a 52-26 win over FCS foe Utah Tech, a senior day celebration of the sixth-year graduate transfer's final season of eligibility, and Heimuli lined up on the line of scrimmage, a second tight end or "F" receiver whose top priority was blocking, reading the defense, picking up blitzes and — in this case — leading the ball carrier into the end zone.
That was exactly what Heimuli needed when he pulled to his right, and saw Terence Fall take the ball on a jet sweep. So the 5-foot-11, 265-pound fullback-by-trade shifted his weight and sprung the third-year freshman to his second-ever run in a BYU uniform. And when a Utah Tech defender tried to come in to make a play, Heimuli dived forward, and watched from the ground as Fall found the end zone.
Touchdown — and he couldn't contain his excitement.
"That's our pride," Heimuli said. "Seeing whoever is behind me make a score, I'm always happy to see them succeed.
"My goal is to be the one to help them succeed in whatever role I can find."
The fullback is the ultimate team-first role, an offensive lineman in running back form, equally adept at rushing forward for a few yards or catching a pass in the backfield to go for a touchdown as much as staying home and blocking for his quarterback.
Other's success is their success. It's been called a dying role in modern football, but Heimuli, whose father Lakei was once BYU's all-time leading rusher, excels at it.
It's not an ideal fit for BYU's offense, which utilizes a spread wide play rather than an I-formation under center under offensive coordinator Aaron Roderick. But in spot situations, Heimuli has made that work perfectly for him, as well.
Whatever his teammates need, Heimuli's provided it, tight ends coach Steve Clark said.
"He's brought a lot of wisdom, maturity, and also immaturity that we needed," said Clark, moments after joking that the Bountiful Class of 2014 graduate is "about 42 or 43 years old." "He's a very funny guy, so accepting, and so ready to help. He never hung his head at all, and always had a great, positive attitude.
"I wish I would've had him as a freshman."
As BYU prepares for the regular-season finale Saturday at Stanford (9 p.m. MST, FS1), the matchup between the Cougars (6-5) and Cardinal (3-8) has little meaning. BYU has already clinched bowl eligibility, a postseason berth for the 17th time in 18 years.
Stanford was eliminated from the postseason before last week's loss to rival Cal. But for Heimuli and his former teammates (and opponents) in the Bay Area, the game is personal.
What would be an ideal finish to Heimuli's regular-season career, in the same place it started?
"A touchdown," the fullback chirps without hesitation. "Just a touchdown would be great — or even leading a touchdown. It will just be good to play back in that stadium and to contribute; that's what I want to see."
After playing a full campaign with Stanford, Heimuli returned home for his sixth and final year of college football (courtesy of playing during the frozen eligibility of the COVID-19 pandemic of 2020) to be closer to home, to finish school, and to walk-on to the football program where his father Lakei was the starting back on BYU's 1984 national championship team.
BYU football is better with a Heimuli on the roster. Even if the Cougars didn't have a scholarship to give or weren't sure about academic entrance for the postgraduate fullback, head coach Kalani Sitake told the incoming newcomer that he would find a way to use him.
"I can tell you his impact and influence on our program, off the field and in the locker room being a teammate, has been amazing," said Sitake, himself a former BYU fullback who spent time in camp with the Chicago Bears before a back injury abruptly ended his pro prospects. "He's a wonderful young man. We are a better program with him being here."
It's also been as much a growth trial as a learning experience for Heimuli.
In five years at Stanford, Heimuli was the epitome of a true blocking fullback, playing in 41 games with four starts in an offense that utilized NFL-caliber and a pro-style I-formation to the extreme.
None of those 41 games were anything like the offense he encountered under Roderick at BYU, though.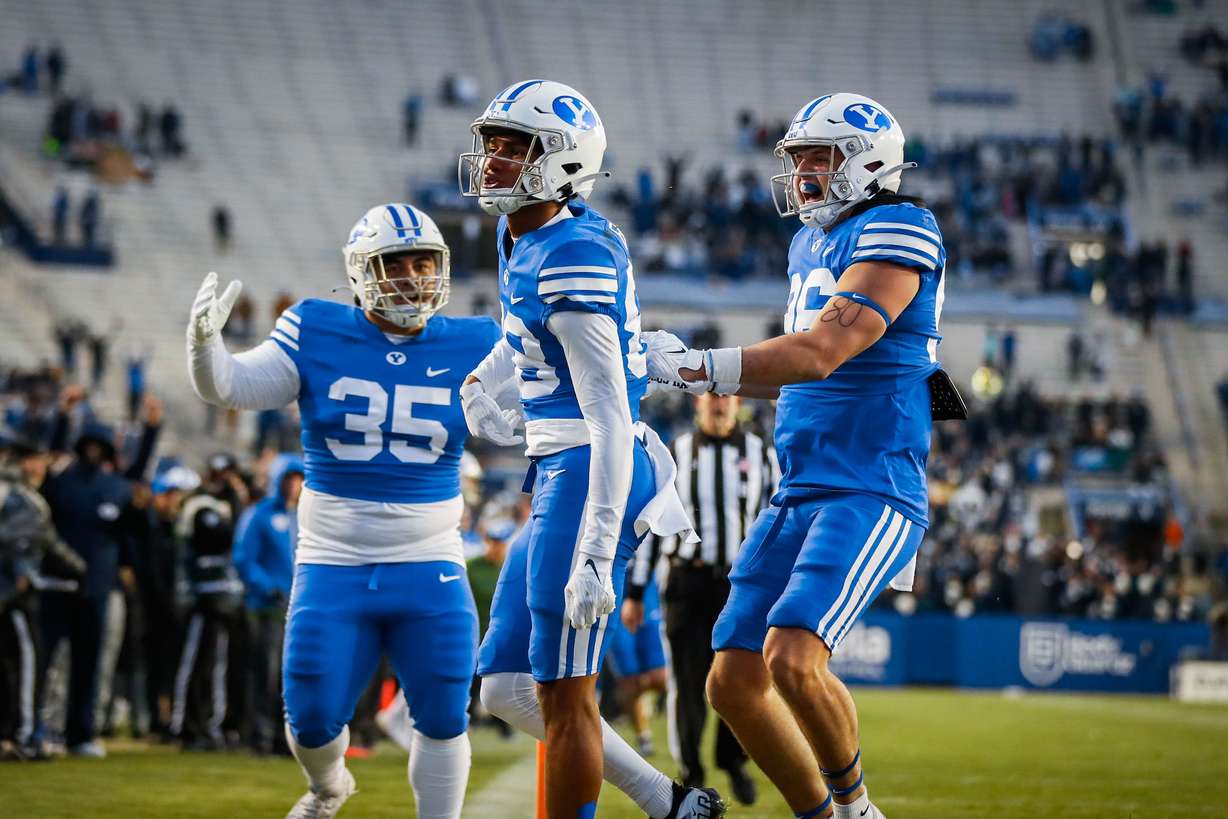 "It's a 180; it's crazy how different it is," Heimuli said. "But what I have enjoyed was learning the role as more of an H-back, running a lot. I think it made me grow, and I loved that experience."
The Bountiful product enrolled in the Bay Area university after serving a two-year mission for The Church of Jesus Christ of Latter-day Saints in Indianapolis — that was a key reason he committed to Stanford, because Cardinal staffers wanted him to serve a mission first — and scored his first and only touchdown against Washington State in his debut season of 2018.
A two-time team captain and All-Pac-12 honorable mention, Heimuli doesn't hold any ill feelings toward his time at Stanford. Quite the opposite, really; he earned a degree in human biology from the prestigious institution, before transferring to his father's alma mater to complete several prerequisites for medical school and play out his final season of eligibility.
"Stanford was a place where I really learned to think outside the box and find views I had never experienced before," Heimuli said. "It shaped me into a lot of who I am, and I give credit to Stanford's staff, as well as coach Shaw.
"I had a lot of growing done there, and I appreciate them for that."
Of course, that final season hasn't gone quite according to plan for Heimuli. The sixth-year senior entered the tight end room in an unfamiliar territory, learned a new offense, and has seen more snaps at defensive line on punt coverage than his traditional fullback role while playing all 11 games.
"Everybody wants to play more plays; not everything is up to our expectations," Heimuli said. "However, it's about what role you can find and how you can benefit the team. It's not a sport where you want to bring other people down.
"Whatever role I can play, I'm going to play 100%."
That, of course, made Saturday's 26-point win over Utah Tech more special. Lining up at the F receiver position next to the line, a second tight end role that is often used like an H-back or fullback in other schemes, Heimuli sprang off the block and immediately ran downfield in front of Fall.
The senior threw his body into the weight of an oncoming tackler, laying down the lead block, while fellow tight end Carter Wheat added another stuff that guided Fall into the end zone.
And sure enough, when the first-ever European-born touchdown scorer in BYU football history was celebrating in the end zone, Heimuli and Wheat were the first to the party.
"It felt great to be out there running. I think I was running a 5.5 40; Terence was having a hard time," Heimuli deadpanned. "Seriously, he's athletic enough that I was just going to let him run behind me and I'll throw my body somewhere."
Houston, we have liftoff
Houston Heimuli
5'11" | 265 lbs | Bountiful, Utah
Appeared in 42 games as blocking back and special-teams lead in five years at Stanford, including three starts
All-Pac-12 honorable mention in 2020
Two-time team captain
Two-time all-state running back at Bountiful High School, where he was rated the nation's No. 2 fullback by Scout and ESPN prior to signing with the Cardinal in 2015
Served a two-year mission for The Church of Jesus Christ of Latter-day Saints in Indianapolis
Son of former BYU running back Lakei and mother Pania Heimuli
Uncle Hema played for BYU from 1991-95
Has four siblings: Hema, Hevynn, Harrison and Helam, who played football at Weber State from 2013-16
×
Photos
Most recent BYU Football stories