Estimated read time: 5-6 minutes
STANFORD, Calif. — Nothing comes easy this year for the Cougars, and Saturday's regular-season finale at Stanford was no different.
With their veteran quarterback in the medical tent and his seldom-used backup leading the charge with a three-touchdown lead, BYU was forced to dig deep in its last regular-season road trip against an opponent it had never beaten of the independence era.
Christopher Brooks, Hinckley Ropati and a defense that included a rare late blocked PAT against a future NFL kicker helped the Cougars hold on to clinch their first-ever win over Stanford 35-26 late Saturday night on the Farm.
Brooks ran for 164 yards on 23 carries, and Ropati added 85 yards and a touchdown for a BYU ground game that ran for 358 yards
Jaren Hall completed 7-of-11 passes for 93 yards and two touchdowns, and also ran for 69 yards and a 19-yard score before exiting the game with an apparent ankle injury in the third quarter. BYU coach Kalani Sitake said the quarterback's early exit was precautionary, and that X-rays on the affected ankle came back negative for adverse conditions.
Moments after limping into the postgame press area to meet with a small group of local media, Hall confirmed his head coach, as well.
"It's a little sore," he said with a grimace. "But it's just precautionary; I wanted to get out before anything else happened.
"Of course, I wanted to (play), but health is the first thing, and I just couldn't do it in the moment."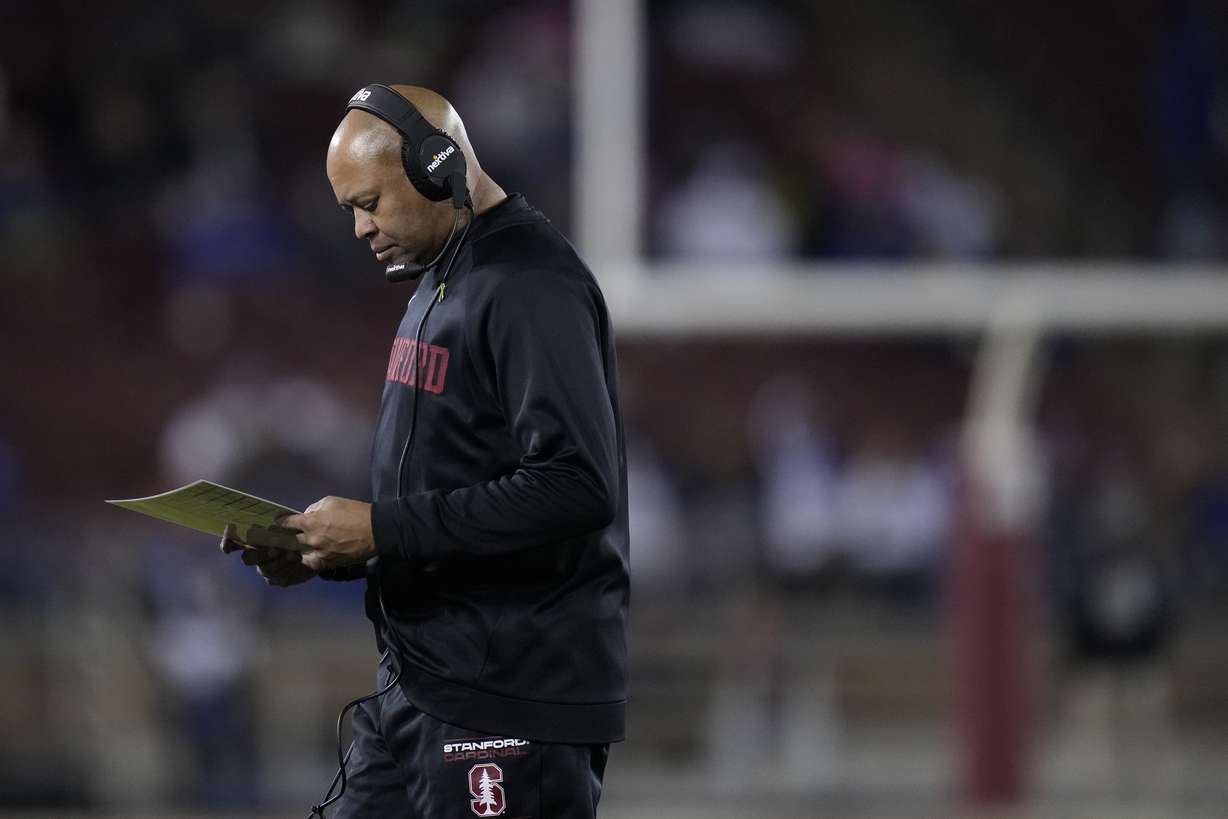 Stanford quarterback Tanner McKee, playing in what may be his final college game before heading to the NFL draft in April, threw for 313 yards and a touchdown to lead the Cardinal to their highest scoring game in six contests.
His decision to stay or go could be influenced by news that trickled out after the game, when Stanford coach David Shaw hugged every one of his players after making an important announcement and reporting to his final postgame press conference as head coach of the Cardinal program.
That's right; for the second-straight year, BYU ushered out a Pac-12 coach from a job, though Shaw insisted the decision to step down was his and his alone, after "a lot of prayer" and consultation with his wife over the past few weeks. He departs as the winningest coach in Stanford football history, a three-time Pac-12 champion and two-time Rose Bowl champion who presided over what many consider to be a golden age of Cardinal football.
"I grew up in the NFL before I came to college … The one thing about the NFL is that when the season's over, the season's over," said Shaw, who stressed that he is not "burnt out" on the coaching profession but does not have immediate plans to coach again. "My wife and I have talked that sometimes I'd get time off, and I would just sleep for days.
"We had an offseason. But there's no such thing as an offseason in college football."
His final game concluded in history for the Cougars, who beat the Cardinal to complete a historic trek through the Pac-12 with at least one win over every current member of the conference. For BYU, the third time was the charm.
"I challenged the guys to do something that no BYU team has done yet. It felt good to come here and get a win on the Farm," Sitake said. "Credit to Stanford; they made things difficult for us. I thought they did a good job powering back, with some good coaches and good players, too."
For at least one half, too, BYU didn't just look on par with its Power Five opponent — it looked superior to the foe, albeit one with the No. 111-ranked total defense in the Football Bowl Subdivision.
BYU needed just 16 snaps to take a 14-3 lead in the first quarter, and led by as much as 28-12 at halftime, including a flea flicker that passed from Hall to Brooks to Keanu Hill, back to Hall and finally landed in Isaac Rex's wide-open hands for his first of two touchdowns, a 43-yard strike to go up 21-3 with 13:43 left in the half.
Hall completed a cool 6-of-10 passes for 80 yards and two touchdowns before the break, and added 63 yards and a score on seven carries.
But the Spanish Fork native went down on a failed fourth-and-short attempt and came up limping. Hall visibly favored his right ankle as he immediately found the medical staff on the sideline, and backup quarterback Jacob Conover replaced him.
Hall did not return to the game. With Brooks and Ropati in the backfield, it didn't matter.
Add in a splash of Puka Nacua, who had just one catch for 6 yards in the first half, and it was perfect. The junior wide out who starred at Orem High took a reverse from Conover on the backup's first drive and ended 25 yards later in the end zone for a 35-12 advantage to start the fourth quarter.
"We knew we'd be able to run the ball coming into this game," Hall said. "Couldn't have dreamed it of it, but that was insane how well they held the line of scrimmage.
"When the line is opening up those holes for the run game, it makes my life very easy."
McKee found Brycen Tremayne for a 7-yard score with 4:39 left that pulled the hosts within 35-26. But the Cougars blocked the ensuing PAT to preserve the 9-point lead, and Brooks and Ropati did the rest with Conover taking snaps under center.
The Cougars ran 50 of their 62 plays on the ground, a staggering 358 rushing yards that included a career-best from Brooks against Stanford — surpassing the 131 yards on 13 carries for Cal in last year's rivalry game with the Cardinal.
"I thought he ran really physically last week," Sitake said of Brooks, who returned from a hamstring injury a week ago in a win over FCS foe Utah Tech. "I think the injury and having him be out, he's had to take out his anger a bit on the field. I'm really good with that."
Tremayne finished with 11 catches for 130 yards for the Cardinal, who finished the year with a 3-9 record that included a 1-8 mark in Pac-12 play.
×
Photos
Most recent BYU Football stories