Estimated read time: 4-5 minutes
PROVO — Chris Brooks was exactly what BYU needed to shake off the malaise of its regular-season home finale and pull away for a 27-point victory over FCS foe Utah Tech.
The graduate transfer from Cal had his best game since the season opener in a 52-26 win over the Trailblazers, but Brooks' mind was already turning toward his own personal Big Game next week at Stanford (9 p.m. MST, FS1).
"Absolutely," Brooks said with a wide smile when asked if he was looking forward to reigniting some of his Cal rivalry with the Cardinal, which dropped to 3-8 with a 27-20 loss to the Golden Bears on Saturday.
Stanford is coming off its biggest rivalry, but one admittedly subdued in the 125-year history of the Big Game. Both the Cardinal and Cal had been eliminated from bowl contention with a pair of blowout losses the week prior, meaning both met without a shot at a bowl game for the first time since 2000.
It's the first time since 1997-98 that both Cal and Stanford will end back-to-back seasons with losing records.
Still, the excitement of the rivalry drew a sellout crowd of 51,892 fans to Cal's Memorial Stadium, the Bears' first home sellout crowd since 2013 against Ohio State.
So, yeah, it's still a big game for Brooks.
Brooks didn't start on senior day for the Cougars (6-5), who clinched bowl eligibility for the 17th time in the past 18 seasons with Saturday's win. That means Brooks' college career will, in all likelihood, be extended for one more game for the 6-foot-1, 230-pound native of Oceanside, California, who was Cal's leading rusher for two years.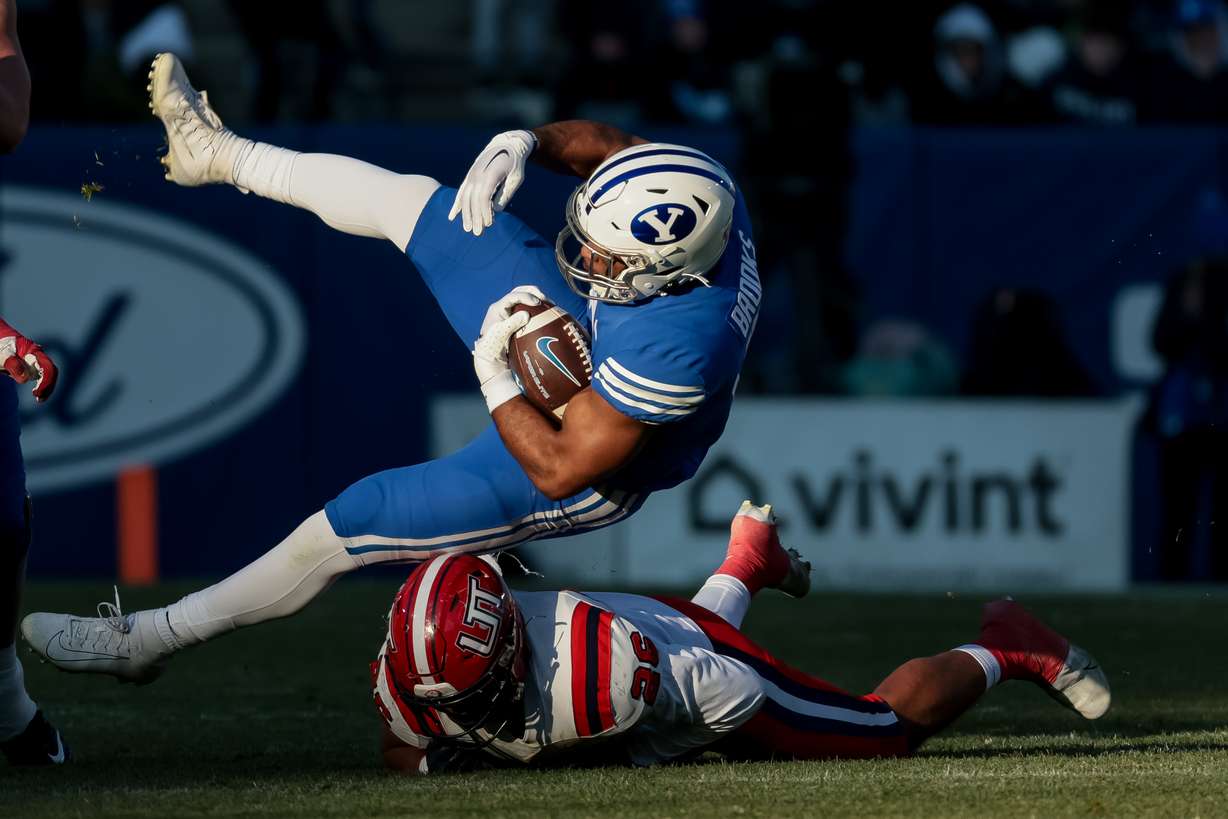 But the 102 yards on 12 carries he posted was his best game since a 135-yard performance with a touchdown in BYU's season opening 50-21 win over South Florida. And it came at the perfect time, with fellow senior Lopini Katoa sidelined after fumbling the ball in the first half and junior Hinckley Ropati posting a career high, but just 43 yards on 16 carries.
With Brooks, and quarterback Jaren Hall (more on him in a minute), the Cougars piled up a season-high 676 yards of offense, 30 first downs and 52 points to overwhelm a Utah Tech team that hung around during BYU's listless first half.
It was up to Brooks to guide a run game and give Hall an option that didn't constitute a deep ball on every other play against the Trailblazers (4-7), who had a three-game winning streak snapped in the buy-game loss.
Hall threw for a career-best 424 yards and five touchdowns, a sixth rushing score to make him the first quarterback with six total touchdowns since Christian Stewart in 2014, and a throw that sent him over the 3,000-yard passing mark on the season. But he also needed some help.
Perhaps it was only fitting that the duo addressed the media together after the game.
The Spanish Fork native was as good as has been advertised for the past two years, but Brooks' re-emergence brought "experience and physicality" to the Cougars' running back-by-committee approach.
"He knows what he's doing, and he's a difference-maker for us," Hall said of Brooks. "When we give him opportunities he makes the most of them. So, it's been fun and a blessing to play alongside him all year."
Brooks' performance was special for him, too, because his greatest ability has been availability. The power back who excelled in Cal's pro-style system saw his first minutes since leaving BYU's 41-14 loss at Liberty with a hamstring after just three rushes for 26 yards. He didn't even make the trip to Boise, when Ropati played a key role in the Cougars' 31-28 upset of the Broncos that snapped a four-game losing skid.
Earlier in the week, running backs coach Harvey Unga said he planned to make use of Brooks, though he wasn't sure how much. His number was called ostly in the second half, but it could see significantly more time against his old rival.
"It felt great. I'm so grateful for the BYU athletic training staff," he said. "I love them so much; they were able to help me recover in such a short amount of time, so I feel very blessed."
Of course, that's not to say playing in his home finale at LaVell Edwards Stadium wasn't special, either. After the game, Brooks made the final walk across the field with 36 other players — 13 of them seniors who were exhausting their eligibility — in front of friends, family, teammates and a few hundred fans that remained in the stadium amid the 30-degree temperatures.
Brooks probably expected more of the nine games he's played than the 561 yards and five touchdowns scored for the Cougars. But he doesn't regret spending his final season of college football in Provo one bit.
"This has been one of the best decisions of my life, to come play here," he said. "I truthfully say that. I'm so happy with the decision to come here and thank God for giving me this experience every day."
On the air
BYU (6-5) at Stanford (3-8)
Saturday, Nov. 26
Kickoff: 9 p.m. MT
TV: FS1
Streaming: Fox Sports
Radio: BYU Radio SiriusXM 143, KSL 102.7FM/1160AM
×
Most recent BYU Football stories