Estimated read time: 3-4 minutes
OGDEN — Prices for groceries are up, but the price we pay for butter is way, way up — to the point it will impact your holiday baking budget.
KSL producer Sloan Schrage and I have certainly consumed our fair share of butter, but neither of us has ever given much thought to where it comes from. According to a recipe we found online, making it is as easy as, well, as a hot knife through butter. Just whip heavy whipping cream until it turns into butter.
On this day, we are making the spread with one question in mind: Is making our own cheaper? After all, the cost of butter is way up.
According to the Bureau of Labor Statistics, all food has gone up 7.7% in the last calendar year. But butter is up three-and-a-half times that; we're paying 26.7% more than we did before.
I bought the cheapest heavy whipping cream I could find at the grocery store nearest my house, as well as the cheapest sticks of butter. Could a little elbow grease help us bust inflation ahead of Thanksgiving or Christmas cookie season?
"You could definitely make it on your own," said Baylee Sorenson, owner of Mountain Born Creamery in Ogden.
Sorenson makes butter for a living — fancy butter she sells at farmers markets and a few select stores. For her, it is a labor of love.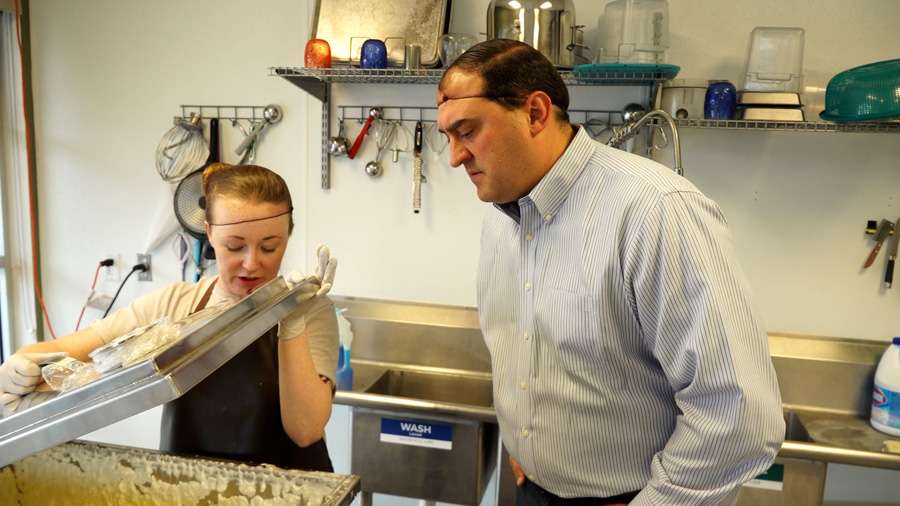 While we wait for our cream to turn into butter, let's go talk to somebody who knows a lot more about this than we do.
"You take a raw product and you make it into something else," Sorenson said, "and that's always exciting."
Exciting maybe, but Sorenson confirms making butter has gotten more expensive.
"What we're seeing now is a lot of pinches from supply chain disruption from COVID, to droughts to gas prices. It all plays a part right now," she said. "Especially in Utah, where you have a drought. Dairy needs a lot of water in order to make and supply cows. Gas prices have been the No. 1 influence on that because the cost of transport milk is expensive."
Sorenson's advice for bringing down the cost of butter — buy in bulk.
"Butter freezes beautifully," she said. "It does not disrupt the product. So, if you find butter for a good price or a product that you love, throw it in your freezer."
---
Butter freezes beautifully. It does not disrupt the product. So, if you find butter for a good price or a product that you love, throw it in your freezer.
–Baylee Sorenson, Mountain Born Creamery
---
Or when cooking, use a cheaper substitute.
"Maybe it's olive oil, maybe it's lard, maybe it's a different kind of fat that you're going to add into that recipe," Sorenson said.
Unlike the pros, Schrage and I trial-and-errored our way through the butter-making process and found it not quite as simple as the recipe alleged. Separating the butter from the buttermilk proved especially, well, squishy. When all was said and done, we did end up with some decent-tasting butter, but did we save money?
Let's do the math: That elbow grease got us almost exactly one, standard, 4-ounce stick of butter's worth. The four sticks of butter I purchased from the store cost $4.79. To make that much, I would need to buy $10.98 worth of heavy whipping cream. That's more than doubled what I paid for the butter sticks.
So, making our own butter turned out not to be an inflation buster. But I learned a new life skill and, despite all the trouble we had making that butter, I can honestly say — it tasted better.
×
Photos
Most recent KSL Investigates stories