Estimated read time: 5-6 minutes
SALT LAKE CITY — Firefighters don't only respond to putting out fires, they respond to all sorts of emergency needs.
In fact, medical calls accounted for about eight out of every 10 unique emergency calls that the Salt Lake City Fire Department received last year, according to Fire Chief Karl Lieb. Many of these calls are tied to mental health or substance abuse — or could be better resolved with the help of a social worker around.
It's why Lieb is thrilled about his department's new Community Health Access Team, or CHAT for short, which begins service on Tuesday. The team is composed of one licensed clinical worker, one social worker and one social services worker who may respond to calls that may require more than a firefighter or EMT.
The program allows for a team member to be alerted during an original emergency dispatch so that a patient can receive the assistance they need as soon as possible. The initial program will begin with Community Health Access Team service available during "regular business hours" on weekdays before any possible expansion to wider service hours.
Team members may direct a patient to mental health assistance, drug treatment options or even offer help while responding to a traumatic incident or call where someone has died.
"It'll be the first program of its kind in the state of Utah," said Lieb, standing by a fire department vehicle with the CHAT logo near a fire station in the city's Poplar Grove neighborhood on a recent hot afternoon. "The Salt Lake City Fire Department is known to be progressive and innovative and creative, and this is just another step in that direction."
The need for CHAT
The need for social workers in emergency responses is on the rise. City officials clarify that the percentage of emergency calls going toward medical assistance is actually pretty consistent over the years; however, the number of medical emergency responses is growing as the city grows and more people are in need of assistance.
Last year, the city fire department received calls for about 31,000 emergency incidents, including nearly 25,000 responses for medical assistance. And since all these emergency responses are vastly different, Salt Lake City Mayor Erin Mendenhall explained that the city needs to find "innovative ways" to address the growing number of calls.
"Any Salt Lake City firefighter will tell you that no two days are the same, no two calls they go on are the same and that's because no two individuals in this city are the same and have the same exact needs," she said. "So I think it's a natural evolution of the Salt Lake City Fire Department to develop a team as dynamic as some of those needs are."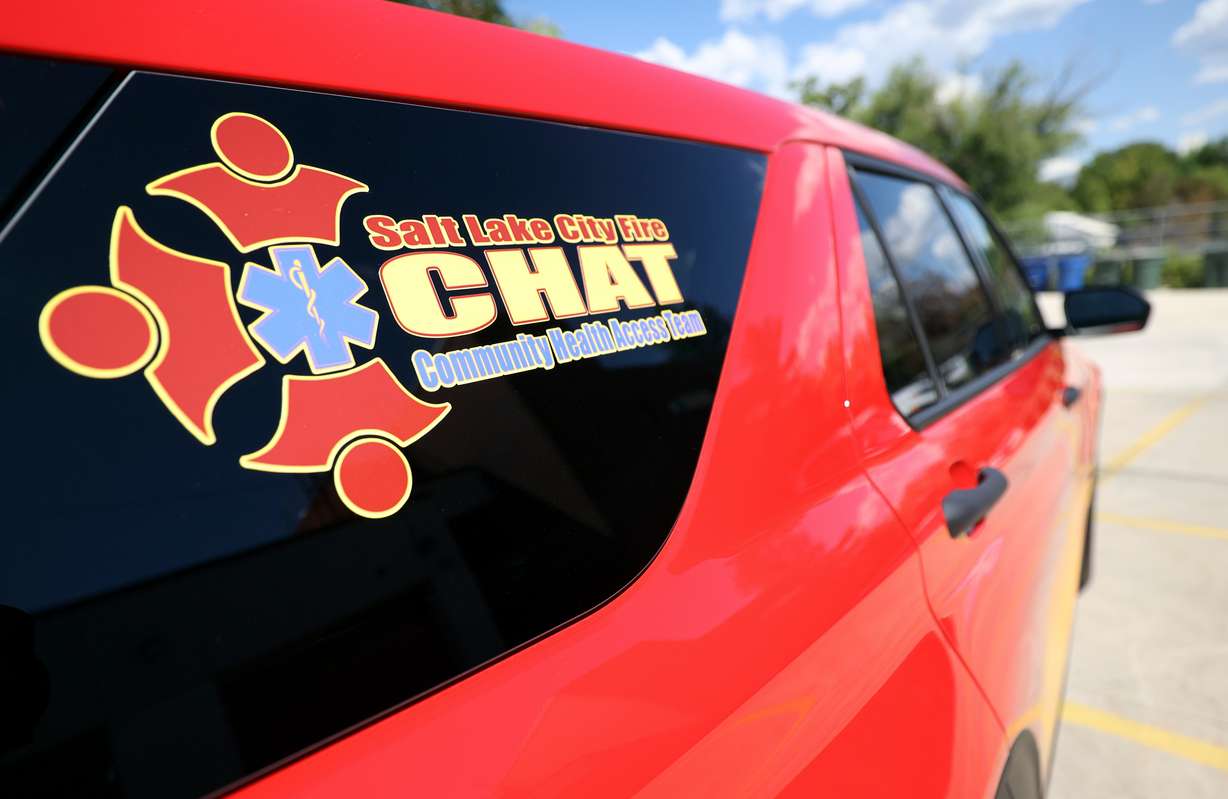 Lieb adds that firefighters and EMTs are ready for all sorts of emergencies, especially life-or-death scenarios. However, they aren't always as prepared to handle people who are in the middle of a mental health crisis or who are experiencing substance abuse problems.
He views the Community Health Access Team as a way for the fire department to "expand our toolbox" to meet this growing challenge.
"That's where social workers come in. That's why we're so happy to have them," he said. "A certified, educated, experienced social worker will add a vast amount of resources to our team. ... CHAT is designed to be fast, it is designed to be targeted, it is designed to be efficient and social workers are what we need."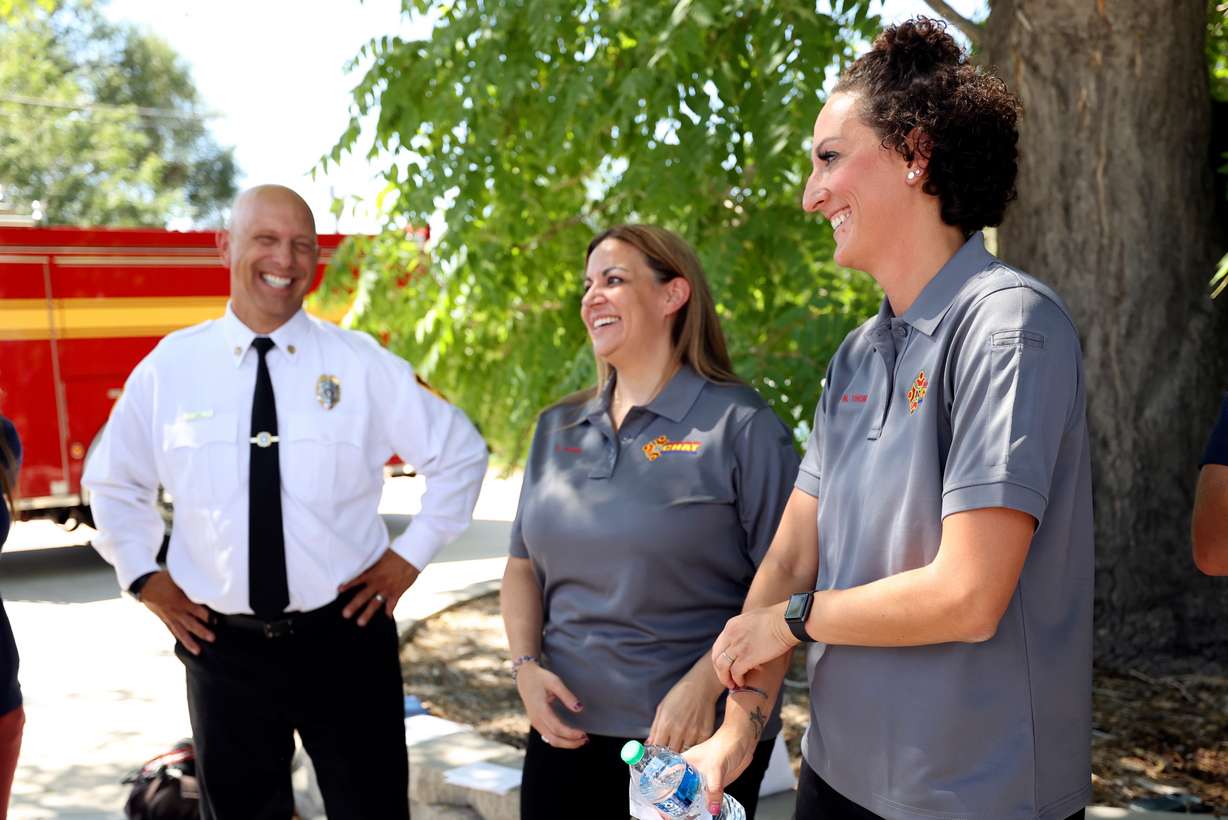 Community Health Access Team is meant to offer the help a patient needs right away, said Natasha Thomas, the team's first manager.
Mendenhall points out that the team also meshes with efforts in recent years to pair social workers with police officers, which has now grown to a force of nearly 20 social workers. But police don't respond to every emergency call, so it made sense to have social workers team up with firefighters or other emergency responders, too.
The Salt Lake City Council appropriated about $316,000 in the current fiscal year to roll out the initial program. Council Chairman Dan Dugan called it a "fantastic" program needed in Salt Lake City.
"I'd like to say that this is the appropriate tool, the appropriate response for the needs of the city," he said. "We have an EMT with a social worker working together — each has their own specific skills. And together, they really work well in serving the needs of the city."
Looking at future expansion
While the city is committed to making the team a permanent fixture in the fire department, it is still like a pilot program in its constraints, Mendenhall said. The three members of the team will only be available on weekdays from about 7:30 a.m. to 8:30 p.m.
More funding will be needed in the future to expand it into a 24-hour, 365-day service. City officials plan to track results before any expansion is considered, including data on how many emergency room visits are diverted by the Community Health Access Team response.
In the meantime, Mendenhall says other cities have shown interest in the plan to pair social workers with firefighters and EMTs. Her goal is that neighboring cities will eventually invest in the idea so people don't have to wonder if they are in the right boundaries to receive the help they need.
"The lines of any city are invisible when you cross them, so if you end up in crisis and having to call 911, you may not necessarily know if you're in (the right service area)," the mayor said. "Having a consistency to the breadth and the professionalism of response, whether it's a social worker that's (needed), an EMT or literally you need a fire put out, it would be great to have the growth of this in the system."
×
Most recent Police & Courts stories