Estimated read time: 4-5 minutes
SALT LAKE CITY — Get ready to break out your sweaters, plan your foliage-viewing trips and pick out a Halloween costume because fall is almost here.
Though autumnal equinox is still a month away — Sept. 22 for those curious — meteorological fall is actually only two weeks away. It's close enough that the National Weather Service's Climate Prediction Center on Thursday released its three-month outlook for September, October and November, which compose the meteorological season.
The outlook projects odds leaning toward above-average temperatures with below-normal precipitation in Utah. It lists most of the state within a 50-60% probability of above-normal temperatures over the three-month period, and a 33-50% for below-normal precipitation.
So, what is normal? If you go by the 20th century calculations, Utah's average temperature is 48.5 degrees for the entire season combined, along with 3.35 inches of precipitation. It's been warmer and slightly wetter over the past 30 years, though. The average temperature is 49.8 degrees, while the months have generated 3.46 inches of precipitation from 1991 to 2021, according to National Centers for Environmental Information data.
Breaking down Utah's fall outlook
The Climate Prediction Center offers outlooks with varying intervals based on different trends in weather, including the La Nina oceanic pattern. The outlooks are made to help prepare for weather events ahead of time, though because the weather is nearly impossible to predict beyond a few hours or days, the outlooks are based on probabilities.
It's worth noting that the outlook doesn't mean there won't be cool days or storms over the next three months. In fact, there's a 10-15% for below-normal temperatures across the state. The outlook says there's a growing probability that the final average temperature and precipitation collection from the three-month span is leaning toward being warmer and drier than normal in Utah.
"What these plots are showing you, one way to think about it is kind of like the dice is loaded in a specific direction. So the dice for (Utah) ... in this outlook are loaded for it being a drier fall with above-normal temperatures. It's not the same as saying it will be above-normal temperatures," said Darren Van Cleave, meteorologist in charge at the National Weather Service's Salt Lake City Office.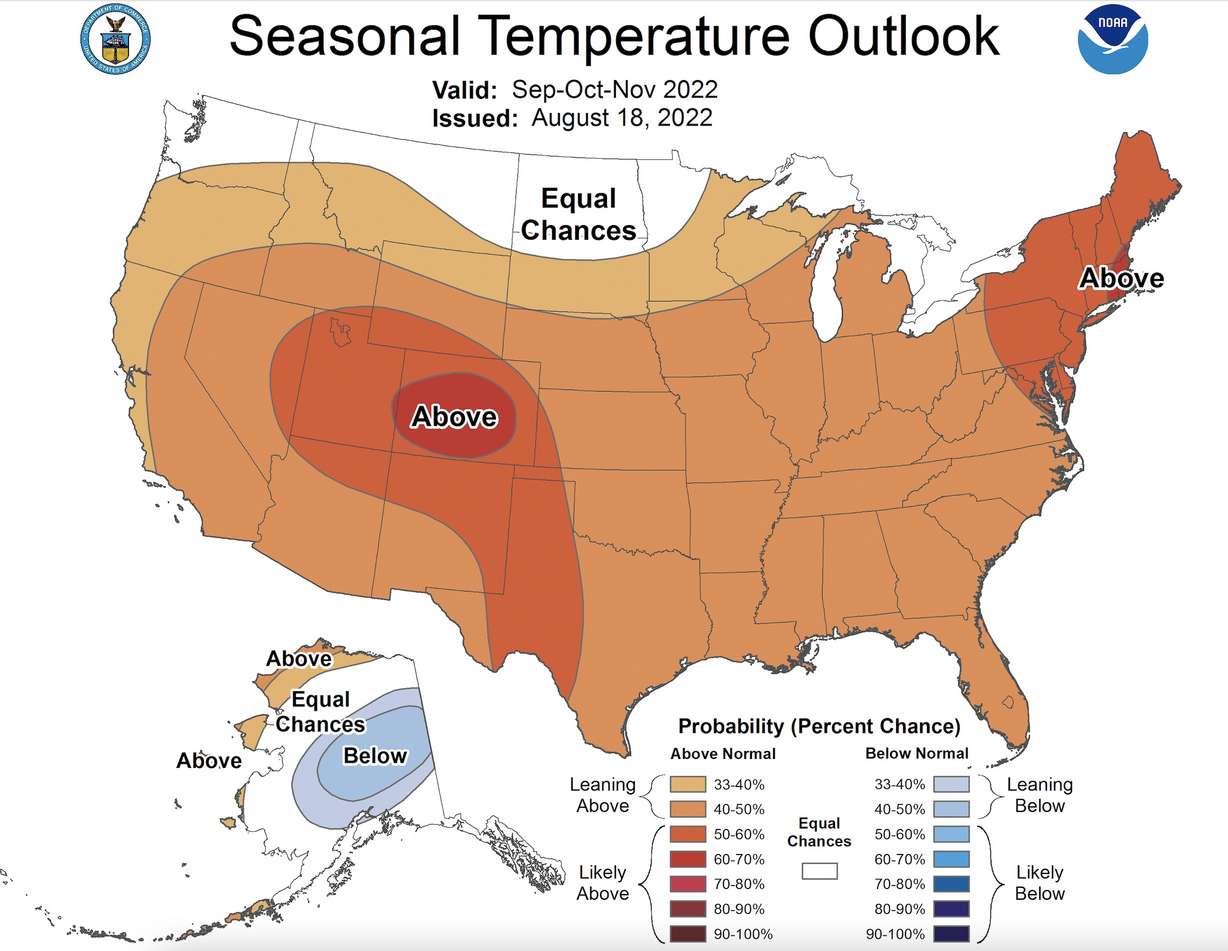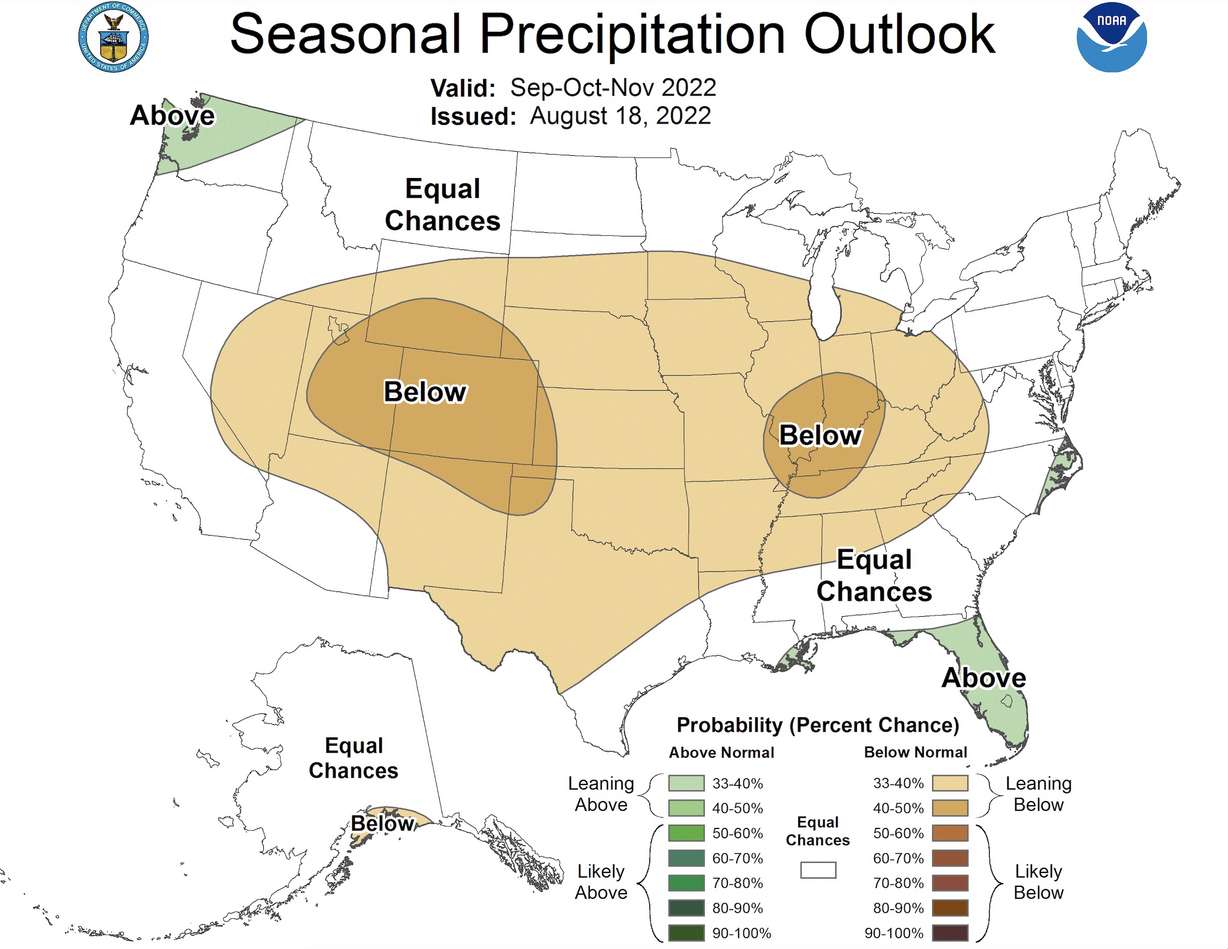 What's considered below or above normal also carries a wide range. For example, the center projected fall 2021 to be drier than average throughout all of Utah and it happened because the state collected 3.33 inches of precipitation, only two-hundredths of an inch below the 20th century normal. It also projected a dry fall in 2020 and it was the fourth-driest fall on record with over 2 inches below the normal, highlighting this range.
Meanwhile, the Climate Prediction Center's near-term outlooks released this week indicate that monsoonal moisture is expected to persist throughout the state to close out August, possibly continuing into September, which would be a good start for the fall season. Its precipitation outlook lists southern Utah within "equal chances" in September, meaning that there isn't a strong indication of whether the month will be wetter or drier than average in the region.
The three-month outlook indicates that, at the moment, southernly storms will eventually taper off. That said, there is a 20-30% chance for above-normal precipitation throughout the state — northwest Utah having the highest probability.
The importance of fall in Utah
Fall, of course, is when temperatures begin to cool down as Earth tilts away from the sun. State temperatures really begin to tumble in October, as evidenced by the average statewide temperatures for the three months over the past 30 years.
September: 62.3 degrees
October: 49.6 degrees
November: 37.5 degrees
But fall's normal precipitation also plays a vital role in how Utah collects its water. Rain from the summer monsoons and fall storms can benefit soil moisture levels, which eventually allows for a more efficient snowpack runoff in the spring. The vast majority of Utah's water supply comes from snowpack that melts into rivers and streams that end up in Utah's reservoirs.
The storms over the past few weeks have helped soil moisture levels reach closer to normal, according to the Utah Department of Natural Resources. They have also reduced the percentage of Utah in extreme drought from a high this summer of 84% to a current level of about 65%, according to the U.S. Drought Monitor.
"Having elevated soil moisture from monsoons and then going straight into an active wet, fall would really be ideal to lock those soil moistures in place," Van Cleave said, adding a warmer, drier fall could potentially prolong the fire season, which has been relatively quiet so far this year.
Fall is also when the snow collection begins, meaning its storms can help Utah's water year start on the right foot — as it did last October.
So looking at the odds, and knowing Utah's drought situation, Van Cleave is less than enthused about this year's fall projections.
"It's certainly not good for our hydrological outlook," he said. "If this were to occur as shown, it would not give us that good start to the winter."
×
Most recent Utah weather stories