Estimated read time: 4-5 minutes
This archived news story is available only for your personal, non-commercial use. Information in the story may be outdated or superseded by additional information. Reading or replaying the story in its archived form does not constitute a republication of the story.
SALT LAKE CITY — After closing out another dismal water year in September, Utah's 2022 water year is off to a roaring start.
The first month of the new water year ended Sunday. And many places across the state received October precipitation amounts over tenfold the levels received during the first month of the 2021 water year.
Salt Lake City, for instance, posted its seventh-wettest October on record with 3.49 inches of precipitation, according to National Weather Service data. It collected just 0.28 inches in October 2020, the first month of the 2021 water year. Interestingly enough, the data show Salt Lake City didn't reach 3.49 inches in the 2021 water year until Feb. 17 — 139 days into the year.
The past month also ended up 2.23 inches above Salt Lake City's October normal. But Utah's capital city was hardly an exception.
Here's how October played out in other places across the state compared to the previous year:
Alta
2020: 0.43 inches (4.5 inches of snowfall)
2021: 7.96 inches (48.5 inches of snowfall)
Average since 2000: 3.68 inches (24.4 inches of snowfall)
Brighton-Silver Lake
2020: 0.50 inches (5 inches of snowfall)
2021: 6.83 inches (45.3 inches of snowfall)
Average since 2000: 3.55 inches (snowfall average not available)
Cedar City
2020: Trace
2021: 2.17 inches
Average since 2000: 1.21 inches
Jensen
2020: Trace
2021: 1.90 inches
Average since 2000: 1.12 inches
Moab
2020: 0.73 inches
2021: 1.90 inches
Average since 2000: 1.03 inches
Provo
2020: 0.06 inches
2021: 4.36 inches
Average since 2000: 1.57 inches
Tooele
2020: 0.26 inches
2021: 3.82 inches
Average since 2000: 1.41 inches
This has helped lessen Utah's drought severity a bit. Severe drought still covers at least 99.6% of the state, according to the U.S. Drought Monitor. However, the percentage of "exceptional" drought — the most severe category — has fallen from 52.3% three months ago to 14% now.
The biggest benefit from the precipitation isn't drought relief or refilled reservoirs; rather, it's soil moisture levels. When soil moisture levels are high enough, snow collected in Utah's mountains over the winter melts and that water goes into streams, rivers and reservoirs. When soil moisture levels are dry, spring snowmelt goes toward groundwater levels instead, like what happened during the 2021 water year.
Last week, after an atmospheric river arrived in Utah, the weather service tweeted a graphic showing many parts of Utah had surpassed soil moisture averages for late October.
"Soil moisture content is currently above 100% of (the) average for this time of year statewide," the weather service tweeted. "This will allow for improved efficiency of snowmelt runoff for spring 2022. It is snowpack and subsequent snowmelt that will determine our ability to improve the drought conditions.
"Snowmelt runoff volumes will be dependent on our snowpack evolution now through spring, and on temperatures during the runoff season," the agency continued. "While any and all rain we get now is beneficial, it is healthy snowpack and runoff that are ultimately needed to resolve the drought."
So what does Utah's snowpack look like right now? It's looking pretty healthy.
Snowpack starts off strong
Snowpack levels statewide, measured by snow water equivalent or the amount of water within the snow, are off to a strong start ahead of winter.
Utah's statewide snowpack entered Monday at 262% of the average for the start of November, according to Natural Resources Conservation Service data. As of Monday morning, statewide individual snow basins range from 132% above average for Nov. 1 at Bear River in northeast Utah to 5,550% at the Tooele-Vernon basin, as well, per the conservation service data.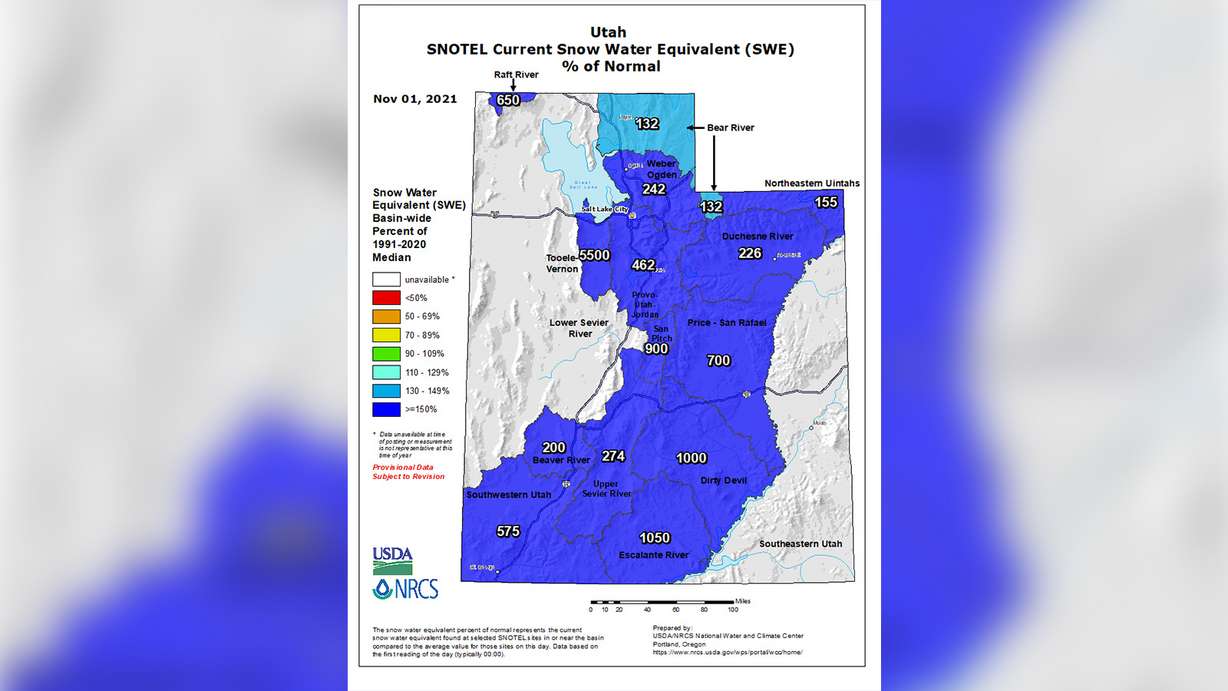 This is the result of an early start to the snow season.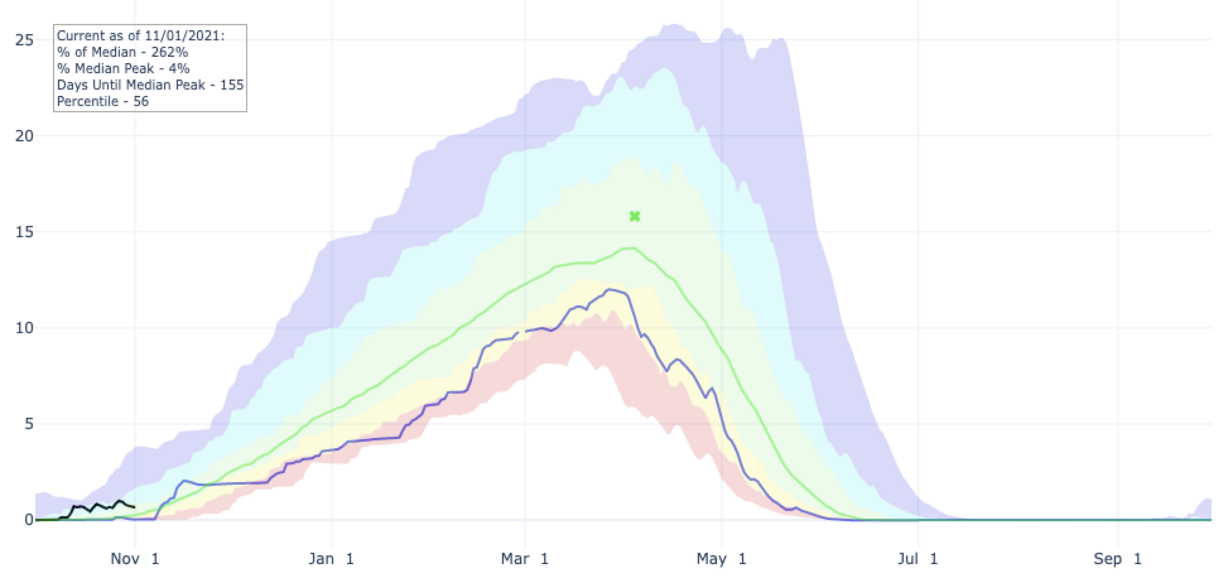 The data shows statewide levels began accumulating on Oct. 9, two weeks ahead of the 30-year average (Oct. 23). In 2020, snowpack accumulation didn't pick up until Oct. 26.
It remains unclear how long this will last. The National Weather Service's winter outlook, released on Oct. 21, calls for a slightly-higher potential for a wetter winter in northern Utah and a slightly-lower potential for a drier winter in southern Utah. Most of the state is considered "equal chance," meaning it's still too early to know if it will be a wet or dry winter.
The 2021 water year snow season peaked on March 27. But if the 2022 water year snow season ends up being only average, the National Resources Conservation Service data shows that the typical peak of the snow season is April 4.
×
Most recent Outdoors stories