Estimated read time: 3-4 minutes
This archived news story is available only for your personal, non-commercial use. Information in the story may be outdated or superseded by additional information. Reading or replaying the story in its archived form does not constitute a republication of the story.
SALT LAKE CITY — Utah gourmet cookie company Crumbl is suing rivals Crave and Dirty Dough for what it calls "confusingly similar" logos, websites and other marketing materials.
It's also accusing Dirty Dough of copying recipes, claiming the founder's brother is a former Crumbl employee.
Lawsuits filed in the U.S. District Court on May 10 indicate that Crumbl is seeking triple damages from Crave and Dirty Dough, in an amount deemed fair by the court. An amended lawsuit against Crave was filed June 29.
Crumbl's lawsuits detail the websites, packaging and menu features they believe Crave and Dirty Dough have taken from them. They include header sections with close-up pictures of cookies; a cookie logo with a bite taken out of it; long boxes that perfectly fit cookies side by side; and similar cookie recipes and presentation, such as key lime cookies with white frosting and lime wedges on top or sugar cookies made with fruity cereal.
The lawsuits also claim that both rival businesses have copied Crumbl's "unique weekly rotating menu concept."
Additionally, the suits filed against Crave claim that Crave founder Trent English toured a Crumbl location and even applied to be a franchisee shortly before starting his own business in 2019.
"The fact that Crave was founded by a former Crumbl applicant with knowledge of Crumbl's business and brand identity shows that Crave was clearly aware of Crumbl and the Crumbl trade dress," the lawsuit states.
Crave filed a response to the lawsuit on June 8, denying that English ever applied for or was denied a Crumbl franchise. It also denies that Crave is in violation of any intellectual property rights.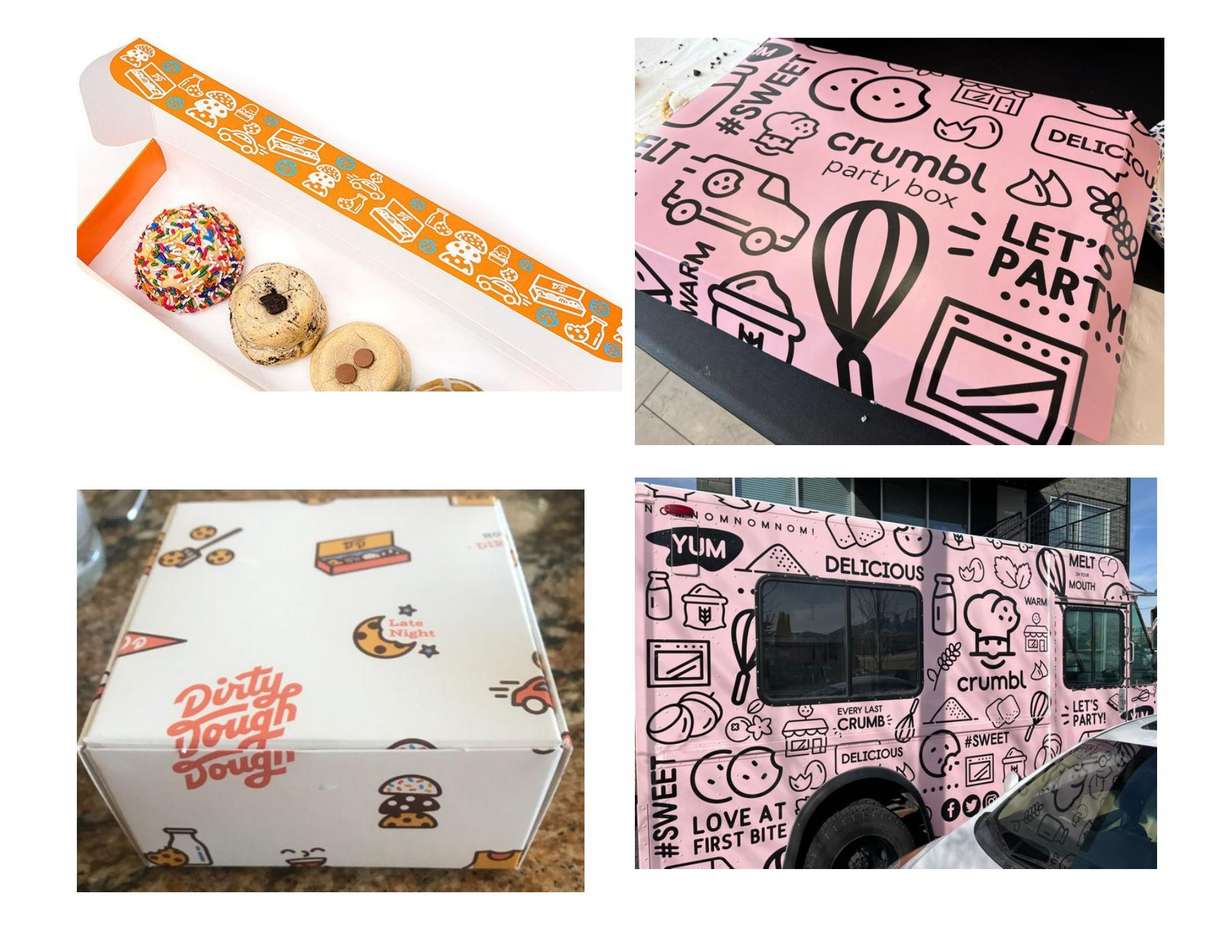 The lawsuit against Dirty Dough claims that Bradley Maxwell, identified as a Dirty Dough founder, was a process engineer at Crumbl from March 2019 through June 2019. Through this position, he became familiar with Crumbl's recipes, methods and formulas, as well as its branding identity, the lawsuits allege.
He also signed agreements stating he would not expose this confidential, insider information at any time during or after his employment, according to Crumbl.
Additionally, the lawsuit claims that Bennett Maxwell, Dirty Dough's founder and Bradley Maxwell's brother, applied to be a Crumbl franchisee in spring or summer of 2019. He was interviewed but not hired, and began his own business in 2019, it states.
"Bradley and Bennett Maxwell appropriated an aesthetic and trade dress similar to Crumbl's branding and the Crumbl trade dress with the intent to benefit and profit from the widespread name recognition and goodwill Crumbl has built in its marks and trade dress," the lawsuit states.
KSL-TV reported that Dirty Dough refutes the claims that the company formed in 2019, stating it started in 2018. Dirty Dough also claims that Bradley Maxwell had no hand in the formation of the company.
Bennett Maxwell posted a response to the suit on LinkedIn: "A billion dollar company suing 2 start ups. Why? Because apparently if you put sprinkles of your cookies, Crumbl thinks they own that. Watch out Grandma, you better throw away those sprinkles or you will be Crumbl's next victim. ...
"Crumbl Cookies, you guys are the leaders in the industry. We all look up to your example of success. What's up with this lawsuit? Billion dollar company bullying multiple start ups with a lawsuit, all based on untrue statements? The industry is plenty big for more than one cookie company."
Dirty Dough filed a response to the lawsuit Wednesday. The company admitted only that Bradley Maxwell worked for Crumbl in 2019 and denied all allegations of wrongdoing.
×
Most recent Police & Courts stories