Estimated read time: 2-3 minutes
This archived news story is available only for your personal, non-commercial use. Information in the story may be outdated or superseded by additional information. Reading or replaying the story in its archived form does not constitute a republication of the story.
Riverton High School is in the midst of its Christmas charity drive. Many schools do similar drives during the holiday season, but what's impressive about this one is the amount of money the students have taken in: $80,000 in three weeks.
As part of the drive, some students are being locked up. But it's not for doing anything wrong. It's because of what their friends have done.
"You pay money for your friend to get in jail; and if they can't pay it back, they have to sit in jail the whole lunch," explained Kirsten Washberg.
One of the students we found locked up, Colton, asked us for help. "I don't have any money. You're a news person, do you have money I can borrow?" he asked.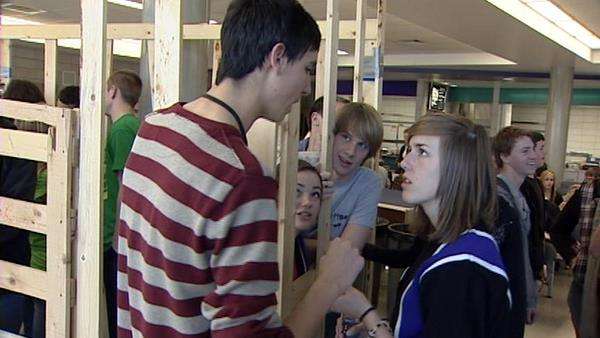 Setting up jail during lunch is just one of the ways students raise money during "Silver Rush." This year, they've decided to give the money they raise to the Family Support Center in Midvale.
For $3, you can send a singing telegram. For 25 cents, you can color a picture of yourself and stick it on the wall.
Each classroom is having a competition to see which can raise the most money, and during lunch you can pay to "face off." "We do a facial hair competition," student body officer Kurt Davis explained.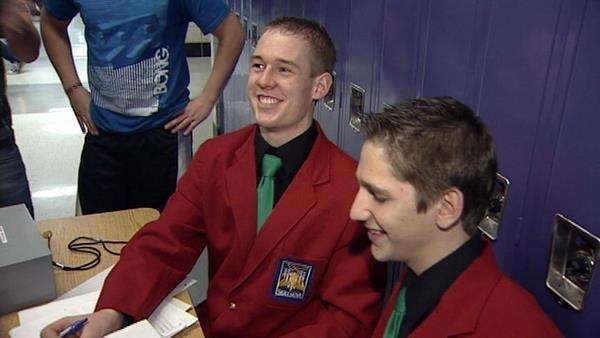 They've thought of everything to raise money, including caroling outside stores after school. "Why waste my time at home sitting on the couch playing the Wii when we serve others and make a difference and change people's lives?" Davis said.
If you pay a visit to the school during Silver Rush, don't be surprised if you're thrown in jail. "It's way fun. It's my favorite part of the year," Bailey said.
Riverton High has always done a Christmas charity. In the past, it was a typical Sub for Santa, and they would raise a couple thousand dollars. But when the students picked the cause to donate to, the charity drive really took off. They started seeing numbers like this year's $80,000.
They've got until Christmas to keep raising money. If you would like to help in this year's Silver Rush, you can drop off your donation at the Riverton High School main office.
E-mail: abutterfiled@ksl.com
×
Related links
Most recent Utah stories