Estimated read time: 4-5 minutes
YELLOWSTONE — The nation's oldest national park is officially open to visitors again.
Scores of vehicles aligned the east, west and south entrances to Yellowstone National Park's southern loop Wednesday morning to get an opportunity to view the incredible natural views after the park was shut down for over a week as a result of "extensive" damage caused by record flooding.
The line to the south entrance was more than a mile long. Once people got in, many drove right to Old Faithful, one of the most iconic sites available at the moment. Madison, Grant Village, Lake Village, Canyon Village and Norris are among other accessible sites in the park.
"We have made tremendous progress in a very short amount of time but have a long way to go. We have an aggressive plan for recovery in the north and resumption of operations in the south," said Yellowstone National Park Superintendent Cam Sholly in a statement.
The park is currently using an alternating license plate entry system to avoid overcrowding in the areas that are open. That means most of the visitors who arrived Wednesday had an even number last on their license plate or came by motorcycle, which will also be allowed on even-numbered days on the calendar for the time being. Vehicles with an odd numerical digit listed last will be allowed to tour the park Thursday and all odd-numbered days on the calendar while the current entry system is in place.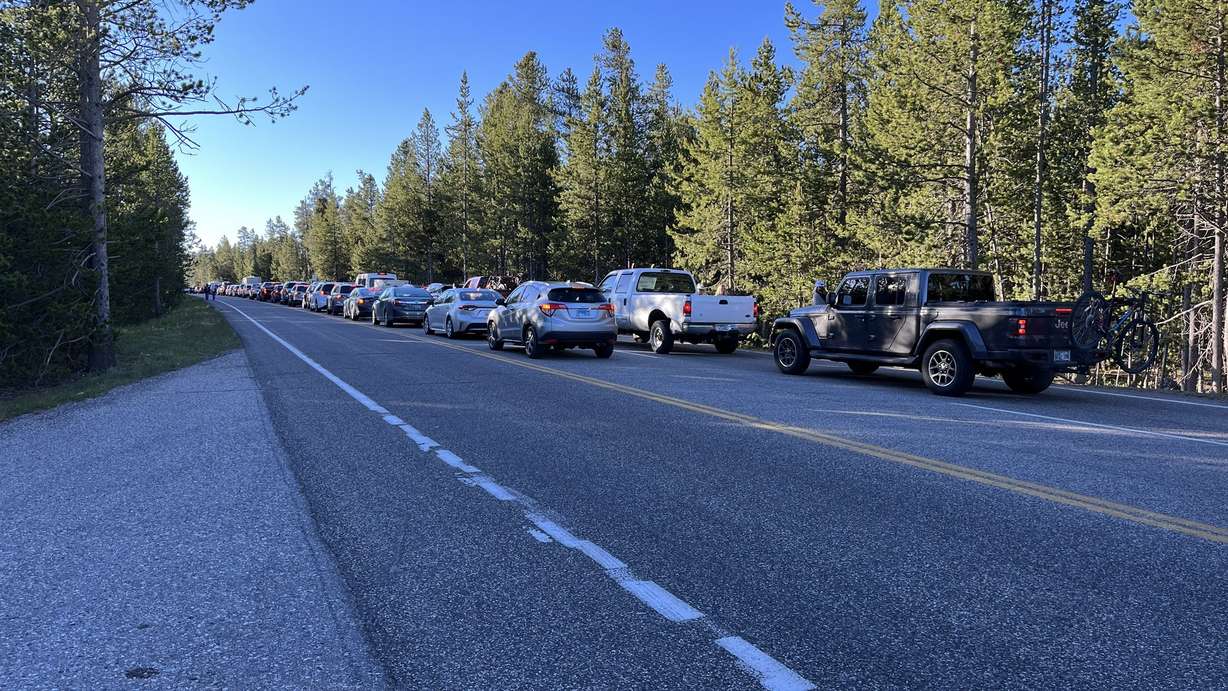 Commercial-use operators, such as commercial tours and stock groups, are one of the few exceptions, along with essential service vehicles, commercial motor coaches and visitors with proof of overnight reservations.
Update on the north's devastation
The northern loop of the park is still closed. While park officials initially said that they believed the loop would remain closed for months, Sholly announced over the holiday weekend that the park would spend $50 million in emergency funding to help speed up the reopening process. They now believe that most of the northern loop can be reopened in the next few weeks, which would allow for access to Dunraven Pass, Tower, Mammoth Hot Springs and the rest of Norris by early July.
Park officials struck an agreement with the Federal Highway Administration to move construction crews and materials from a previously planned project to repair 22 miles of the Grand Loop Road between Old Faithful and West Thumb Geyser Basin to Old Gardiner Road, which was severely damaged. They said they expect Old Gardiner Road will be "substantially improved" in the coming months.
Not all of the sites will be accessible this summer, but about 80% of the park will be available to visitors once that part of the park is reopened.
One of the reasons park officials wanted to quickly reopen northern portions of the park is to help the Gardiner and Cooke, Montana, communities that would otherwise be devastated by a summer-long closure. Bill Berg, the commissioner for Park County, Montana, said last week that communities surrounding the park already suffered heavily from COVID-19 shutdowns and wildfires in recent years.
"It lives and dies on tourism and this is going to be a pretty big hit," he said, of the flooding damage closures.
The summer months are especially important. Over three-fourths of the record 4.9 million people who visited the park last year came between June 1 and Sept. 30, including over 1 million people in July 2021 alone. They helped Yellowstone wind up as the third most-visited national park in the country, behind only the Great Smoky Mountains and Zion national parks.
The region affected by the flooding has a big supporter in one of its more prominent residents. Seven-time Grammy-winning musician John Mayer, who has lived in the county for over a decade, took to social media on Tuesday to encourage people to keep their summer travel plans to Yellowstone's northern communities because of how much tourism means to local businesses.
Last Monday, June 13, historic flooding of Montana's Yellowstone River took place. If you'd like to donate to the flood relief efforts, text FLOOD22 to 41-444. I just won't be able to thank you enough. pic.twitter.com/jWP55693hR

— John Mayer (@JohnMayer) June 21, 2022
"Because of the park closure, hotels in the area have seen 50-70% cancellations, as would-be visitors have opted to make other plans," he wrote. "Though the park is closed, other incredible landmarks and businesses remain open for business; and the area is safe, beautiful and still well worth visiting. I write today with a plea: if you were planning to visit Yellowstone and canceled your plans, please, from the bottom of my heart, I ask that you rebook them."
He suggests that tourists visit Livingston, Montana, or any town nearby as an alternative, adding he's planning "some really amazing events" for the region this summer that aims to make the trip worth it.
"I'll be sharing more of what this incredible community has to offer," Mayer added, "and you'll see for yourself just why I fell in love with the place."
Contributing: Alex Cabrero
×
Related stories
Most recent The West stories