Estimated read time: 9-10 minutes
PROVO — Actors are gathering on the set again for the fifth and final season of the Book of Mormon videos produced by The Church of Jesus Christ of Latter-day Saints.
This season includes significant stories from the Book of Mormon, including Helaman and his army of 2,000 warriors, Samuel the Lamanite and Captain Moroni and the Title of Liberty.
The Book of Mormon, which is considered scripture and a second testament of Jesus Christ by members of The Church of Jesus Christ of Latter-day Saints, tells the story of a family leaving Jerusalem and traveling to the Americas, and their posterity.
The fourth season of the videos, which shows Christ coming to visit the Americas, is the next season to be released and is expected this fall. It was initially going to be the final season, and the story would end with Christ's visit, but the fifth season will tell some important stories from before and after the visit that weren't previously included.
Elder Ronald A. Rasband of the church's Quorum of the Twelve Apostles said he is excited for the new seasons. He said there was a good response to previous seasons, both from members of the church and people of other faiths.
"If a family wants good, Christian viewing, there's nothing better. This is the best," he said.
Elder Rasband said he has a large family with lots of grandchildren and it is hard to find acceptable media for families, which is one of the reasons the church is producing these videos.
"This is just a great gift to mankind, and we hope in the end, brings everyone closer to their Heavenly Father and Jesus Christ," Elder Rasband said. "We're not just trying to produce entertainment, we're producing these videos to bring people closer to Jesus Christ."
The Book of Mormon videos, along with the Bible videos already produced by the church, are all available online for free, and Elder Rasband encourages missionaries and church members to share them with others.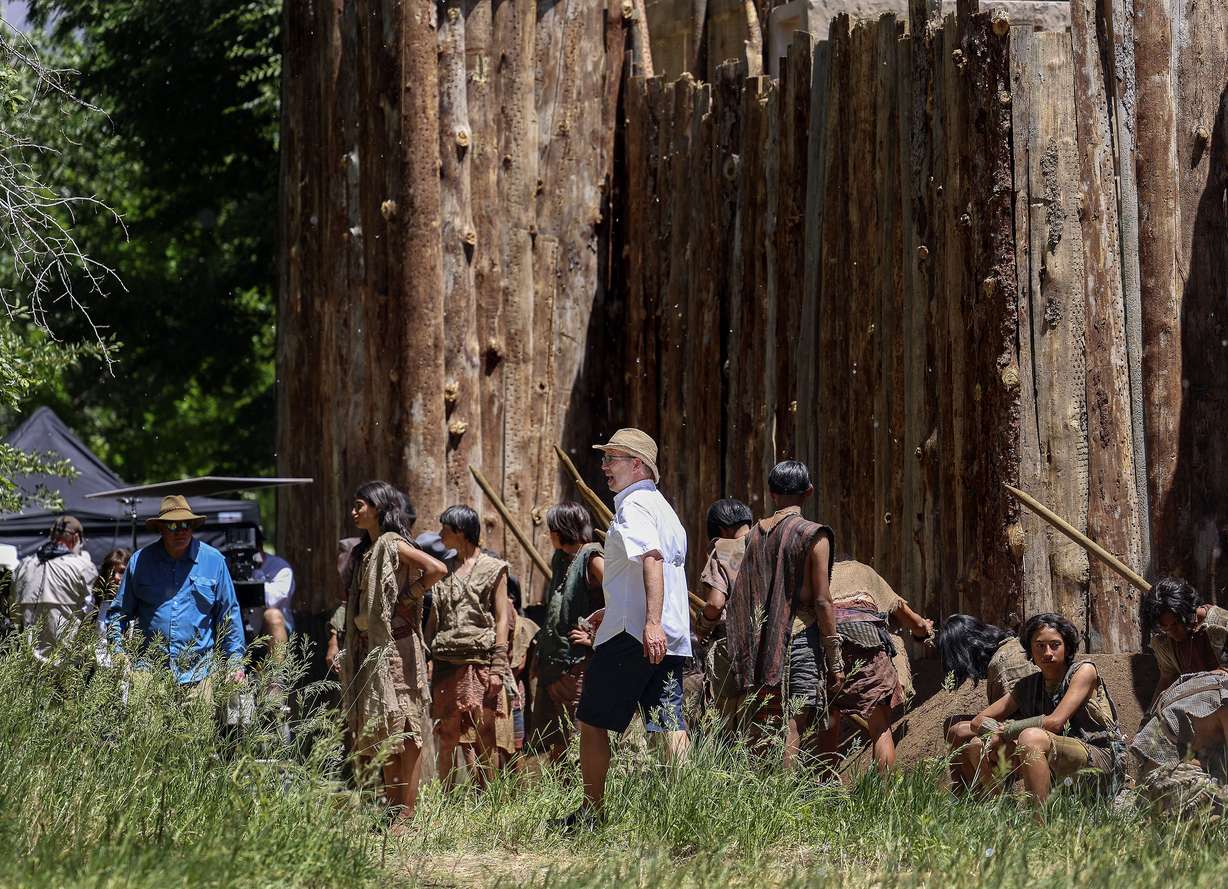 The process
Elder LeGrand R. Curtis Jr., of the Seventy and chairman of the committee overseeing the Book of Mormon videos, said the project has been an opportunity for some wonderful scripture study.
The creators took time to think more about the women who are not discussed as much in the Book of Mormon, adding characters like King Benjamin's wife.
Once the committee reviews the plans and films, they take the project to a council that includes members of the Quorum of the Twelve Apostles, and then after applying their suggestions, to the First Presidency. Elder Curtis said the First Presidency has been very involved and has given them good counsel and direction.
"The purpose of this production is the same as the Book of Mormon, to bring people to Christ," Elder Curtis said.
He said having the videos as a visual aid will help people understand the history and emotions of the book.
Jaelan Petrie, one of the producers of the videos, said often when producing there are problems that come up, but on this project he said things work out and he can see God has helped things run smoothly.
"That's a massive difference to just have the help of the Lord in what we're doing. Always," he said.
Petrie also said the process of counseling with church leadership leads to a very different experience. Instead of debates over the correct way to do things, they are able to come to a consensus and a unified vision. What they land on is usually very similar to the portrayal in the Book of Mormon, he said, adding that watching the videos is a very similar experience to reading the book, but adds some emotion that can be hard to pull from the page.
He talked about the portrayal of Christ in the fourth season by Anthony Butters, and said viewers were able to feel the emotions. He said they created other characters for the films so people would see specific characters and stories of people in the audience listening to Jesus Christ, and see how the experience changed their lives.
Petrie said he thinks everyone involved in the videos has been touched by the stories.
"To see it come to life, it will reaffirm your testimony, will help give you answers as to when you have burdens or when you're in times of trouble," he said.
Petrie said people may be even more excited about the season they are currently filming, which has some of "the greatest hits" in the Book of Mormon. He said the goal is to release the final season in late 2023, before the church begins a study of the Book of Mormon in 2024.
"We're not doing this for ourselves. We're doing this for any individual who wants to get closer to God or closer to the Savior Jesus Christ, for any individual who is looking for a way to better their life or to bring their families closer together. These are for you," he said.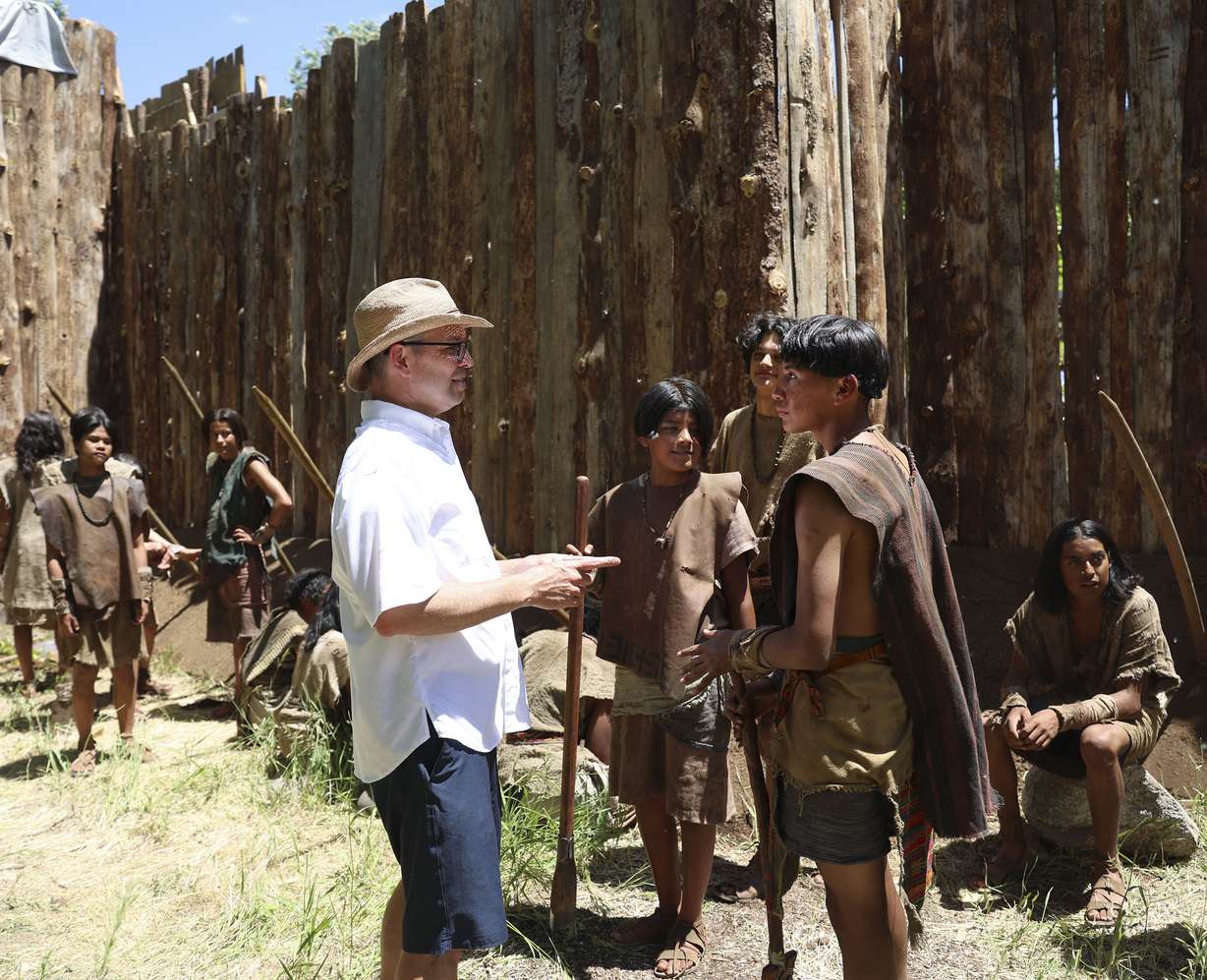 Actors' experiences
Brandon Beltran plays Stripling Warrior 1, the first young man to volunteer to fight in a battle, after the older generations had made a covenant not to fight, allowing them to keep their promise.
Beltran said he has read the story, known as the 2,000 stripling warriors, in the Book of Mormon many times in preparation for the role and it has become very significant. He said he came closer to God while learning that the story was more than just about a boy volunteering for a war.
"It was a story about young men proving that you can keep your covenants, proving that if you have faith you can do things, proving that you shouldn't be waiting for people to act, you need to act," Beltran said.
He said learning how to apply the story of his character to his own life has made a big difference, and made the book more significant to him. He said trying to become the character was a lot of work, and he plans to keep the spiritual growth he has gained after this experience.
He hopes the videos will bring people closer to Christ and is a way he can share his testimony.
"If I can try to help them feel something through the camera, I know that it won't be because of me, it will be because of my relationship with God," Beltran said.
Christopher Ah Sue, the actor who plays Helaman, a prophet who leads Beltran's character and 2,000 similar young warriors into battle, said a scene where they are finished training and heading out to be decoys in a battle is very touching. He said he and boys in the army had some wet eyes during the scene thinking about how the characters they played did not know whether they would survive.
Ah Sue is a father and a leader for a group of young men in his congregation in Hawaii. He said playing this character, a prophet and military leader, deepened his understanding of the Book of Mormon and he is sharing that with his family and the young men he is involved with.
"I've acted in a lot of things that are just make-believe, but this is a real story, this really happened. And so knowing that these are real people with real experiences makes it totally different," he said.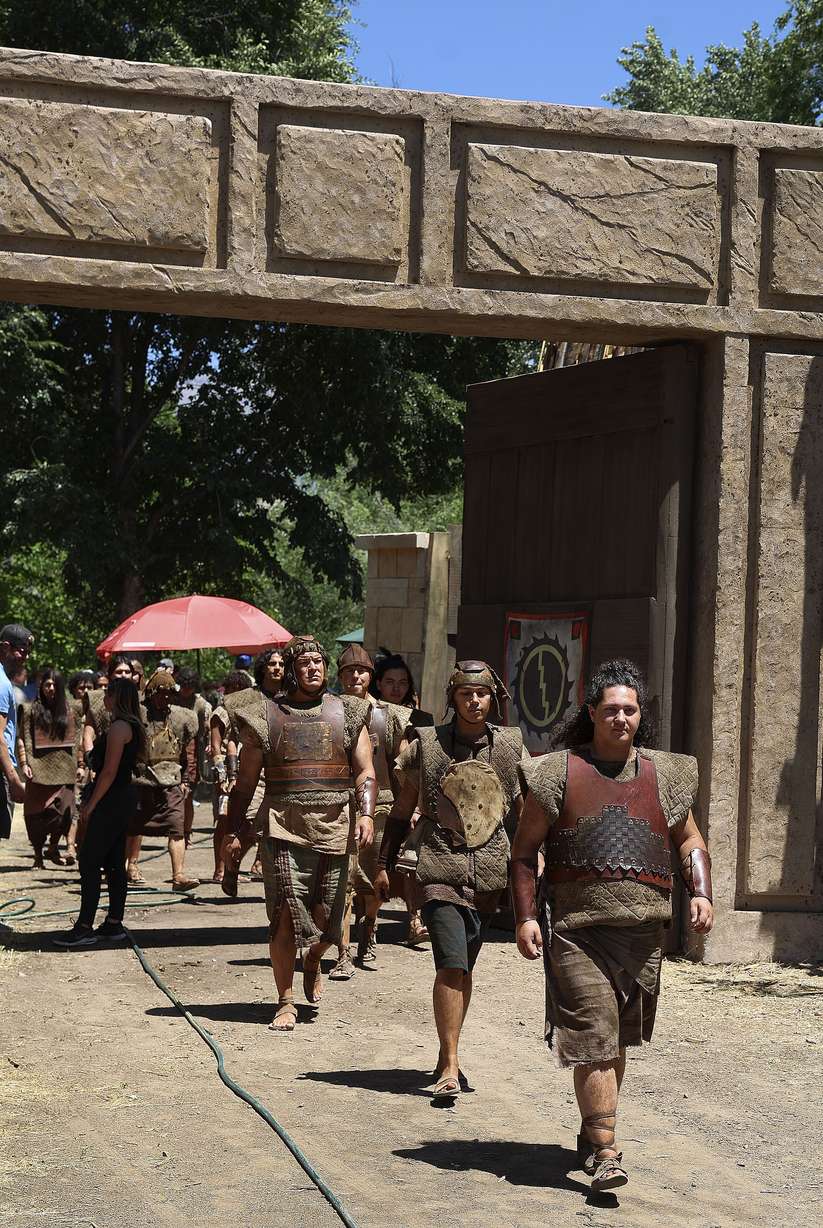 Details
Elder Kevin S. Hamilton, of the Seventy, who is also on the oversight committee for the videos, said the committee has been very particular about the script, the scenes and other details. He said although everyone on the committee has read the Book of Mormon, it is a different experience to think about portraying it in a film. They have to think about scenery backdrop, clothing and look for clues and hints about those details in the scriptures.
He said the people overseeing wardrobe researched indigenous cultures in the Americas and suggested various types of clothing and jewelry to add some authenticity. Elder Hamilton said there is not a lot of visual representations of the Book of Mormon, so it is a unique challenge.
Shanda Palmer helps design hair, which includes hair styling, wigs and headdresses for main actors and background actors, as well as maintaining the looks between scenes on set.
"My biggest task as an on-set hairdresser is that I am making sure that the look is staying consistent and matching continuity," she said.
She said there is a lot of work. There are four people in the hair and makeup department overseeing about 18 hair stylists and 12 people doing makeup. She said they all work together adding different strengths.
Palmer has been in the industry for 15 years, working for Disney and the History Channel and for local commercials and projects, but the Book of Mormon set is different — they start with a prayer.
"The fact that the focus is God is extremely amazing. It … makes the burden lighter," she said.
Palmer worked a 17-hour day on Thursday, and was expecting another similarly long day on Friday. She said knowing she is doing God's work and being among other people who share her beliefs makes it a very different experience and culture.
The people working on hair are thoughtful about how to do each person's hair, asking them about their culture, family history and background and trying to implement that into their characters.
Ramona Wolfgramm, who also works on hair, said she has met people who came to act in the films from other countries, paying their own way, and has learned from their testimonies. She said it has been touching to see them start to look like a Book of Mormon character, some of them remarking that they look like photos of their ancestors as well.
Elder Hamilton spoke about creating dialogue for the characters that communicates correctly the doctrine and teachings found in the Book of Mormon.
"There's not a lot of dialogue in the Book of Mormon, so we had to kind of think about how would they interact, how would they speak to each other," Elder Hamilton said.
A teaser trailer for the fourth season should be released in the next few weeks, and the season will likely be released around the church's general conference in October.
"It'll be fabulous. It's really well done. Very emotional. Very inspirational. So it's well worth the wait," Elder Hamilton said.
He said Christ is in almost every scene.
Elder Hamilton said these videos are not meant to be a substitute for the Book of Mormon, but to be a study aid to give context and help people visualize the stories a little differently and strengthen their faith. The overall objective is to turn people to the book.
"There's nothing more powerful than just, one on one, individually reading the Book of Mormon and understanding the teachings," he said.
×
Photos
Related stories
Most recent The Church of Jesus Christ of Latter-day Saints stories