Estimated read time: 6-7 minutes
SALT LAKE CITY — Kathryn Stewart hopes the future of the Glendale Regional Park involves some form of water-based activity, if it isn't a water park like it once was as Raging Waters, and more recently, Seven Peaks.
This, she says, offers children such as herself, entertaining ways to go outside and exercise, leaving their phones behind. And given its location, in middle- and lower-income neighborhoods, children on the city's west side wouldn't have to go far to get there.
"Many youth face the challenges that are associated with the lack of exercise and outdoor play," she told the members of the Salt Lake City Council Tuesday evening. "Water parks bring fun to children who may never have a chance to visit the beach or play in some waves. ... It is vital for children to associate outdoor exercise with fun."
She wasn't finished listing off the benefits of a water park when council administrators cut her off because she had surpassed her two minutes of public comment time. However, she isn't alone in her opinion of the 17-acre open space in Salt Lake City's southwest side.
Earlier Tuesday, Salt Lake City public lands officials and city planners shared with the council their initial findings of a large public scoping for the new park, revealing that water recreation topped the minds of over 1,300 people who filled out surveys earlier this year.
It appears all but certain the new park will have at least some element of its past use as a water park, based on the public comment feedback and the possibility of partnerships with county officials.
"It's really clear that an outdoor swimming pool is really desired by this community at this location," said Katherine Maus, a public lands planner for Salt Lake City Parks and Public Lands. "The community is really lacking a water feature for play."
Nancy Monteith, the senior landscape architect for Salt Lake City's Engineering Division, added that a pool would also fit Salt Lake County's master plan for parks. The county's master plan, which was updated in 2015, calls for a class one regional park in Salt Lake City west of Interstate 15 that includes "sports fields, trails, a water playground/swimming pool, passive recreation."
The city could also partner with Salt Lake County Parks and Recreation on the project because it operates all of the aquatics and ice facilities in the county.
"It actually aligns really well with what the community is telling us," she said.
However, the Salt Lake City Public Lands Department has yet to officially decide on a pool or water feature. It's still sifting through the more than 1,300 comments received from its online survey that ended in mid-April, in addition to the over 300 comments it received from in-person events.
More than a water park?
Kristin Riker, the director of Salt Lake City Public Lands, said the demolition of the old Raging Water/Seven Peaks water park, which began last year, is ongoing. It's expected to continue during the spring while the department mulls over what's next for the space. The city is required to reopen at least some of the land for recreation by April 2024 because of stipulations from past state and federal funds.
A tentative preferred plan for the park will be made public either later this month or in early June, Monteith said. The final master plan for the park is expected to be completed by the end of the year.
The are other options people want out of the space than a pool, though. A hiking hill/overlook, river access with kayak rental/boat launch, space for biking/skating and skateboarding and food truck court also landed near the top of the comments, according to Maus. Some sort of sports-related court was another frequently mentioned desire for the space.
"The hill where the water slides used to be seemed to be a really popular site for potential hiking trails, biking trails and a viewpoint; and many people expressed a desire to access the Jordan River from this site," she said.
The final product will likely mix in as many of the feasible leading ideas as possible. Meanwhile, the Glendale Green was the more popular concept of the two concepts shared in the survey, while a safe crossing on 1700 South is a "very high priority," Maus said.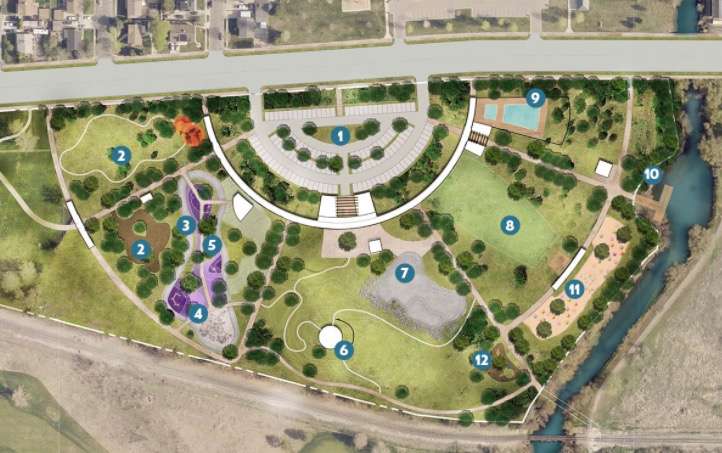 She added that they believe the Glendale and Poplar Grove neighborhoods, as well as residents in South Salt Lake and West Valley City, appear the be the primary market of the park, projected to account for 60% to 80% of users on a weekly basis.
Since the primary market's average household size is larger, median age is younger and median household income is lower than the rest of the region, she recommended that low-cost or free programs should be considered in future uses and program planning.
Planners believe there's a secondary market for the rest of Salt Lake City residents, who will travel for a specific amenity or activity the park has to offer.
Why you'll have to wait to jump into the pool
If the city does decide on a pool or massive on-land water feature for the park, Monteith cautions it's highly unlikely — if not impossible — that it will be open by the April 2024 deadline. In fact, many of the larger features will likely be added in future phases because of the many constraints ahead.
For starters, the project only has $3.2 million in funds; Monteith said much more is needed to bring the site to its full potential, though it's unclear how much is needed because the division hasn't finalized its plan. Salt Lake City Mayor Erin Mendenhall, during her 2023 fiscal year budget request Tuesday evening, proposed adding an $80 million parks bond for residents to vote on in November that would help create new funds for the park, as well as other public spaces in the city.
---
You won't see the whole park in 2024. Even if it was entirely funded, you couldn't deliver the whole thing in 2024.
–Nancy Monteith, Salt Lake City's Engineering Division
---
Second, April 2024 is quickly approaching and city planners don't anticipate having time to start construction of the Glendale Regional Park until spring 2023. Monteith pointed out that the city isn't immune to construction issues like labor and supply chain shortages or inflation, either. Those types of construction problems have delayed projects all over the state.
She pointed out those constraints when Salt Lake City Councilman Alejandro Puy, who represents the Glendale neighborhood, voiced concerns that the city is setting high expectations for a park that might be unable to deliver.
"You won't see the whole park in 2024," Monteith responded. "Even if it was entirely funded, you couldn't deliver the whole thing in 2024."
The city plans to send out a request for quotation this month to test the construction waters even though they don't have a final plan and they don't expect park construction to begin until spring 2023, she explained. This is to help speed up the process in the quick turnaround of the park.
With the money secured so far and construction limitations, city planners believe the park could have play areas, a community gathering space, walking paths, plants, lighting, Jordan River access and parking spaces by the April 2024 deadline.
Everything else, including a possible pool, would come later.
×
Related stories
Most recent Salt Lake County stories