Estimated read time: 7-8 minutes
SALT LAKE CITY — Dozens of Glendale residents — both young and old — shuffled into a room at the Glendale-Mountain View Community Center Wednesday, where Katherine Maus and other city planners greeted them with a set of orange stickers and a challenge.
Maus, a public lands planner for Salt Lake City Park & Public Lands, asked each person she saw to place a sticker on the photo of a concept, amenity or any other detail printed on a large board, representing what the resident wants out of new regional park in the city's neighborhood.
It's not just any new park, either. This is the park that will replace the old Raging Waters, or Seven Peaks, an abandoned waterpark in the process of being torn down. And because of a federal stipulation, this new park must open by spring 2024.
As the site slowly returns to the blank canvas it once was, every one of those orange stickers help Maus and her colleagues paint a picture of exactly what this new park may soon look like in the 17-acre space between the Jordan River and the Glendale Golf Course near 1200 West and 1700 South.
But stickers aren't the only paintbrush. City planners developed a pair of possible concepts based on feedback from local middle school students. Salt Lake City Park & Public Lands also launched a public survey Wednesday that will help guide the future plan of the so-called Glendale Regional Park.
"This is definitely an area that has, historically, been an asset to the community as a waterpark," Maus said, as people placed stickers on their favorite concepts nearby. "People have memories and experiences with that site as a waterpark … and the opportunity with this kind of blank slate to do something really cool with the community is high-pressure for sure but also very exciting."
Replacing a waterpark
The old waterpark, then known as Seven Peaks, closed in 2018. Three years later, Salt Lake City Mayor Erin Mendenhall announced plans for a regional park. She pointed out that the land was previously acquired with state and federal funds that require the city to only be used for outdoor recreation.
A regional park made sense because there are some open park spaces along the Jordan River Parkway Trail but nothing like city officials have in mind with the old waterpark site.
"A lot of people are traveling to other parks in the city because there aren't certain amenities the neighborhood would like to see," Maus said. "So we want to include some of those neighborhood amenities in this park while also making it a regional attraction."
The city has already directed about $3.2 million toward the project, using impact fees. These are fees developers pay the city with new construction, used for parks and other public spaces. But the past state and federal funds come with limitations as to how long the plot of land can be closed off.
Nancy Monteith, the senior landscape architect for Salt Lake City's Engineering Division, says the city has to reopen space to the public by April 2024 at the latest. It doesn't give city planners a ton of time to piece together a park.
That's where the public process is even more vital than ever, which is why she is happy with the turnout on the first day of collecting feedback on a park vision plan. They don't just want to open a park, they want a park that reflects the community that surrounds it.
So what will that look like?
City planners offered two designs Wednesday: "the great outdoors" and the "Glendale green." One leans heavily on natural components, environmental restoration, and education; the other is considered a "hub of the community," featuring gathering spaces, exploration and activities for all ages.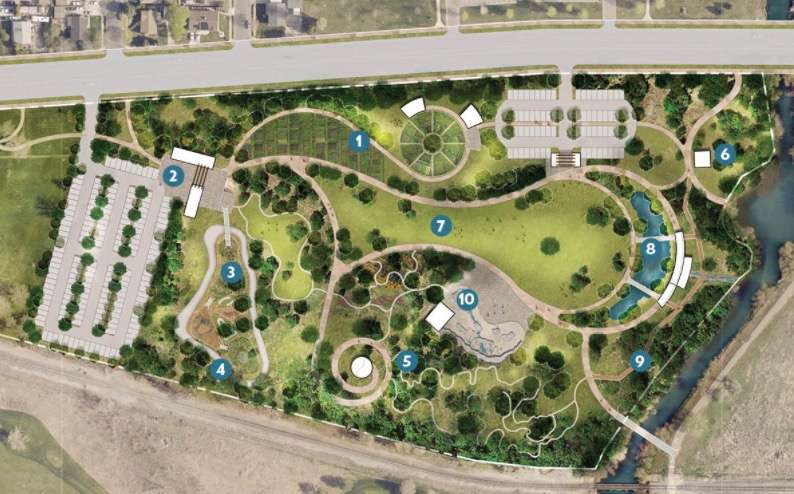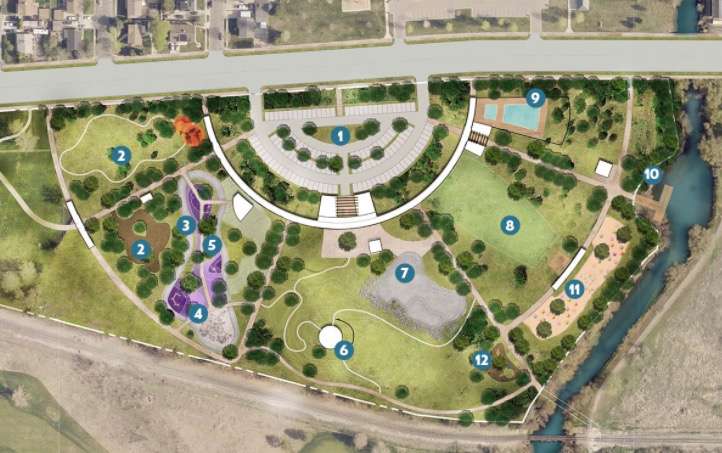 The final design will likely mix the two overarching concepts, Monteith said. The possible features may include more community gardens, a community plaza, a nature playground, skating and skateboading, trails, overlook areas, kayak rentals, boardwalks or water play areas, a riverside beach area or a pool.
Those mockups were created from the feedback previously collected by Glendale Middle School students — and what residents voted on Wednesday evening.
Planners also see the park as an event space that could host events akin to other neighborhood events in the city like the 9th and 9th Festival or arts festivals that attract thousands of visitors every year. The questions in the survey ask people how large they want those events to be.
---
There is so much potential with this site.
–Turner Bitton, chairman of the Glendale Neighborhood Council
---
The park could feature something else, too. Charles Hosea, representing a group of neighborhood pickleball aficionados, wants the park to feature pickleball courts. He and his friends sat in a corner of the room where they wrote the suggestion on a large piece of paper.
They believe that the fast-growing game offers exercise and mental health benefits. However, there aren't really any options in the city's west side. It forces them to either travel to Sugar House, Murray or — in the case earlier this week — Davis County just to find an open court.
"It isn't just a game for senior citizens; it actually is for the family. We have a community of families here, youth families," he said, as his friends nodded in agreement. "It allows us to gather here as a family like we used to years ago in the tennis courts."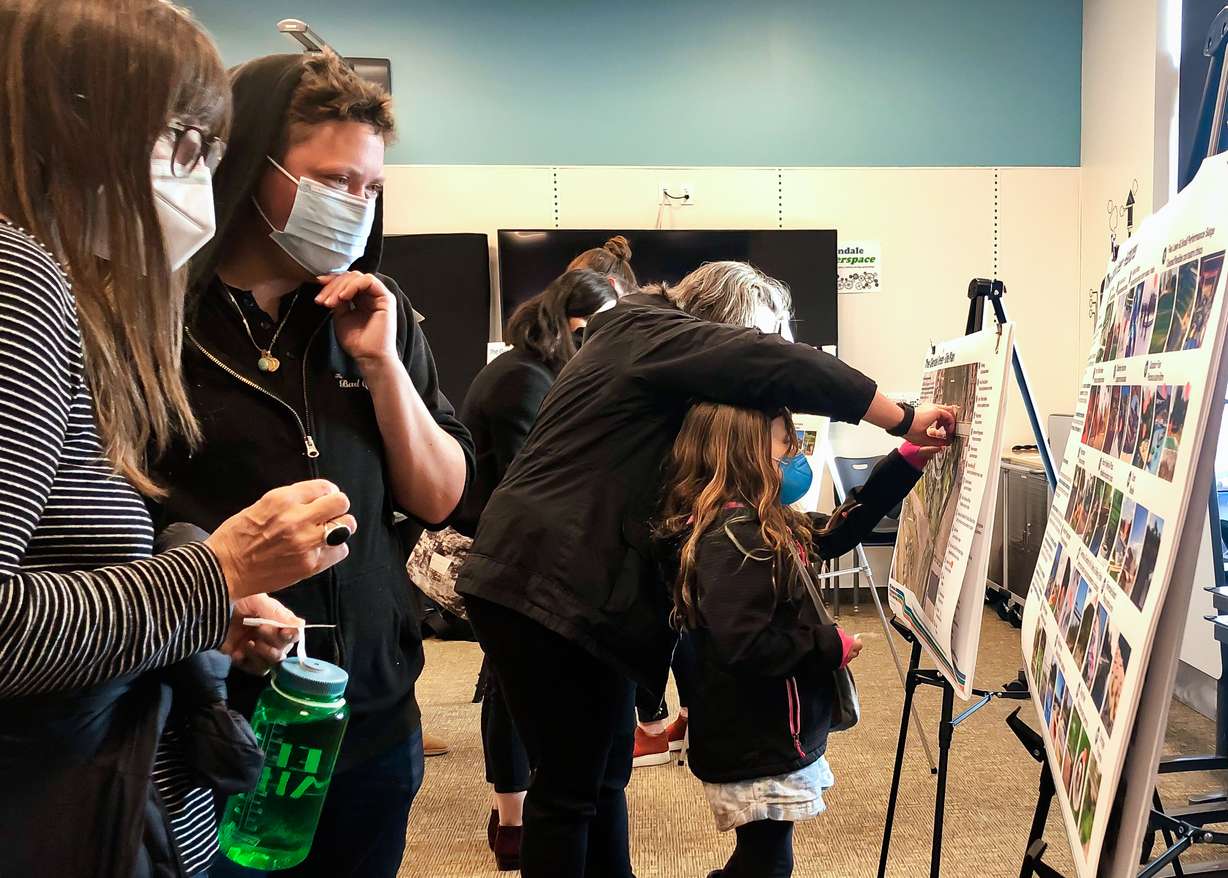 As the night progressed, orange stickers painted the boards with wide-ranging ideas. Some ideas — like a kayak station or a hiking and biking tower — had multiple stickers, but there wasn't many consensuses picks in terms of the site's future.
Not all of the suggestions will end up at the park, but Monteith is thrilled as a planner. She takes it as a sign of engagement, which is why they have these open house discussions.
"It's fun to see how excited everyone is about remaking this space," she said. "It's probably one of the only projects where it feels like an opportunity to do something unlike anything we've ever done before."
Making a plan out of a feedback
The feedback process isn't over; the online survey closes on April 16.
Given the short timeline, the race will be on from there to compile a plan to present the Salt Lake City Council based on the input provided by the public. It's possible that a draft design will be released as early as April or May, much earlier than most park design processes.
Once approved, city planners will then work on technical designs, which refine the design closer to the final product residents will see. Technical design processes typically take about nine months, while construction may take up to a year.
"We feel, at this point, we have enough time for each stage but can't pause. We have to keep moving forward," Monteith said, adding that it's probable that certain park features will open in phases, but that depends on what residents want in a park and funding.
It's unclear what the total cost of the project will be because it's still unclear what the park will look like. Even if the funds for projects are there, constraints from supply chain shortages and inflation may delay certain projects.
Turner Bitton, the chairman of the Glendale Neighborhood Council, is excited with whatever the park ends up being. Watching as people share their feedback in the room behind him, he said there's an energy that residents have with turning the open space into something special.
"The potential of the park is to be on par with something like Liberty Park — a large regional park that will bring people from South Salt Lake and West Valley," he said. "This site is culturally important and important in terms of that public space access and gathering space. … There is so much potential with this site."
×
Related stories
Most recent Outdoors stories