Estimated read time: 2-3 minutes
This archived news story is available only for your personal, non-commercial use. Information in the story may be outdated or superseded by additional information. Reading or replaying the story in its archived form does not constitute a republication of the story.
HELPER — It may be the most ambitious project in the city yet as historic Main Street undergoes a massive facelift — renovating the Helper State Bank.
Originally completed in 1914, the structure had served multiple and dual purposes over its long history — including as a drug store and as a clothing store — but in more recent times had sat unoccupied.
Gary DeVincent purchased the building within the last three years and began the renovation last year.
"It was quite the challenging unit to do," DeVincent told KSL-TV. "Everything was block or cement, so it wasn't a typical stick-framed interior wall type of thing."
DeVincent has become known around town for several previous restoration projects including those involving what is now known as the Lincoln Hotel, as well as an old gas station.
He said a drop tile ceiling was installed in the 1970s which obscured the original interior and moldings.
"It was just architecturally beautiful," DeVincent said. "There was no façade really to the building, you couldn't tell what was under it and that's when it became exciting was when we began to rip off the façade that someone else had done and discovered the original building underneath it."
The project, with the assistance and expertise of many, has involved restoring original architecture and detail while adding other antique pieces, including a counter and seating from the Blue Plate Diner, which closed its doors in Salt Lake City last year.
DeVincent said through the help of friends, those pieces were "donated to the cause."
"(It) was really generous and kind of those that were involved in that," he said. "Can't wait to see people sitting behind the bar!"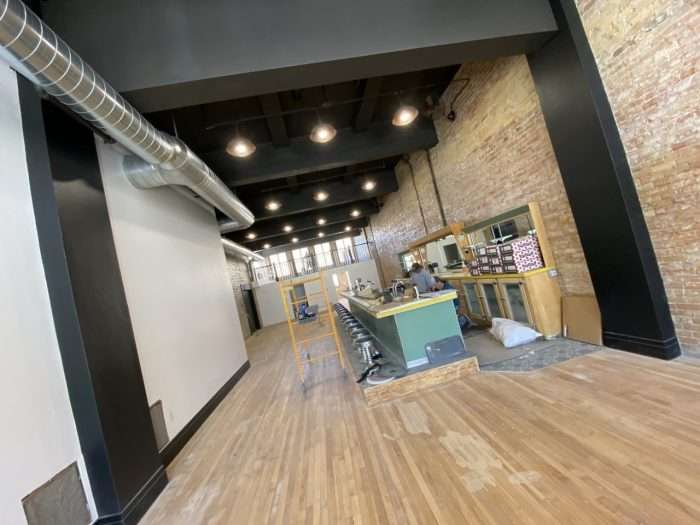 DeVincent said he would much rather restore a historic structure than tear it down and build something new.
"Clearly it's much easier to rip something out and replace it, but then there's absolutely no gratification in that at all," DeVincent said.
The latest project marked two loves brought together — DeVincent's passion for restoration and his deep love for his new wife, Malarie, who shares in his appreciation for history.
"I mean, it brought me to tears — this has been a dream for so long for so many people in town," she said. "It's touching, extremely moving."
DeVincent smiled.
"That's why we're married," he said. "She's been the greatest, so yeah, and then coming here too that was unexpected — falling in love. Yeah, (it) keeps a guy here now, right?"
Recently, the couple unveiled the restored front of the Helper State Bank to the applause of residents.
"(It's) just amazing to see his vision," said Steve Adams. "It's been really, really an awesome time to be here."
DeVincent has more projects planned down the road to continue to help historic Helper come back to life.
"Here we have it very close to what it was," DeVincent said of the Helper State Bank building. "For gratification, it's the only way to go."
×
Most recent Utah stories