Estimated read time: 4-5 minutes
SALT LAKE CITY — The new Utah State Corrections Facility in Salt Lake City is just months from opening, and officials hope the more-welcoming environment will inspire more people to apply to fill severe staff shortages.
At first glance, the state-of-the-art building looks mostly finished, aside from construction crews here and there working on final projects.
It's in the home stretch since the groundbreaking over four years ago.
"It's an exciting time," said Utah Department of Corrections Sgt. Steven Hansen, who oversees the field training program for new corrections officers and works on the offender release program.
During a tour with Hansen and other employees Thursday, most things appeared to be in place. Security cameras were up and running with the latest technology, and mattresses and pillows were stocked in each cell.
Aside from the chain-link fencing and barbed wire, the facility feels more welcoming than what one imagines a prison to look like.
An interior designer chose light, earthy colors based on Utah's natural landscape and each section features its own color. For example, the general population section has a muted sage green on its doors, while the behavioral and mental health wing features a peachy pink.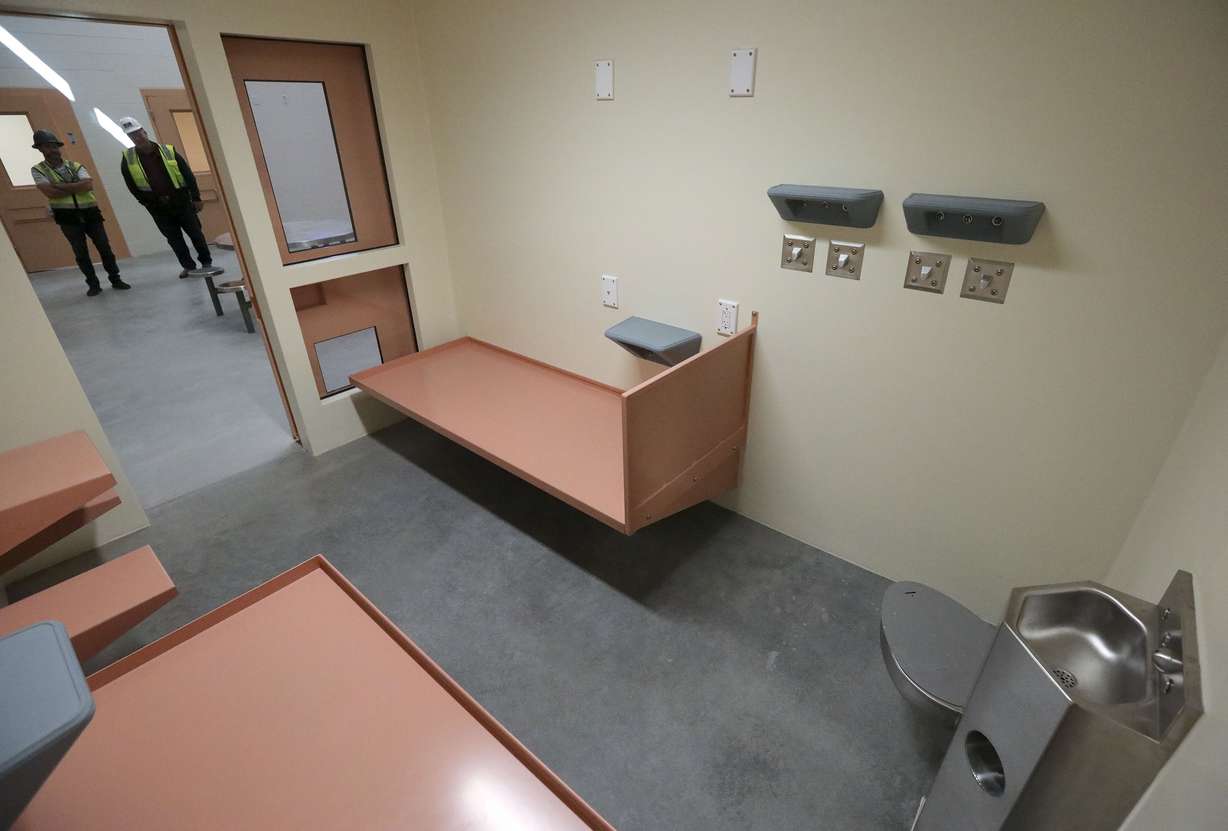 The building is nearing completion, except for one important component: Staffing.
"We're hoping to hire a couple hundred officers, honestly," said Spencer Turley, director of prison operations.
That's on top of the 140 corrections officers the Draper prison already needs. The summer deadline becomes more urgent with the fact that new hires spend three to four months in the academy, followed by four weeks in the field training program before they're ready to go, according to Turley.
"If we were ever to come to a point where we said, 'You know what? We can't adequately staff the prison,' then we would have to get to the point of, 'What do we shut down?'" Turley said.
The Department of Corrections does have contingency plans in place, which Turley said include utilizing the prison in Gunnison or the department's contract with county jails. But officials are doing everything they can to prevent that, he said.
The Department of Corrections has faced its fair share of hiring and retention issues, with corrections officers facing challenges in overtime, burnout and mental health.
Many officers have left for local police departments offering higher salaries, which was a huge argument during legislative session funding requests.
Hansen and Turley said the age of the current Draper facility exacerbates the difficulty in hiring new employees. It was built in 1951, and they describe it as dark, disjointed and decades behind in technology.
"When people are working in a dungeon, we get depressed," Hansen said. "I had my time there where we got super low; it gets really dark."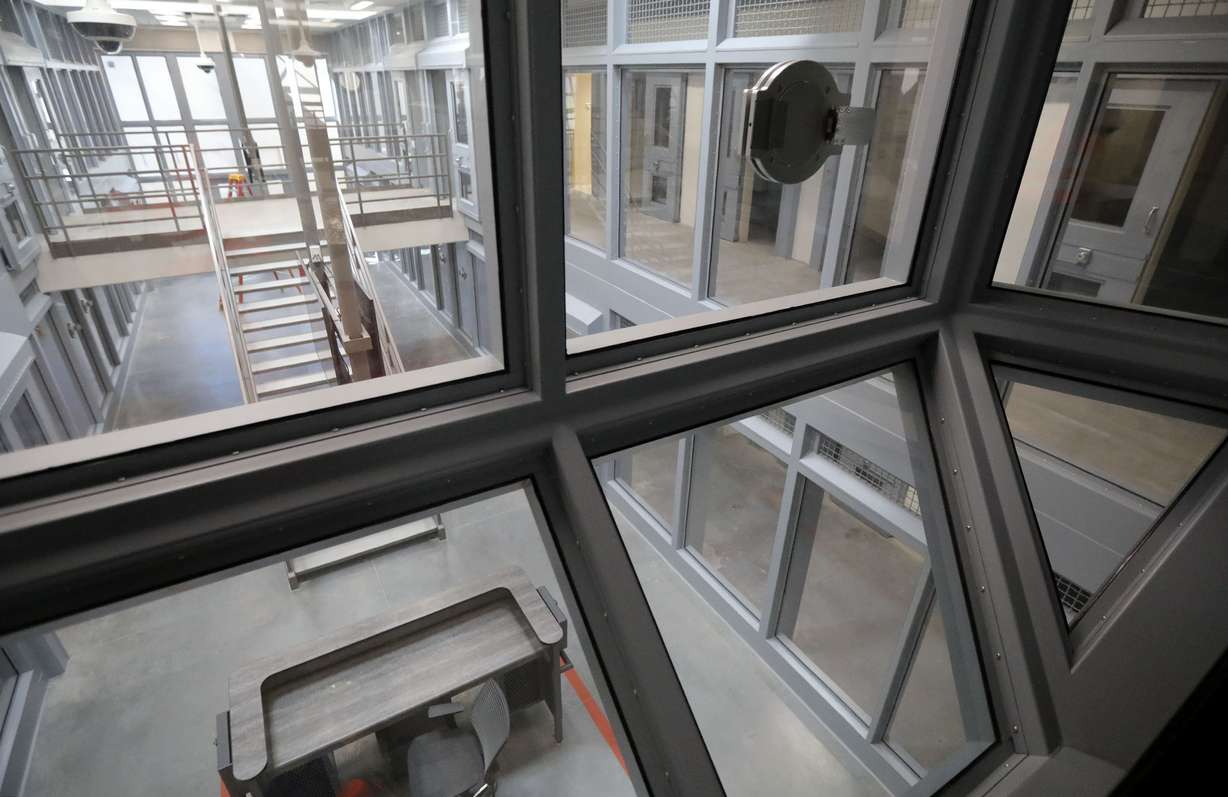 Twelve hours a day in a dungeon-like environment affects someone's mood, he added.
"We're the ones that are helping run this place, we're making this place function," Hansen said. "And just like with any relationship with anybody, if one part is struggling all parts are going to struggle."
He has high hopes for change.
Hansen can see it just looking at the walls and windows of the new correctional facility, which are designed to let natural light flood in and make each room feel bright.
Each block features 14-foot-tall windows with views of the valley. The campus itself, north of I-80 west of the 7200 West exit, is surrounded by Antelope Island, the Oquirrh Mountains and Wasatch Mountains. The building also includes features like a day care, fitness room and dining hall for staff members.
"Knowing that we have all these things, all these tools out here for us, like a fitness room – it's fantastic for our mental health," Hansen said.
And with help from the Legislature this last session, the department is bumping salaries.
"They've given us historic pay raises this year. They gave us more money for pay raises this year than we've ever had in the history of our department," Turley said.
Related:
Turley added that on top of those funds set aside by lawmakers, an additional 3.5% raise takes effect in July. The department is also offering additional incentives, including a higher starting rate for those with experience at other facilities and a $6,000 signing bonus for new officers.
Hansen sees the new facility and incentives as a new start.
"This is a brand-new place. This is a brand-new thing that we're trying to do, all of our programs – that we're trying to change the offenders, trying to change society," he said. "We want people to be a part of that with us."
The Department of Corrections is hosting a job fair April 14-16 at the new correctional facility. In addition to corrections officers, Turley said the department is hiring other positions like therapists and food service workers. Click here to browse open jobs, and apply.
×
Photos
Related stories
Most recent Utah stories