Estimated read time: 5-6 minutes
This archived news story is available only for your personal, non-commercial use. Information in the story may be outdated or superseded by additional information. Reading or replaying the story in its archived form does not constitute a republication of the story.
SPANISH FORK — On the outside, their house looks like most other homes in their Spanish Fork neighborhood. But their basement is different than any other.
Brian Govatos and Allison Tiné turned their basement into an Irish pub, complete with a stage for impromptu jigs with accompanying piano and banjo nearby.
The Utah couple and their three kids moved to Spanish Fork from Ogden about a year ago to what they call a typical Utah home in a typical Utah neighborhood. Much like many newer homes, their home had an unfinished basement that they had to decide what to do with.
Govatos presented the idea of turning the basement into an Irish pub, and Tiné reported saying that it sounded like fun.
"Brian came up to me one day and said, 'I think I want to put an Irish pub in the basement,' and I just looked at him and said, 'OK!'" Tiné recalled. "I know my husband well enough to know that he can get these ideas, and he'll execute them and do it well. I was like, 'Sure! That sounds like fun!'"
Govatos said that since many in Ireland have learned of his basement remodel, he has been asked how he got his wife to agree to this.
"An Irish reporter asked, 'So, how did you get the wife to agree to this crazy plan of yours?'" Govatos recalled. "When we get asked this question, we always have a laugh. We were kind of on the same page. I didn't have to sell someone on the vision."
Govatos and Tiné aren't just fans of Irish culture from afar. Both have Irish heritage and have taken several trips to Ireland over the years – even with their children.
"We've traveled to Ireland a few times," Govatos said. "We've taken the kids and family members there. We love going to the pubs because these people really know how to fraternize and hang out, and how to be friendly in the same space. We keep trying to figure out, like, what is it about the Irish pub that seems to make conversation and connections so easy and so comfortable?"
---
There really is no environment more welcoming, inviting, warm, and just open to fun, in my opinion, than an Irish pub.
–Brian Govatos
---
In an effort to recreate that environment for their family and friends, they thought, what better way than to bring the pub home with them? And, just like any well thought out basement remodel, Govatos said this one took a lot of meticulous research. Much of the furniture comes directly from Ireland from pub and hotel stores. And Govatos also said he had already acquired a lot of it.
"People will ask me where I got the decor, and I tell them that I've always had the taste of a 97-year-old man, so a lot of it just existed in the house already," Govatos joked.
Govatos gave a tour of his pub to share with friends on YouTube, where he showcased the basement complete with a dart and cricket board and old popcorn machine, with the paint on the wall being what he calls "Jameson Bottle Green."
Of course, there is the bar where he keeps adult beverages to serve friends during weekly get-togethers, but there is one special detail that Govatos installed — a very important addition: A horn for the kids.
In his YouTube video, he had an older child demonstrate how to use the horn that "signifies that children are on their way down."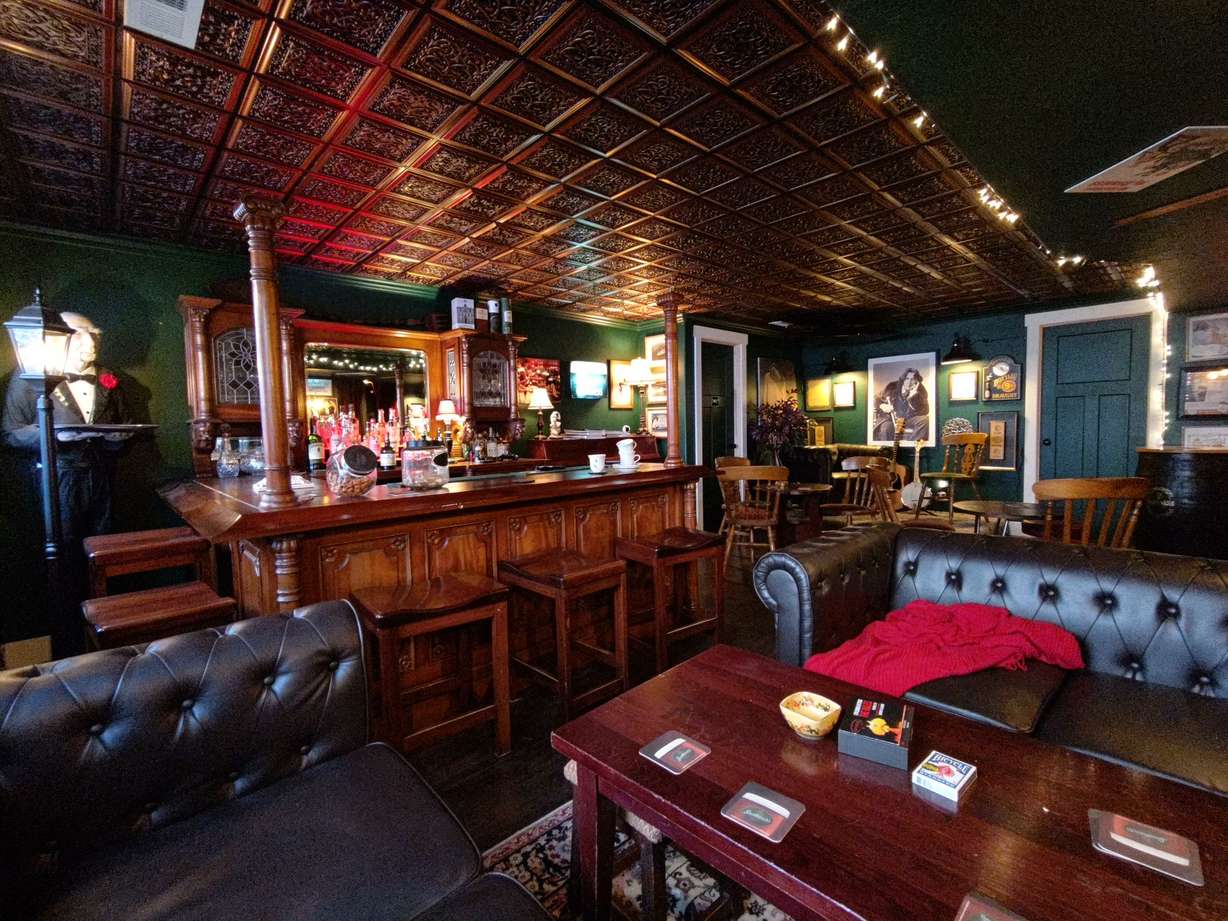 Govatos and Tiné said that they know that having an Irish pub in the basement of their Utah home may seem a little strange, but they don't see it as anything different than what a lot of people do, just flipped upside-down.
"It's sort of opposite of what the standard Utah home is where the adults are hanging out upstairs, and the kids are in the rec room in the basement," Tiné said. "I think a lot of Utah families will recognize the desire to turn their basement into a family rec room. What we did was to turn the basement into more of an adult hangout area. The kids have the rest of the house to be a rec room."
Friends with kids come over weekly, and they make sure it is a family-friendly environment for them, much like what they experienced at the Irish pubs.
"People will come over and bring their kids, who end up hanging out upstairs playing Nintendo Switch, or having a movie night with popcorn." Gostavos said. "The grownups can just hang out and mingle downstairs. Every once in a while, the kids will come down and do a little dance and go back upstairs to hang out with the other kids.
"It's a weird thing to explain to people, especially in Utah. People might be shocked to go into an Irish pub in Ireland and see that there are 12-year-olds in there, and think, 'What's going on?' For many, it would feel like a bar, but there are kids playing chess, and yet, mom and dad might be at the bar having a whiskey or beer, but everyone is just healthily intermingling and talking and communicating.
"That's what was appealing to us about the Irish pub and why we wanted to bring that environment home with us. There really is no environment more welcoming, inviting, warm, and just open to fun, in my opinion, than an Irish pub."
×
Photos
Most recent Features stories