Estimated read time: 4-5 minutes
AROUND THE SHIELD — From a career that started on the soccer pitch and will take him to the highest level of a different kind of football — the American kind — in Sunday's Super Bowl in Los Angeles, one thing has always remained a constant for former Utah kicker Matt Gay.
The one-time Utah Valley soccer standout has always been able to rely on his faith.
Gay has had an explosive third season in the league in helping the Los Angeles Rams reach the league championship game on home soil (4:30 p.m. MST, NBC), nailing 32-of-34 field goals of up to 55 yards and 48-of-49 extra points while also handling kickoff duties for LA.
But in a season of firsts that also includes his first-ever Pro Bowl nomination, the former Utah star has tried to emphasize another piece of himself: his role as a husband, as a father of two boys, and as a member of The Church of Jesus Christ of Latter-day Saints.
"It's everything," Gay said during Super Bowl week of his faith. "It's what we center our whole lives around, and what we do is center it on Jesus Christ and our faith. When something is so central to your life, it comes into everything you do.
"It's how you choose a job. It's how you handle situations. It's how you raise kids, especially; you want to raise them with certain principles and values. And I'm lucky to share that same faith with my wife."
The returned missionary from Houston never thought he'd be kicking in the NFL, let alone in the Super Bowl, even when the one-time soccer standout traded in his eight-goal scoring boots for kicker cleats and transferred to Utah after his sophomore season in Orem.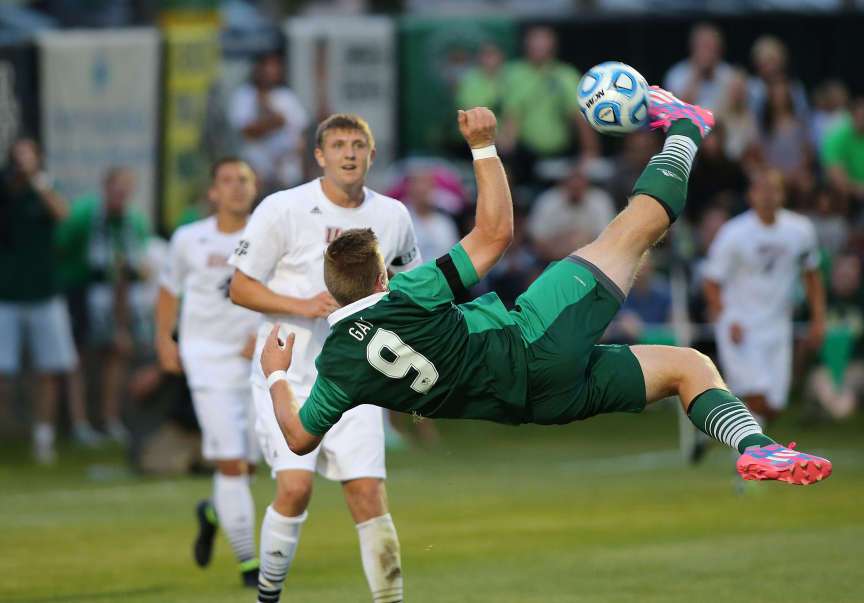 But the head coach who found him had a pretty good idea.
"Matt's been a winner on every level," said Utah Valley's Greg Maas, who brought the Orem High product to the Wolverines' inaugural men's soccer season. "His leg got him there, and that's the reason I recruited him (to UVU) in the first place.
"I knew he will win you games."
Maas has always been an NFL fan, though the former college coach who now works for the Portland Timbers academy admits he didn't really have a team for many years.
That changed when Gay was drafted in the fifth round of the 2019 NFL draft by the Tampa Bay Buccaneers following a star-studded career at Utah that included consensus All-American honors and the school's first-ever Groza award in 2017. Since the Bucs waived Gay and the former Orem High star was called up by the Rams off the Indianapolis Colts' practice squad, Maas hung on every kick, every PAT and every kickoff watching his former protege in Los Angeles.
"I'm not gonna lie," Maas said, "I now feel the nerves every time Matt lines up for a kick — the same butterflies I had coaching during a penalty kick."
Gay also admits to feeling nerves, and he likely will during Sunday's Big Game, the capstone on a postseason that has included several exemplary and game-winning kicks from kickers around the league, including his Cincinnati counterpart Evan McPherson.
But one constant keeps him grounded: his faith, his two sons, and his wife Millie. After a rough welcome to the NFL, he now knows that Los Angeles is where he's supposed to be.
"I'm a man of faith, and being able to see God's hand in the whole process of getting me to where I am, I was fortunate enough to have the Buccaneers draft me, and sometimes there are good fits and others not," Gay said. "I didn't have the greatest rookie year, but I learned a lot, went through ups and downs … and then was able to learn a lot about myself, about who I am, and land in a great place. LA might be a better fit for me.
"These guys, my teammates and coaches, they gave me a lot of confidence and I was able to draw upon that to go out there and have a good year. Looking back, God had his hand in every part of the way. He led me to this moment, to be where I am, and I can't thank him enough for guiding me and my family along through it."
How to watch Super Bowl 56
Los Angeles Rams vs. Cincinnati Bengals
SoFi Stadium (Inglewood, California)
Sunday, Feb. 13
Kickoff: 4:30 p.m. MST (pregame starts at 11 a.m. MST)
TV: NBC (English), Telemundo (Spanish)
Streaming: Peacock
Locals in the Super Bowl
Los Angeles
Eric Weddle, S, Utah
Terrell Burgess, S, Utah
Matt Gay, K, Utah/UVU/Orem High
Jonah Williams, DE, Weber State (practice squad)
Cincinnati
Jalen Davis, CB, Utah State
Xavier Su'a-Filo, OG, Timpview High (practice squad)
×
Related stories
Most recent NFL stories