This archived news story is available only for your personal, non-commercial use. Information in the story may be outdated or superseded by additional information. Reading or replaying the story in its archived form does not constitute a republication of the story.
SALT LAKE CITY — Life changes.
No matter how tactical you are planning your future, there are some things you can't avoid. Without giving permission, sometimes life takes hold of the steering wheel and drives you in a new direction.
It's something we can all relate to, and Utah kicker Matt Gay is no exception.
Soccer prodigy
Gay, the youngest of eight children, was kicking the soccer ball as soon as he could walk. He joined organized soccer around age 3 and immediately fell in love with the game. Growing up, he followed his brothers' footsteps playing sports and couldn't get his foot away from the soccer ball. His dream was to go professional, playing in England and competing in Europe.
"It's the dream to play out in Europe," Gay said.
Working toward his goal, Gay did well making a name for himself and spent 10-15 hours a week on the field. He played club soccer with La Roca FC, winning three-consecutive Utah state championships from 2008-10. He became the first player from Utah to ever attend the Under-17 USA Men's National Team Residency Program in Bradenton, Florida.
Gay spent four seasons in the Utah Olympic Development Program, attending the Real Salt Lake U.S. Soccer Development Academy, and two seasons in the USA Region IV Olympic Development Program.
It was during this time that Gay met Greg Maas. Maas, a former player of the Portland Timbers, served as the technical director for the Utah Youth Soccer Association and the head coach of the Real Salt Lake Under-17 Team. He also directed the state's Olympic Development Program.
"Matt is known for scoring goals," Maas said. "He was touted as the top striker (the player whose job it is to score most of the team's goals) in the U-17 Men's National Team Program in Florida."
Gay carried his soccer career onto the high school field where he set Orem High School's all-time goal-scoring record and led the team to a semifinal appearance during his senior season.
Persistence pays off
One of Gay's closest friends, Parker Overly, recognized his talent and actively pursued him to take his talents to the football field.
"When are you going to hang up soccer and kick (the football)?" Gay recalled Overly repeatedly asking him.
The two friends shared a passion for sports. While Gay was on the soccer field, Overly was either playing basketball, baseball or football. He was on Orem High's state championship basketball team and played on the football team throughout his tenure at the school.
"He was my biggest advocate for football. He always pushed me," Gay said of Overly.
Overly's persistence grew on Gay and he finally decided to give football a shot. It wasn't until his senior year that Gay participated on the football squad since his soccer coaches wanted him at every single practice. Soccer was his priority and both teams' practice times conflicted.
His senior year, a new football coach took the reins and didn't mind Gay coming to only a few practices a week to get his kicks in the game.
"I thought it'd be a fun little thing to switch it up, so I tried it out," Gay said.
Despite taking on new territory, the accolades continued to pile up. In Gay's one season of football at Orem High, he earned first-team all-region honors.
The 6-foot-1 athlete made 6-of-13 field goals and notched 28 PATs on the season. His longest attempt came against Provo High — a 54-yard kick. Of his 25 kickoffs, 24 ended with touchbacks. He also averaged 50.1 yards per punt.
New direction
As Gay took a year off from school after graduating from high school, Utah Valley University was working with Maas to build a men's soccer program. Maas was very familiar of Gay's skillset — they met when Gay was around 10 years old — and recruited him to join the Wolverines.
His freshman year, Gay played in all 18 games and started 17. He led the team with seven goals and 18 points on the season. He had three game-winning goals. His accomplishments earned him a spot on the Academic All-WAC Team and NSCAA West All-Region Second Team.
"He's big, strong and physical," Maas said. "He carried his soccer teammates."
---
"I wear this on my wrist because it's him right there on the field with me." -Matt Gay
---
Gay decided to serve a full-time mission for The Church of Jesus Christ of Latter-day Saints after his freshman year. He was called to serve in Houston, but came home early for medical reasons. He rejoined the Wolverines' soccer team for his sophomore year.
"I was doing really well, then things took a turn," Gay said. "I served a mission and I don't know. Life changes."
Upon returning to the soccer field, Gay found he wasn't in as good of shape as he was before his mission. Maas worked with Gay, helping him with nutrition and fitness programs but he wasn't getting much action on the field, starting just one of 15 games.
Gay started to realize his body was going in a different direction. Some people approached him about place kicking in football, reminding him of his senior year at Orem High. Gay gave it some thought and told some friends on the soccer team. He eventually had a meeting with Maas to decide his future.
"The discussion was to talk about what my future was playing soccer," Gay said. "I had some opportunities to kick some footballs. It was both unanimous. I wasn't back into as good of shape as I wanted to be for soccer. It was time to keep the boots, but kick another ball."
And so Gay went off to his new endeavor.
"I still love it," he added. "I love soccer with all my heart."
Life throws a curve
Tragedy struck Gay between his last competitive soccer season and finding a football team to kick for.
This past April, Overly — who joined Gay in enrolling at UVU years earlier — received a job promotion at his dream job, designing athletic uniforms for Pro Look Sports. On April 11, Overly and his father, Paul, went to the BYU-UVU baseball game to see Overly's roommate pitch. After the game, Overly took a drive up Provo Canyon.
Overly was involved in a head-on crash with a semitruck and was killed.
The accident was hard on Gay. He still gets emotional talking about it five months later. When asked who his biggest inspiration was, Gay names Overly.
"That's an emotional question," Gay said. "He loved football. He really wanted me to play football and kick, give it a go."
Gay had already decided to pursue football, but Overly's impact throughout the years really drove him to make it a reality.
Before taking the field, whether it's practice or a game, Gay wraps tape around his left wrist. With a black permanent marker. He writes "P.O." on the tape in honor of his friend who urged him to play football so many years ago.
"I wear this on my wrist because it's him right there on the field with me," Gay said.
Kickin' it elsewhere
Gay walked on to Utah's football team during fall camp. Head coach Kyle Whittingham was impressed with Gay's leg strength as he challenged freshman Chayden Johnston for the placekicking position.
As he began kicking the football more, Gay realized there was a different strategy to kicking a round ball versus an oblong one, though placekicking is somewhat similar to penalty kicks in soccer. He was used to a very fluid game, running and kicking throughout the competition.
"Each kick is different (in soccer). You have to switch things up on the fly," Gay said. "Football is very particular. You have your three steps back and two steps to the side. Every kick is the same."
Gay's biggest challenge has been transitioning from learning the soccer muscle memory to football muscle memory.
"It's a different shape ball, so I have to flex my toe out a little bit to get good ball flight on the football."
Throughout camp, Whittingham repeatedly said Gay and Johnston were neck-and-neck in competition.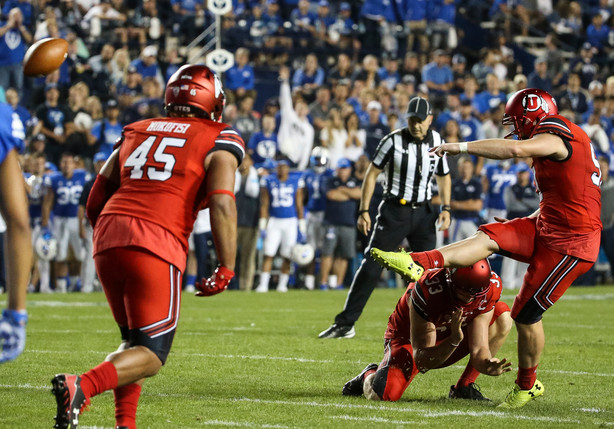 In Utah's first game, Johnston had the first crack at kicking a field goal but missed on a 45-yard attempt. Whittingham gave Gay a chance on Utah's next score — a Tyler Huntley rushing touchdown. He made the extra point and every kick since.
Gay is the nation's leading field-goal kicker and is perfect in PATs. His 44 total points leads all kickers. He's tied for first in the country in field goals made (11), field goals per game (3.67) and field goal percentage (1.00).
Gay has nearly twice as many attempts and makes (11-of-11) as the next kicker in the country without a miss (6-of-6). To top it off, his 56-yarder against San Jose State is the longest field goal in the nation this season.
When asked if he gets nervous before the game, Gay confidently says: "it's just kicking. I've been kicking a ball my whole life."
His leg strength comes natural, which keeps him cool, calm and collected — his mantra.
"I go out there and have one job to do. I take my steps, find my spot where I'm going to kick it, and swing my leg. No pressure," he said.
While he's kept calm, his friends and family are over-the-moon excited for him. The UVU soccer team insists on eating dinner inside its hotels while on the road during Utah games to watch their former teammate.
Gay has received numerous calls and texts from people from all walks of his life. His predecessor, Andy Phillips, has sent him a few texts saying: job well done.
"He's supportive and encouraging me. He's a great role model to look after. He had a lot of success here," Gay said.
He's also received calls from Maas, who gives him coach support.
"I think I have the greatest family, friends and support system that I could have," he said. "Nothing but love, sharing my stuff. It's great to have that behind me."
He added he's been impressed with the support from Utah's "crazy good fans."
"They're the best in the nation for college football," Gay said.
"I can't tell you how proud I am," said Maas, who admits Gay's early success at Utah has come as no surprise to him.
Life changes.
No matter how tactical you are planning your future, there are some things you can't avoid. Sometimes life takes you in a new direction, but it's exactly where you were meant to be.
×