This archived news story is available only for your personal, non-commercial use. Information in the story may be outdated or superseded by additional information. Reading or replaying the story in its archived form does not constitute a republication of the story.
SALT LAKE CITY — Two years ago, Matt Gay was a standout soccer player at Utah Valley University, a goal-scoring forward built like a center back in his 6-foot, 230-pound frame.
Next he'll be a Tampa Bay Buccaneer.
The Bucs selected the University of Utah kicker with the seventh pick of the fifth round, No. 145 overall Saturday afternoon.
Gay is the fourth Ute taken in the draft, joining defensive stars Marquise Blair and Cody Barton on Friday, and punter Mitch Wishnowsky, who went to the San Francisco 49ers earlier Saturday.
And like many on draft day, he was surprised when he got the phone call. Kickers aren't usually drafted outside of the seventh round, and though Gay was considered among the best in college football, his path to the NFL seemed to be shrouded in free agency and training camp contracts.
"When I got the call, it was a Tampa number and I saw they were two picks away. I thought, 'no way; not right now,'" Gay said during a conference call with reporters Saturday afternoon.
"I was shocked and overcome with emotion. It was amazing, honestly."
Adding to his surprise was that the Buccaneers had barely showed any interest in him prior to the draft. Gay said he never spoke with head coach Bruce Arians, and a handful of conversations with special teams assistants were "pretty vanilla."
"It didn't seem like there was extreme interest or communication between me and the Buccaneers," he admitted.
Maybe that's following his career path in football, though. He never considered he'd be an NFL draft pick when he left high school in Orem.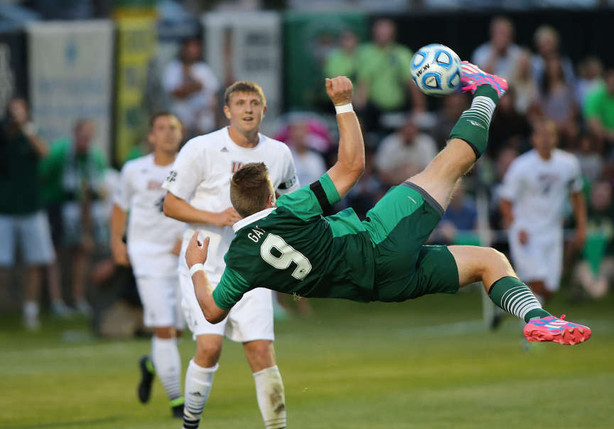 Gay played two seasons of soccer at Utah Valley, in 2014 and 2016 around a two-year mission for The Church of Jesus Christ of Latter-day Saints in Houston. He earned second-team NSCAA all-West regional honors as a freshman, when he started 18 of 33 games and recorded eight goals and five assists in the Wolverines' inaugural season of NCAA Division I soccer.
An Orem High graduate, Gay played one season of high school football but focused on soccer as a one-time member of the U.S. Soccer national team residency program. His future seemed secure in that sport — until he transferred to Utah to join head coach Kyle Whittingham's program as a walk-on (he eventually earned a scholarship in an emotional meeting with Whittingham that was celebrated by his teammates).
Because of his focus on soccer growing up, Gay has never worked with a kicking specialist and highly individualized coach. He'll do that in Tampa Bay, where he'll join Chris Boniol, a former Dallas Cowboys kicker and one of the few kick specialists in NFL coaching circles.
"To have someone there who knows how it is and can be on the same page as how you are thinking is amazing," Gay said Saturday during a conference call. "It's someone who can adapt little things to help my game, but also keep my kicking style. I think it's something that will really pay off."
Thanks to Superintendent Jeff Eakins of @HillsboroughSch for announcing our fifth-round pick, Matt Gay! @BucsFoundation Jr. Bucs School Program is impacting 200k students in 300 schools throughout Tampa Bay.

Watch: today on NFL Network, ABC and ESPN pic.twitter.com/SKT1Vyhoty

— Tampa Bay Buccaneers (@Buccaneers) April 27, 2019
By his senior season, he nailed 26-of-31 field goals, with three blocked and a season-long of 55 yards during a 32-25 win over Oregon back in November. A two-time All-American, Gay won the Lou Groza Award given to the nation's top kicker in his first season of college football in 2017, and finished third in program history with 253 career points.
He set a school record with eight field goals of 50 yards or more, and converted on 86.15 percent of kicks, which ranks second time all-time.
He's hit from as far as 57 yards comfortably, which he did in Utah's spring game last year.
"Gay is a big boy with an even bigger leg," NFL.com draft analyst Lance Zierlein said.
Gay said he'll also compete for the kickoff specialist job when the Bucs open camp this summer. He took on the role as a senior in 2018, striking 82 kicks off the tee for 5,209 yards.
"That's something that I definitely want to compete for," Gay said. "I've been working on it this past season, and I've improved. There's more improvement to be done, but I feel like I am at a good spot with my kickoffs as well."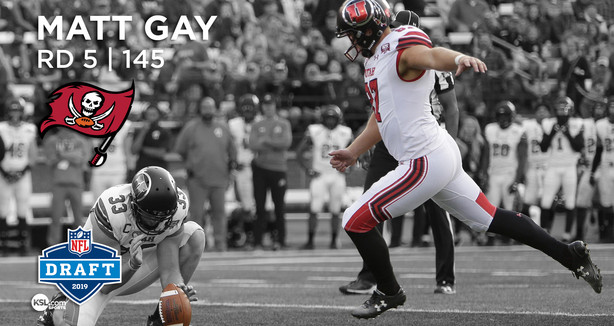 ×
Related Stories