Estimated read time: 6-7 minutes
This archived news story is available only for your personal, non-commercial use. Information in the story may be outdated or superseded by additional information. Reading or replaying the story in its archived form does not constitute a republication of the story.
SALT LAKE CITY — If it felt like Utah's "Mighty 5" were more crowded than ever last year, that's because they were.
All-time visitation records were broken at four of Utah's five national parks in 2021, according to preliminary data made available by the National Park Service.
There were at least 11 million visitors at Utah's five national parks in 2021 — far exceeding the 7.7 million recorded visitors in 2020, a year when visitation plummeted as a result of pandemic-related park closures and travel restrictions.
The final 2021 visitation figure has yet to be calculated because Zion National Park has not submitted its December visitation. Even so, visits to Utah's national parks jumped by at least 43% last year and Zion is one of the four parks that broke visitation records in 2021.
Zion National Park again led all of Utah parks in visitation last year. The southern Utah nature preserve reported over 4.8 million visitors through November, besting its previous record of 4.5 million in 2017. A spokesman for the park told KSL.com the park is still reviewing its numbers before it submits its final 2021 visitation statistics.
It needs a little over 172,000 to reach 5 million visitors for the year — a rare feat that only three national parks have ever reached. Recent visitor trends suggest that Zion will be close to that number. The park has averaged 162,000 December visitors in the previous five years; however, it also reported a record 227,244 people visits in December 2020.
Arches (1.8 million), Canyonlands (over 911,000) and Capitol Reef (1.4 million) national parks also broke all-time visitation records in 2021. While Bryce Canyon National Park fell short of its visitation record, more than 2.1 million people visited the park last year — the second-most of the five parks and an increase of nearly 640,000 visitors from 2020.
While 2021 produced an eye-popping leap from 2020 because there were no shutdowns and fewer COVID-19 concerns, 2021 also far exceeded the state's previous total park record of 10.6 million recorded in 2019.
The rise in visitors meant more people were enjoying Utah's national parks, but it also led to an uptick in resources needed to support the public lands. This has been true since the sudden rise of the parks' popularity over the past decade — the issue came to a head in 2021 because of the dramatic increase in park visitation from the previous year.
---
We're not trying to drive people to our national parks because our national parks are now so famous people are drawn to having that experience.
–Vicki Varela, Utah Office of Tourism
---
The year ended with Arches National Park implementing a timed entry ticket pilot program and Zion announcing a permit process to hike Angels Landing, both set to begin in the spring. Bryce Canyon National Park officials also increased its backcountry permit fees and implemented a partial campground reservation requirement to match the spike in popularity at the park over the past decade.
It begs the question, is it time for people to try other Utah parks?
A move beyond the 'Mighty 5'
As members of Utah's tourism industry piled into the Utah Capitol Friday for its annual Tourism Day — a day to promote the tourism industry — they waltzed past a giant inflatable Delicate Arch balloon, scenic photos and increased signage for Utah's newer preferred tourism initiative: "Forever Mighty."
The initiative was launched last year to build off the famous "Mighty 5," an advertising campaign that focused on Utah's national parks, has served its purpose. Vicki Varela, the director of the Utah Office of Tourism, said it quickly became clear that Mighty 5 had become almost too successful.
They needed a campaign that did so much more.
"We're not trying to drive people to our national parks because our national parks are now so famous people are drawn to having that experience," she said. "Forever Mighty is exactly how it sounds. It's about traveling respectfully, distributing your visitation and understanding the natural environment you're in."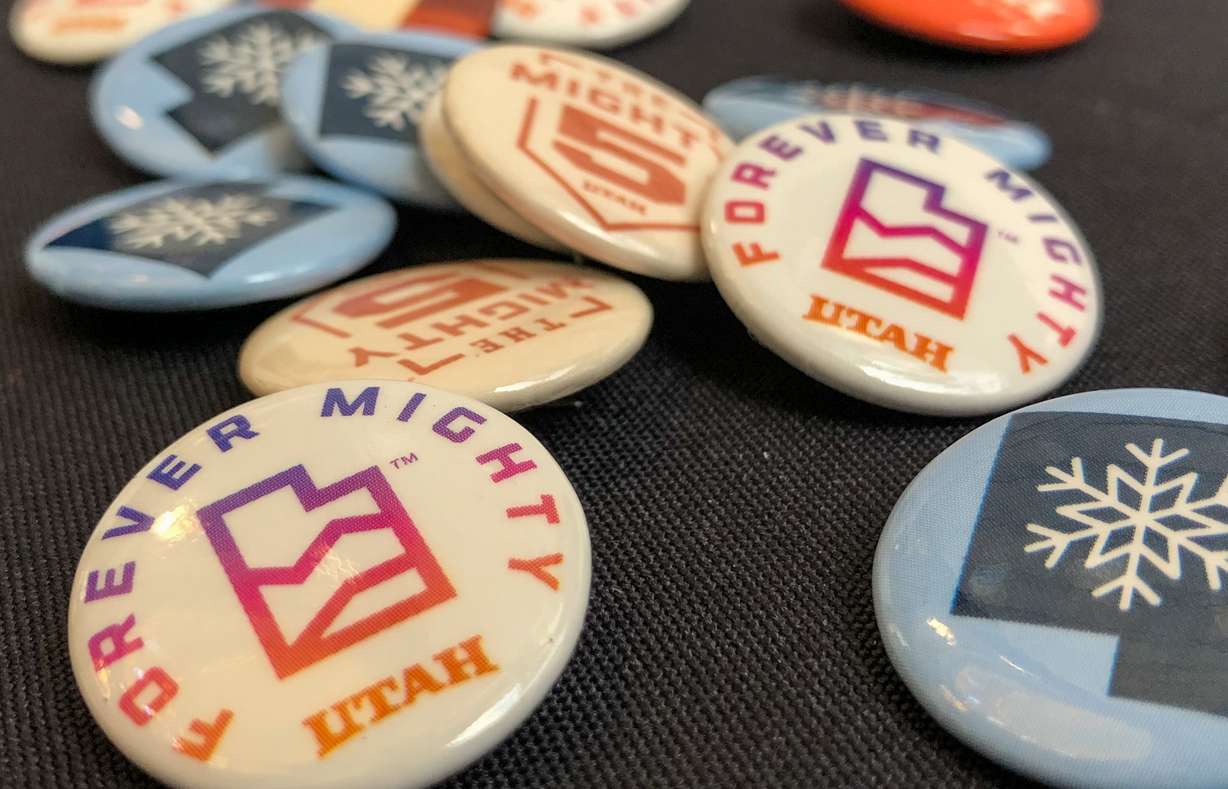 That's not to say Utah tourism officials don't want people to stop going to the state's national parks. The spike in park visitation is good for the surrounding rural communities that have easily rebounded from COVID-19's economic effects, Varela explained. The statewide tourism industry is still a ways from recovery because of ongoing lags in urban tourism, but rural tourism is thriving.
There's also an imbalance when it comes to rural outdoors visitation. The state also wants people to explore Utah's national monuments, state parks and other natural or recreation areas because the state has much more to offer than just the five national parks. Those are all things that Forever Mighty strives to accomplish.
Going off the beaten path
The Forever Mighty program instructs people to follow Leave No Trace and Tread Lightly! principles when going outdoors and supporting local businesses. Utah tourism officials want you to support the state's many rural communities and they want you to treat Utah's natural landscape respectfully.
But it also encourages people to travel to "lesser-visited destinations, guided experiences and off-season travel."
Can't get into Arches National Park? Try Rainbow Bridge National Monument. Already nearby Cedar Breaks National Park? Why not go visit Kodachrome Basin State Park, too? Those looking to beat the crowds at Zion can try its east entrance or visit Cedar Breaks National Monument to its north.
"We're really trying to attract people to get off the beaten path," Varela said. "We have so many remarkable amenities that we're trying to make sure people know about. People can have a less-congested experience."
Utah has something called a Red Emerald Strate1gic Plan that pushes this angle of Forever Mighty. It's a plan that tries to get visitors in Utah to stay longer in the state and spread out their experiences.
The many booths set up inside the Utah Capitol rotunda Friday featured all sorts of stunning outdoor alternatives for people to experience: Nine Mile Canyon, Fremont Indian State Park or Goblin State Park, among others.
"We're helping people become more aware of the things we have in our area," Allison Yamamoto-Sparks, visitor services specialist for San Juan County, said while standing in front of a large banner featuring Monument Valley.
In San Juan County's case, they have almost the exact opposite as the state's national parks: plenty of space and the entire county could use a few more tourists, Yamamoto-Sparks says. Sure, some of Canyonlands National Park is in the county, but she says it's not nearly as popular as parts closer to Moab.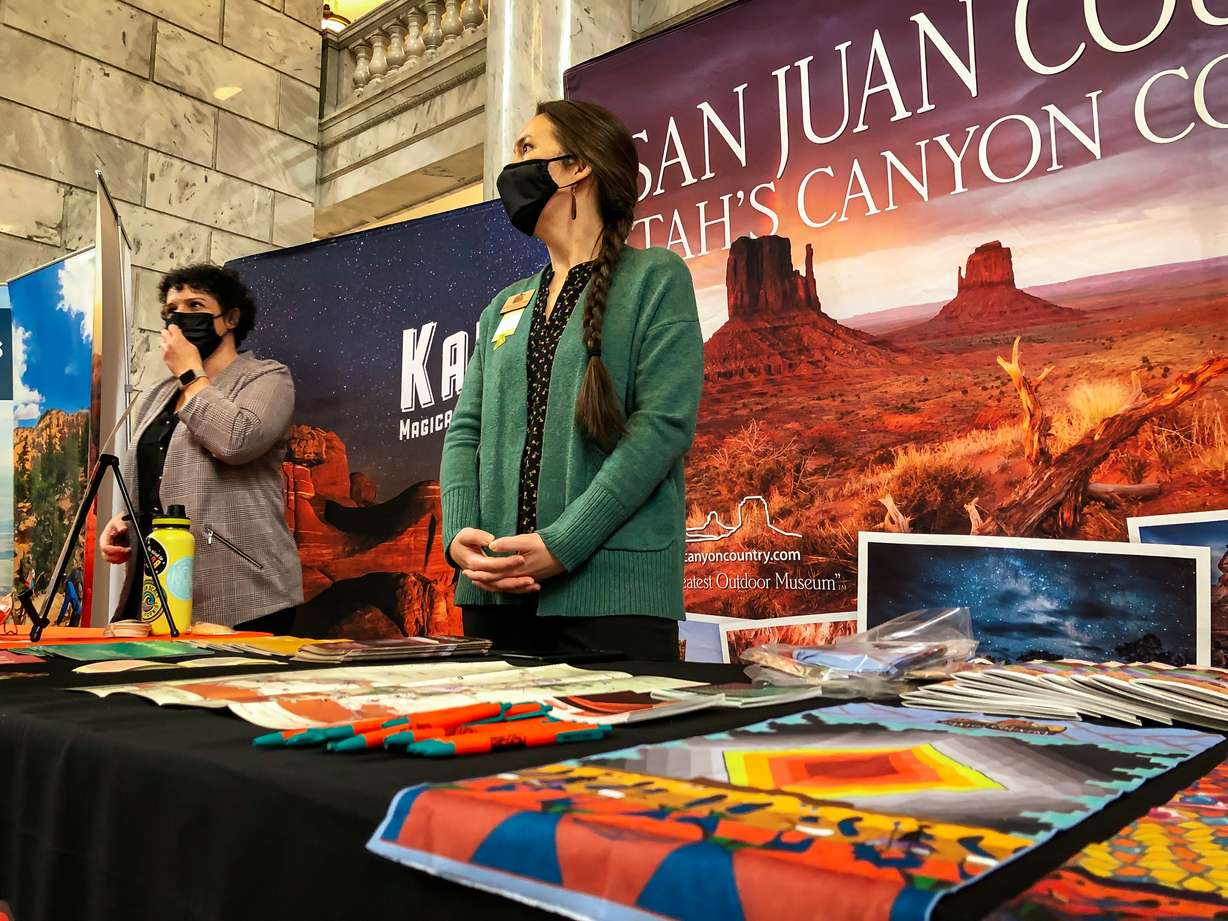 In fact, San Juan County's tourism office became flooded with calls last year on the days Arches National Park closed early because it was full and people wanted an alternative. She believes the county is a great example of an area that Forever Mighty and the Red Emerald Strategic Plan is trying to get people to.
Yamamoto-Sparks isn't sure how many people ended up at San Juan County parks on those days, but she said she's heard from some first-time visitors who were surprised with all the outdoor splendor the county had to offer.
Forever Mighty aims to reconnect people with the outdoors.
"(People) can get out, have an experience where often you're the only person on the trail at some of these lesser-visited places," Yamamoto-Sparks said. "That experience is still possible."
×
Related stories
Most recent Outdoors stories