Estimated read time: 6-7 minutes
This archived news story is available only for your personal, non-commercial use. Information in the story may be outdated or superseded by additional information. Reading or replaying the story in its archived form does not constitute a republication of the story.
MOAB — There's a message that Arches National Park staff members have often found themselves having to send on social media on a regular basis these days in response to the park's popularity.
"The park is currently full, and we are temporarily delaying entries into the park. Vehicles attempting to enter the park will have to come back at another time," the post reads, while staff at the park use signage at the entrance to alert drivers waiting in line of the closure.
It's a message that's been posted not only during summer holidays but on a regular basis now, many times even before 9 a.m. as a result of record park visitation this year. A timed ticket entry system, which park officials announced Friday, is an effort to address the issue caused by growing visitation.
"We believe that this system will help spread people throughout the day and throughout the season to try and mitigate (the congestion)," said Kaitlyn Thomas, a spokeswoman for five National Park Service parks and monuments in southeastern Utah, including Arches National Park, during a public meeting about the plan held Monday.
The pilot program will begin on April 3, 2022, and remain in place through Oct. 3, 2022, for those driving to the park. During that time, those driving to the park will have to get a ticket in advance to enter the park, where they can remain as long as they want that day. People with tickets would even be allowed to leave the park and come back as long as their ticket is validated for that day.
It mirrors similar programs tested out at other parks in the region for some areas, such as Glacier, Rocky Mountain and Yosemite national parks. The announcement of the new plan comes as new preliminary National Park Service data updated through November shows visitation has now exceeded 1.75 million people at Arches National Park this year. That estimate, once confirmed by the park service early next year, is already a park record with one month left to go.
It's also a 68% increase from the entire visitation recorded a decade ago, in 2011, which was just the second year ever that the park received over 1 million visitors. The park has received at least 1 million visitors every year since 2010; there were even 1.2 million visitors in 2020 despite a shutdown and visitation lag tied to the COVID-19 pandemic.
What has that growth meant for visitors? On the worst days, they've woken up early and still found themselves stuck in line or having to wait for others to leave for them to get in.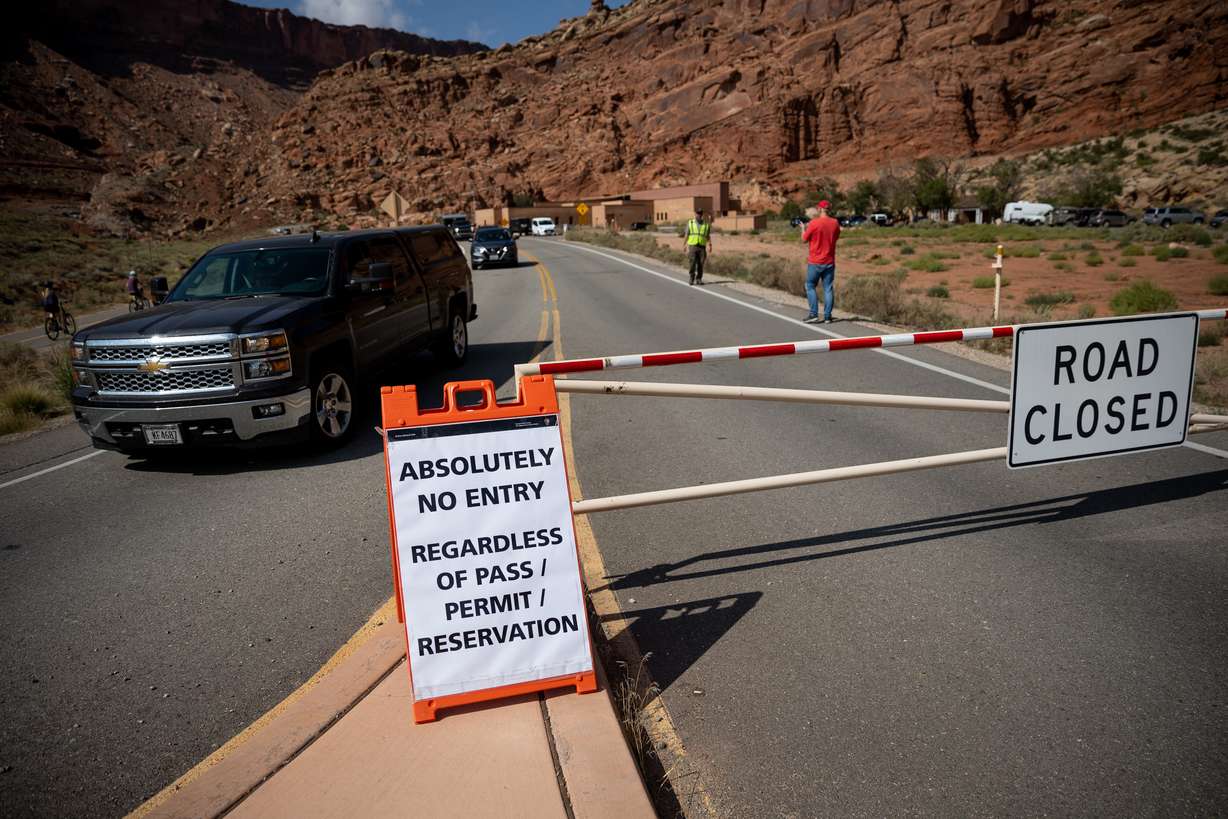 "We really keep seeing incredibly long entrance lines, which leads to traffic and congestion at popular sites and parking lots," Thomas said.
That, Thomas adds, not only puts constraints on resources but impacts the experience of visiting a national park, the reason why everyone is showing up.
Park rangers will begin enforcing a timed entry beginning April 3, 2022. Ticket entry will then be enforced between 6 a.m. and 5 p.m. daily through Oct. 3, 2022. The reservation fee is $2 per day and is nonrefundable. People who secure tickets will be asked to show their ticket, as well as either a park pass or the regular entrance fee before they are let in.
Tickets will be available online through recreation.gov or over the phone at 877-444-6777 three months in advance, meaning tickets will go on sale beginning Jan. 3, 2022, for the first wave of tickets: April 3-30, 2022. Tickets for May through October will continue the same trend, with tickets going on sale the first of every month between February and July.
It's currently estimated that about 2,700 vehicles per day is the maximum the park can hold, which is about how many will be sold every day during the test phase. Park officials add that a timed ticket doesn't guarantee parking spots at popular areas, such as Delicate Arch or Devils Garden. It just guarantees they will find a parking spot somewhere.
If people who purchase tickets cancel ahead of the day they are scheduled to be there, those tickets will go back on sale. The park will also set aside a "limited number" of tickets beginning at 6 p.m. the day before entry for visitors who weren't able to secure tickets in advance, Thomas added.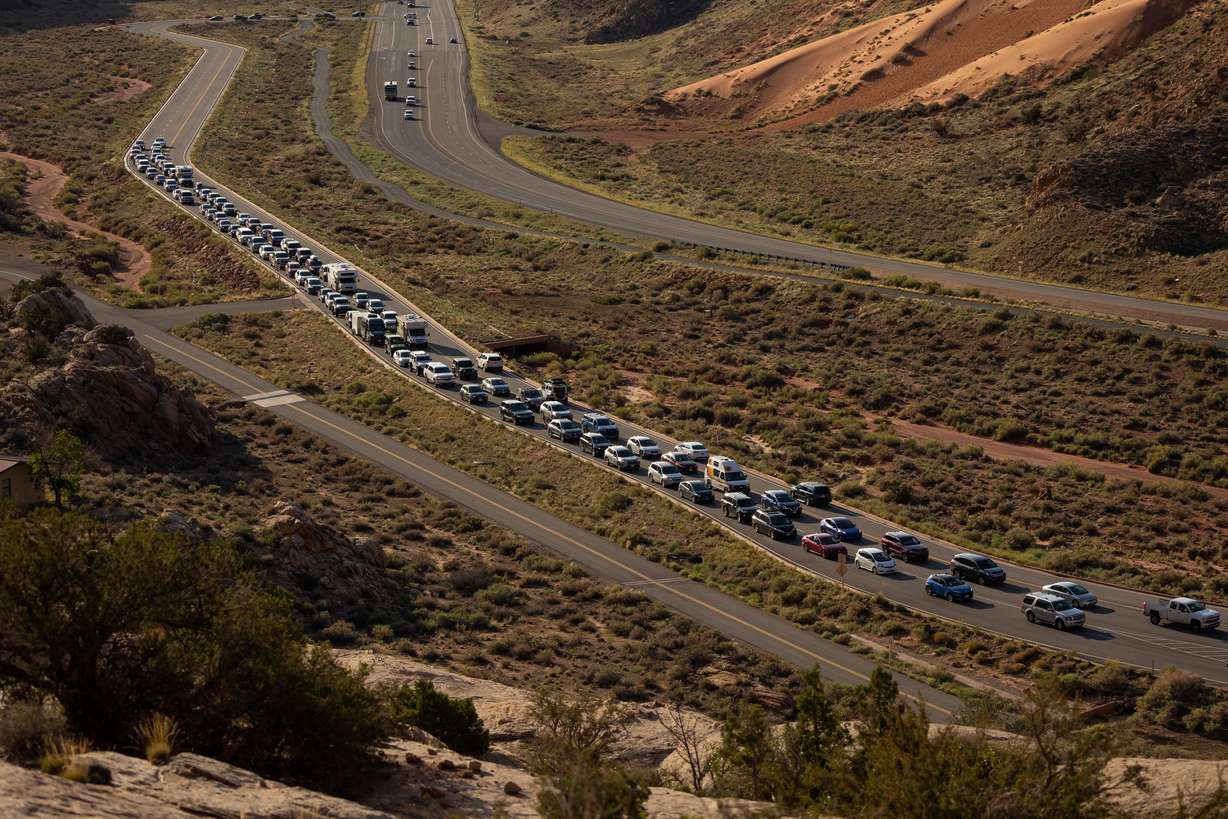 There are a handful of exceptions to the system, as well. Members of Native American tribes also do not have to secure a timed entry reservation to access the park.
Anyone biking or walking to the park will not need a timed entry or reservation but will need to pay regular entrance fees. Park service officials don't recommend walking because the walk from outside of the park to anywhere beyond the visitor center is considered "extremely strenuous," especially during the summer heat. Bikes are also not allowed almost anywhere inside the park beyond the entrance.
Those with Commercial Use Authorizations or Special Use Permits also don't have to make reservations but entrance fees still apply. Thomas explained that reservations will not be required for people who have permits for camping, backcountry or hikes at Fiery Furnace, either.
Thomas said she understands that businesses and government entities that rely on tourism might be a bit nervous that a new ticket system will result in fewer people coming to Moab. However, she said the hope with the new system isn't that people will stop coming to the park but instead that it will eliminate the mad dash in the mornings that leads to congestions, headaches and the staff having to send out the message telling people the park is full.
The reason she's optimistic is that it's exactly what happened this year when Glacier National Park in Montana tried the timed ticket entry. Park officials there recorded a 35% spike in times before 6 a.m. and after 5 p.m. compared to 2019 data, while vehicles entering during times of ticket enforcement dropped to levels the roads and parking lots could handle.
"We really expect to redistribute visitation and not limit visitation," Thomas said. "What we've found from Rocky Mountain and Zion is that it's probably not true (that it leads to less interest). There are quite a few folks who made their hotel reservation ... that will even gamble to stay an extra day to see if they can get into the park."
Of course, only time will tell if that will happen.
But the new system was the result of a pair of public meetings, a virtual meeting and public comments collected in September and October regarding ways to deal with the traffic congestion issues at the park. During that time, park officials said they received 261 comments in favor of a timed ticket system compared to four against it.
Thomas added the other parks that tried timed entry informed Arches National Park officials to make sure to inform potential visitors well in advance about the upcoming change. She said that's why they unveiled the program Friday and held Monday's meeting.
They've gotten the word out by contacting all sorts of media outlets, through their own social media pages and through flyers and cards not just at the park but at nearby businesses.
"We are starting with a bit of a better plan than some of these other parks did," she said. "They all started with really good ones but we're even better situated at this point to really succeed (next) year."
×
Related stories
Most recent Outdoors stories