Estimated read time: 4-5 minutes
This archived news story is available only for your personal, non-commercial use. Information in the story may be outdated or superseded by additional information. Reading or replaying the story in its archived form does not constitute a republication of the story.
SALT LAKE CITY — Late winter and early spring is a popular time for "shed hunting."
It's estimated that some 20,000 people head out into Utah's outdoors in the late winter and early spring every year to collect antlers that big game animals shed before they grow another set of antlers later in the year. Wildlife experts describe it as a mix of a winter hike and a treasure hunt wrapped into one.
"It's a pretty big, kind of popular pastime here in the state," said Faith Heaton Jolley, spokeswoman for the Utah Division of Wildlife Resources. "It's a pretty popular activity for a lot of families, something fun to get outdoors and go do together. It's exciting to be able to find some of these big antlers, too."
But the activity also has drawn concern from wildlife biologists in recent years, mainly because thousands of people are heading into big game habitats during a vulnerable time for the creatures.
It's why Utah, in 2009, began mandating people take an online ethics course before they collect any shed antlers. This year, people must take the course if they plan on gathering antlers between Tuesday and April 15.
The course is just 25 questions along with information about biology and survival rates. People who plan to go shed hunting are required to answer all of the questions correctly and print out a certificate that they must bring with them when they collect antlers. The certificates aren't transferrable.
While people don't need a permit to collect antlers that have fallen off, and the course is free, the reason for the course requirement comes down to timing.
Big game animals shed their antlers at different times, according to state biologists. Most deer in Utah drop their antlers in January or February, although some drop them as early as December or as late as March and early April. Elk typically shed their antlers in April and early May, while moose drop their antlers between November and February.
These patterns are why many people wait until February and March to go shed hunting. Jolley says this is a popular collecting period, too, because it's when people can find antlers that are still in good condition and still considered valuable.
Per Utah law, people are only allowed to collect antlers and horns if they are not connected to the skull plate of the animal — unless the animal was legally taken during a hunt, legally donated or legally purchased, and the person in possession has an associated license, permit or receipt. Much like regular hunting, shed hunters must have written permission to collect antlers from any private property, and a certificate doesn't allow someone to trespass onto closed open land.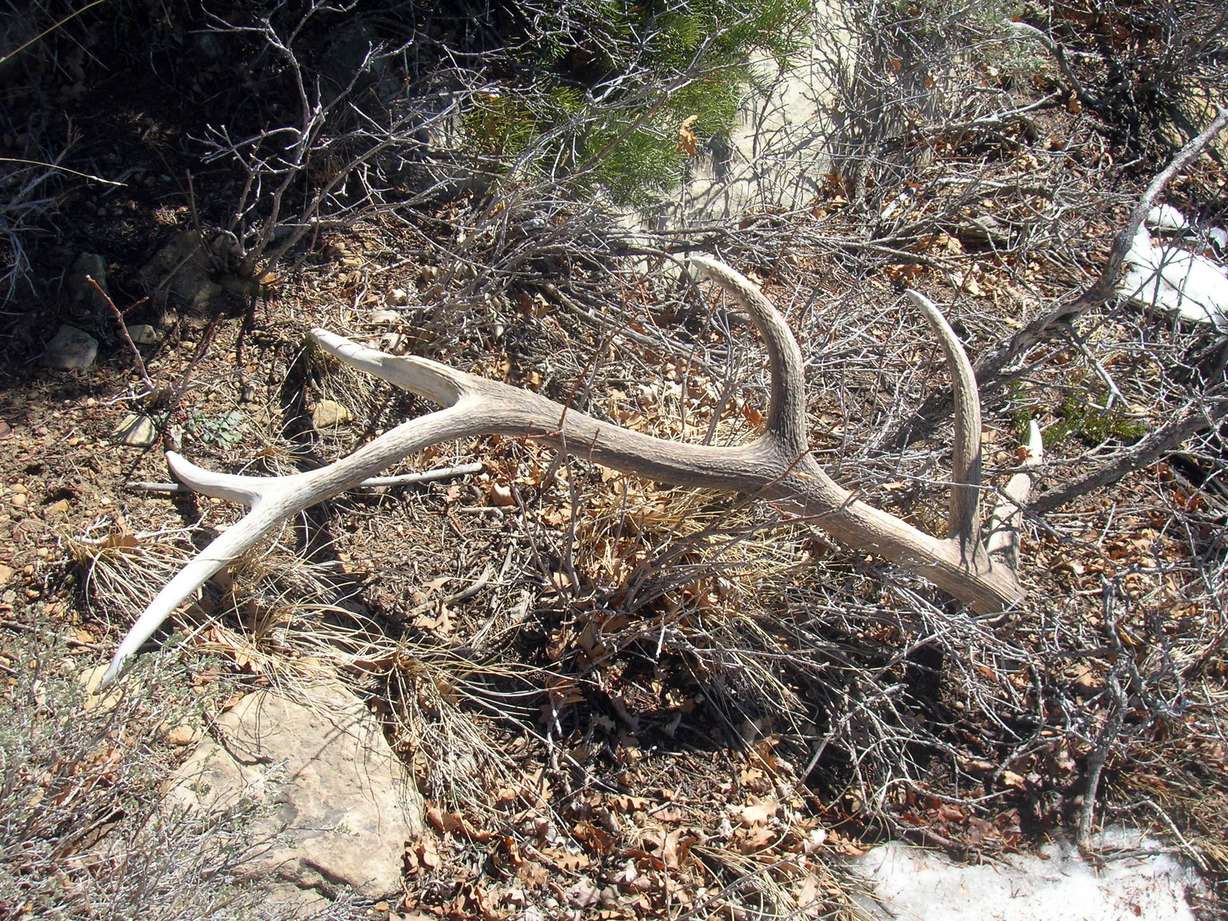 But the drop patterns also happen at the same times when winter stress can occur, which is when animals expend more energy trying to find food or escape danger than they do collecting energy from foraging. State biologists say cold temperatures, snow and human interaction can all impact deer survival rates in the winter.
Winter and early spring are a time of the year that big game animals struggle to find food. That's especially true for deer, said DWR Capt. Chad Bettridge. Even mild winters can stress big game animals and reduce their survival chances.
"If you spook an animal and cause it to run, the animal has to use up fat reserves and energy that it needs to make it through the winter," he explained.
However, it goes beyond just human-animal interaction. The late winter and early spring are also when Utah's outdoor terrain is muddier, which means those heading outside looking for antlers may inadvertently damage important areas for the animals.
Vehicles can tear up habitat, including plants that some of these big game need to survive, Jolley said.
"We're just trying to educate people on the best ways to shed hunt without causing some of these issues," she added.
There is no requirement for collecting fallen antlers after April 15, as long as they aren't connected to the skull of an animal or an individual isn't trespassing on private or closed land. The certificate requirement expiration date coincides with the typical end of this vital time for the animals.
Wildlife officials say that anyone who finds a skull with the antlers or horns still attached should report it to wildlife conservation officers because it could be the result of a poaching case. They add people should not pick up or move the skull, nor disturb any possible evidence in the area such as footprints.
Instead, they ask that the person take photos of the skull from a few different angles, pinpoint the location of the carcass, and then report it to the nearest DWR office.
×
Most recent Outdoors stories