Estimated read time: 6-7 minutes
This archived news story is available only for your personal, non-commercial use. Information in the story may be outdated or superseded by additional information. Reading or replaying the story in its archived form does not constitute a republication of the story.
AROUND THE SHIELD — Kickers and the Golden State ruled the NFL playoffs' divisional-round weekend.
California love, and throw some in for Matt Gay, too.
The former Utah kicker converted his third field goal Sunday from 30 yards as time expired to lift the Los Angeles Rams to a 30-27 win Sunday over Tom Brady and Tampa Bay.
It was the third-straight game decided by a late field goal in the divisional round that started with the Bengals' win over Tennessee and continued Saturday night with San Francisco's 13-10 victory over top-seeded Green Bay. A fourth — the Chiefs' overtime win over the Bills — needed a game-tying field goal to force an extra period.
"He's a Pro Bowl kicker," said Rams receiver Cooper Kupp, who set up Gay's game winner with a 44-yard catch in the final minute. "We have a ton of faith in him."
Gay, who prepped at Orem High, had just missed a rare field goal in Raymond James Stadium for the Rams, a 47-yard attempt that would have given the visitors a 17-point lead before Brady's rally.
But he made up for it in the closing seconds, thanks to a dynamic comeback play from Matthew Stafford and Kupp to keep his streak of road wins against the team that drafted him in the fifth round of the 2019 NFL draft intact for the season.
"The last two times we've been back here, he's ended up hitting game-winners. He's been great," Rams coach Sean McVay said. "He's been clutch.
"I'm really happy he got to come back from an uncharacteristic miss."
The Rams advanced to host the 49ers in next weekend's NFC championship game. Yes, for the first time in NFL history, a California team is guaranteed to play in a Super Bowl at SoFi Stadium.
Defense made it happen for the Niners, too.
Against offensive stars Aaron Rodgers and Devante Adams, San Francisco's defense was the story. The 49ers sacked Rodgers five times, added two more tackles for loss, and blocked a punt that Talanoa Hufanga returned 6 yards to the end zone for the crucial game-tying touchdown with 4:41 remaining.
The stellar defense was led by former BYU linebacker Fred Warner, who tied for the team lead with six stops and a key takeaway, forcing a first-quarter fumble by Packers tight end Marcedes Lewis for the first time since 2013.
The 49ers didn't score on the drive, but it set the cadence as much as any other for the rest of the game as San Francisco outscored the No. 1 seed 13-3 the rest of the way.
"We came into Lambeau against the No. 1 seed in the NFC, snowing, MVP quarterback, one of the best receivers playing the game, high-powered offense, and we hold them to 10 points? That's incredible, especially with the way it started," Warner said.
"It's one of those things we'll remember forever. I don't know if everybody knows the gravity of it right now, but it's something we'll look back on, for sure."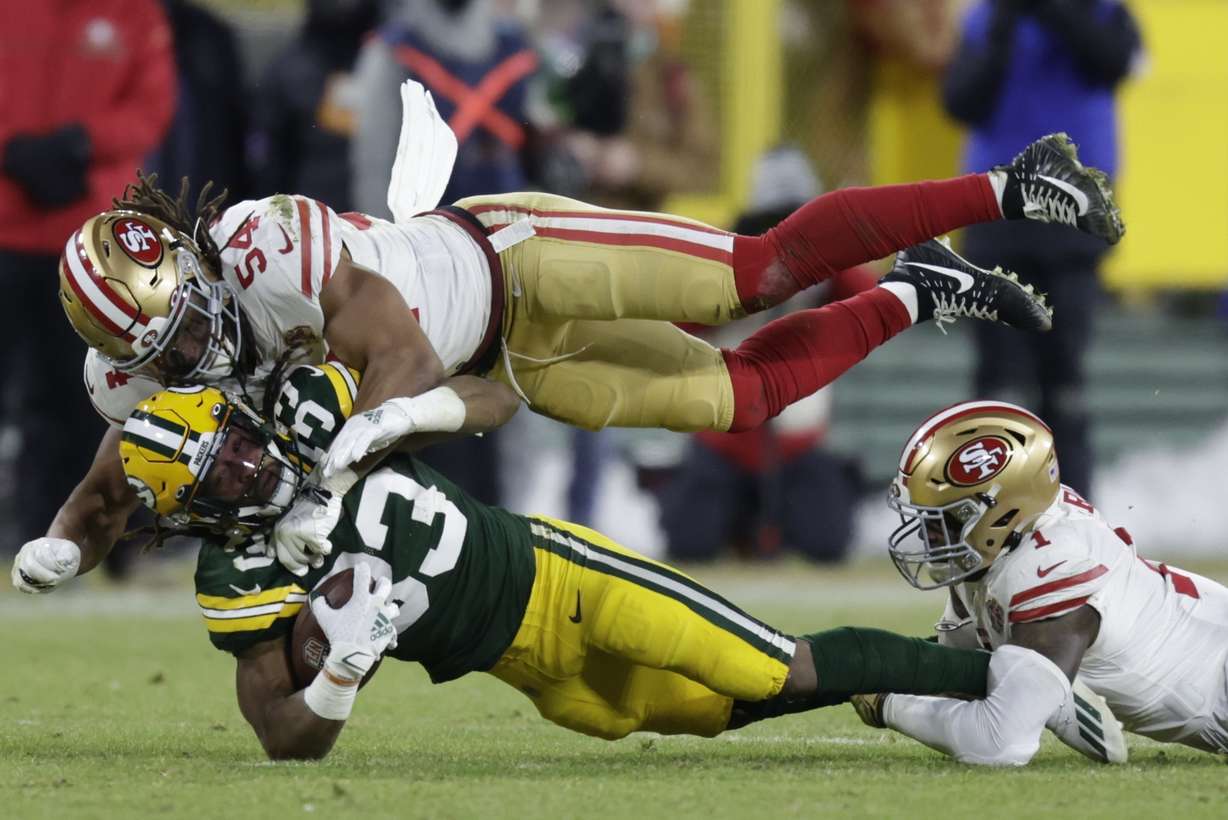 Defense was also the name of the Rams' 3-point road win over Tampa Bay in the other AFC divisional game. With two Utah alums in the defensive backfield who played 12 years apart on the Hill in Eric Weddle and Terrell Burgess, Los Angeles strutted out to a lead as large as 27-3 in the third quarter.
But Brady overcame the deficit — because of course he did — with three consecutive touchdown drives starting with Leonard Fournette's 1-yard dive with 12 seconds left in the third. The last one tied the game at 27-all with just 42 seconds left.
Plenty of time for Stafford to set up the Gay-me winner and send the Rams to an all-California final against an NFC West rival whose postseason run started with a road win in SoFi Stadium.
"We're not standing here with a win if we didn't go through what we did in LA against the Rams to start," Warner said. "Going through that and taking us into Dallas to here, it's all just storybook."
Locals in the NFL Playoffs: Divisional Round
Saturday, Jan. 22
Joe Burrow threw for 348 yards, Joe Mixon ran for 54 more with a touchdown, and Evan McPherson kicked the game-winning 52-yard field goal as time expired to lift the Bengals to their first AFC championship game since 1988.
Bengals (11-7)
Jalen Davis, CB, Utah State: Inactive for divisional round.
Titans (12-6)
No locals on the active roster.
Robbie Gould kicks the game-winning field goal from 45-yards out as time expired to lift the 49ers by the Packers and into the NFC championship.
49ers (12-7)
Fred Warner, LB, BYU: Starting linebacker totaled six tackles, one tackle for loss and a forced fumble in 56 defensive snaps.
Mitch Wishnowsky, P, Utah: Averaged 46.8 yards per punt, with a long of 52 yards and two punts downed inside the 20 in eight snaps on special teams.
Packers (13-5)
Jordan Love, QB, Utah State: Active, but did not play.
Tipa Galeai, LB, Utah State: Reserve linebacker played 13 snaps on special teams.
Sunday, Jan. 23
Matthew Stafford threw for 366 yards and two touchdowns, and Matt Gay kicked his third field goal of the game as time expired to help the Rams hold off Tom Brady's late comeback bid.
Rams (14-5)
Matt Gay, K, Utah/UVU/Orem: Kicked field goals of 26, 40 and 30 yards, including the game-winner, with two extra points and six kickoffs.
Eric Weddle, S, Utah: Reserve safety made four tackles on defense.
Terrell Burgess, S, Utah: Starting free safety made two tackles on defense.
Buccaneers (14-5)
No locals on the active roster.
Patrick Mahomes threw for 378 yards and three touchdowns, including the game-winner on an 8-yard score to Travis Kelce in overtime, to lift the Chiefs past the Bills in a game that featured three touchdowns and a field goal in the final 1:54.
Chiefs (15-5)
Daniel Sorensen, S, BYU: Reserve safety tied for the team-high with nine tackles on defense.
Zayne Anderson, S, BYU/Stansbury: Reserve safety played mostly on special teams.
Marcus Kemp, WR, Layton: Reserve receiver had one tackle on special teams.
Bills (13-7)
Taron Johnson, CB, Weber State: Starting nickel totaled seven tackles and a sack on defense.
Star Lotulelei, DT, Utah/Bingham/Snow College: Reserve defensive lineman had three tackles on defense.
Zack Moss, RB, Utah: Active, but did not play.
×
Related stories
Most recent NFL stories