Estimated read time: 7-8 minutes
This archived news story is available only for your personal, non-commercial use. Information in the story may be outdated or superseded by additional information. Reading or replaying the story in its archived form does not constitute a republication of the story.
SALT LAKE CITY — Carissa Vera held up a paper featuring a design of how she would revise the state's flag as she walked up to a podium inside the Utah Capitol rotunda Wednesday.
Her concept is somewhat akin to Texas' but with different colors and symbols. Standing in front of a crowd of fellow students and Utah leaders gathered in the building, the Murray High School senior explained what her flag means.
There are white, reddish-orange and blue bars that represent Utah's revered snow, the southern Utah red rocks and the Great Salt Lake or even Utah's original flag. She then points to a group of hexagons in the far left part of the design — the spot that would be occupied by a star on the Texas flag. These, she adds, are a honeycomb pattern that represents Utah as the Beehive State that it is.
"We are all hardworking, we're a part of the community," Vera said. "We might be diverse but, at the end of the day, we come together to work hard."
This was one of a handful of designs shared by Utah students Wednesday, as the state officially launched a movement to redesign its flag.
Gov. Spencer Cox issued a proclamation calling Wednesday "More Than a Flag Day" in Utah, a reference to the new campaign, "More Than a Flag," which is now taking in flag designs and feedback — months after the Utah State Flag Task Force first convened to talk about a new state flag design.
Utah's flag design has remained mostly untouched since 1913. The governor, in his proclamation, said the new campaign isn't an attempt to "rewrite history" but an effort to modernize the flag. He told the throng in the rotunda that he views the campaign as a "statewide conversation" about who Utah is as a state today, designing a flag that better represents Utah in the 21st century, and a state that has vastly changed over the course of a century.
"It's a chance to talk about our shared identity. It's a chance to talk about a new flag as a banner for all of us to rally under and around," Cox said. "That topic is particularly relevant now ... because as Utahns, together, we are writing the next chapter in Utah's history. And I believe a thoughtful and well-designed flag can actually help us all come together in appreciating our shared identity."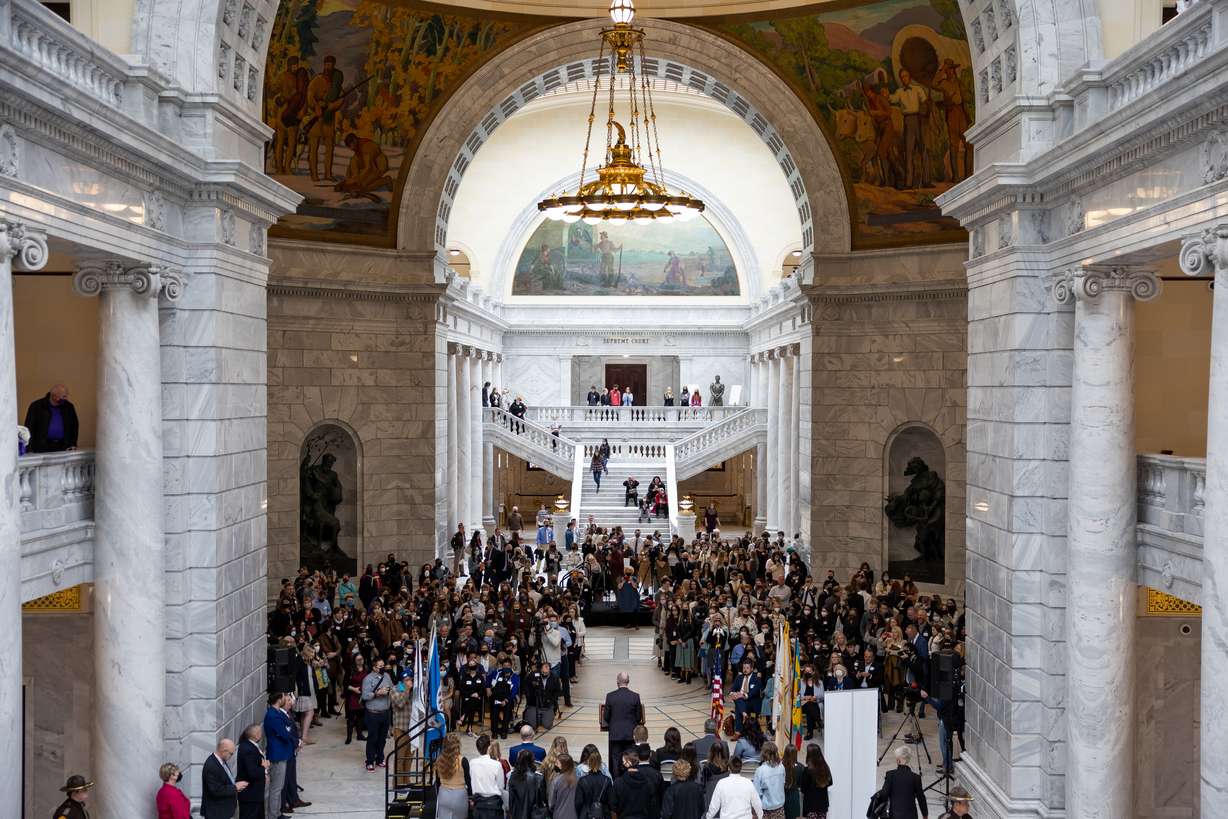 As a part of the festivities, hundreds of middle and high school students were brought to the state Capitol at various times in the morning to participate in workshops where they learned about flags and even designed their own flags to submit to the state for consideration.
The state also began accepting design feedback and even new state flag design submissions from the general public on its new website. All applicants are allowed to submit up to three designs in a 3-by-5-inch format and must include a description of the design.
Designs are encouraged to follow principles of good flag design outlined by vexillologist Ted Kaye:
A flag design should be simple that a child could draw from memory.
It should include colors and images that represent something meaningful.
There should be only about two or three basic colors.
Lettering or seals should be avoided in a design.
It should be distinctive. The flag should be noticeable compared to others.
The latter is a key reason why the state launched the campaign in the first place. Proponents of the campaign say Utah's current flag is one of about half the states that currently use a state seal on a blue background. They argue it makes it easy for the flag to be lost in a field about two dozen other states.
Utahns will have through the end of April to submit their designs and feedback. They can also be submitted physically to More Than A Flag / 3760 S. Highland Drive / Millcreek, UT 84106.
"We want Utahns from across the state to join us in this conversation. We want to hear from residents from everywhere, from all over the state," said Lt. Gov. Deidre Henderson, listing off regions from across the state. "Recent research has let us know that while Utahns appreciate our current flag, nearly two-thirds of them feel that it doesn't feel like it represents them personally. ... We want to create a flag that all residents feel represents them."
The research Henderson is referring to is a survey conducted by market research group Y2 Analytics on behalf of the Utah Department of Cultural and Community Engagement. The firm collected feedback from over 750 residents from different parts of the state and across different age groups and other demographics, between Nov. 22 and Dec. 12.
Twenty-eight percent of the respondents said they "strongly agreed" that they are proud of the current state flag, while another 18% said that they agreed with that statement to a lesser level. One-third of the respondents were neutral about the flag and only 19% said they disagreed that they were proud of the flag.
A little more than half said they believe the flag still represents Utah well today, but more people — 42% to 41% — said they didn't feel the flag represents them personally. About the same amount of people said they would fly the current flag outside of their home or business but only 28% said they would consider wearing clothing with the flag design on it.
In all, 36% said they supported the measure to redesign Utah's flag, while 35% opposed and 29% said they didn't have an opinion or weren't sure about the matter.
The survey also yielded some other interesting results.
Respondents were asked to rank the flags of the states in the four corners region based on what they found to be most visually appealing. One-third of the respondents rated Utah the most appealing while another third rated it the least appealing. Arizona's flag, at 39% and 8% respectively, was rated as the most appealing design.
The plurality of the respondents felt that Utah's flag had the most symbolic and iconic design of the four states. But, again, only one-third of the respondents opposed redesigning Utah's flag.
---
Utah stands out to me. Utah stands out to its residents, and I'm hopeful for a flag that stands out to the rest of the country the way it stands out to us.
–Sen. Dan McCay, R-Riverton
---
The survey didn't just collect feedback on the current flag, it also asked residents what they would like to see represented in a new flag or would best represent Utah to the nation.
The beehive, honey bee, skiing, mountain, red rock and Native American symbols emerged as leading symbols that best represent Utah today, while honesty/integrity, mountains, outdoors, education/economic opportunity, generosity, national parks and recreation were viewed as values and symbols that Utahns believe reflect Utah from afar.
The flags that Vera and other students shared Wednesday all referenced these ideas. It's possible the winning design goes beyond those themes. As the event ended, students held placards with different logos and symbols on them that showcased items important to them. There was a photo of Native American petroglyphs, the Salt Lake City flag and the Southern Utah University logo represented in that small sample size.
Sen. Dan McCay, R-Riverton, who sponsored the bill that created the flag task force last year, said he's open to anything. As a self-described flag nerd, he said he was inspired by the concepts he saw Wednesday and he's looking forward to the many more to come. It might be a daunting task to find one design in a field of potentially thousands, but it's a task he says has meaning.
Almost every country, state, city and organization in the world has a flag that aims to represent their ideals and beliefs, which is why McCay said he's drawn to them. He points to the past few months — and the arguments for and against a new flag — as an example of why it's a subject everyone cares about, regardless of their stance.
And that's the ultimate goal of the "More Than a Flag" campaign. McCay said he wants people, one day, to see Utah's flag and instantly connect with it.
"It's an amazing thing when you see a flag from another state and you can tell who they are," McCay said. "The stark, amazing designs you have in California or Texas, South Carolina, Maryland — so much is said about those states based on what they have on their flags.
"Utah stands out to me," he adds. "Utah stands out to its residents, and I'm hopeful for a flag that stands out to the rest of the country the way it stands out to us."
×
Photos
Related stories
Most recent Utah stories