Estimated read time: 6-7 minutes
This archived news story is available only for your personal, non-commercial use. Information in the story may be outdated or superseded by additional information. Reading or replaying the story in its archived form does not constitute a republication of the story.
SALT LAKE CITY — Statewide redistricting might be over, but the redistricting process is just beginning in Utah's largest city.
Salt Lake City leaders opened up applications Thursday for city residents to join the Redistricting Advisory Commission, a group tasked with offering the city council independently recommended council district maps for the next decade. As city officials note, it helps provide fairer representation on the city council.
Anyone living in the city is eligible to participate in the commission, regardless of voting eligibility status. That means people not yet old enough to vote are allowed to apply.
"Salt Lake City aims to be as transparent and apolitical as possible. ... We encourage all residents, including young people and those from traditionally marginalized communities, to apply," said Darin Mano, the vice chairman of the Salt Lake City Council.
The deadline to apply for the commission is 5 p.m. on Jan. 27.
The city council will interview all applicants before approving members. While there can be more than seven people on the commission, the body must have at least one member from all seven of the current districts.
The members are expected to meet at least twice a month, starting from February and continuing until the time the city council adopts new boundaries. They will gather all input, including ideas and concerns from residents, and help present a list of guiding values that are important in the redistricting process. They will also suggest the final city council district boundaries for the council to vote on.
The city tested having a Redistricting Advisory Commission a decade ago; city officials were pleased enough with the results to use it again this year. It's similar to Utah Independent Redistricting Commission that was formed last year for statewide redistricting.
The city council has until May 10 to approve redistricting, said Benjamin Luedtke, economic and public policy analyst for the city, who briefed the council on the city's processes during a meeting Tuesday. All cities have six months after lawmakers approve the state maps to complete their own redistricting, per Utah law.
Unlike the state, which needed to complete redistricting before 2022 so it didn't interfere with the upcoming midterm elections, Luedtke said the city council's deadline assures that it doesn't impact the city's budget process.
Splitting the city evenly
Once the commission is assembled, it will help draw maps that equally split up the city into its seven council districts.
There were 199,723 people living in Salt Lake City on April 1, 2020, which Mallory Bateman of the University of Utah's Kem C. Gardner Policy Institute noted was nearly 60,000 more people than any other Utah city — despite suburban areas of Salt Lake and Utah counties dominating Utah's growth over the past decade.
It's also the highest population in the city's history, but not just because it's more than the 2010 count. The city's population originally peaked at 189,454 in 1960; it declined annually over the next three decades but has grown annually since the 1990 census.
"That growth has been sustained from 2000 through 2020," Bateman said, presenting the data to council members during a meeting last week.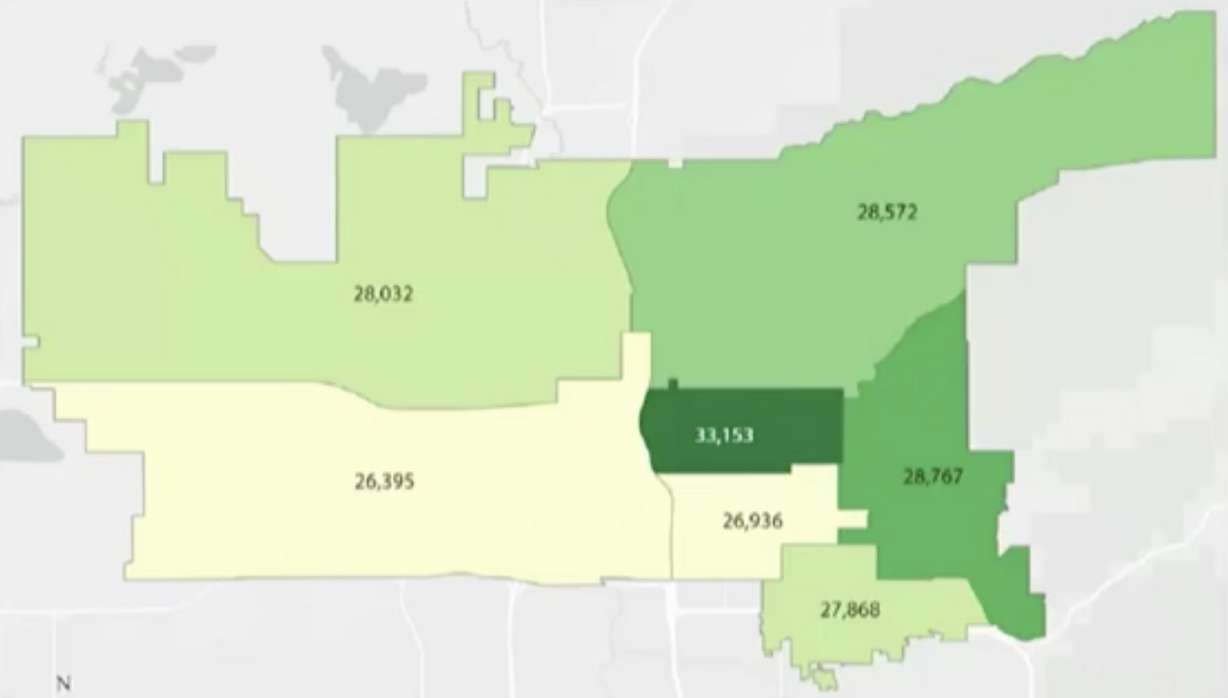 But the growth was not distributed evenly. For instance, District 4, which includes the downtown and Central City neighborhoods, wound up with 33,153 residents — 6,437 residents more than in 2010 and over 4,300 more than any other neighborhood in the city.
Districts 3 and 6, which include The Avenues, Capitol Hill and the East Bench, also experienced higher growth rates than other districts in the city over the past decade. District 2, which includes Glendale and Poplar Grove, was the only district that experienced a decline, dropping 912 people from 2010.
Bateman explained that there are a few reasons why some districts grew more than others, and those reasons go beyond just new housing developments. Rental units, for instance, typically have small household sizes.
COVID-19 may have also impacted the results because the count happened on April 1, 2020 — just a few weeks after many college students returned home as a result of pandemic-related shutdowns. They weren't at the apartments they otherwise would have been in.
Neighborhoods like Ballpark, Central Ninth and Sugar House, where many of the new housing developments were constructed, grew but not at the rate that experts would have expected.
"There was a lot of upheaval, movement of people in general," Bateman said, adding that the issue was severe enough that the Census Bureau spent extra time trying to figure out locations of off-campus college students due to the shutdowns so they could be counted.
There was an increase in racial and ethnic diversity over the past decade, Bateman noted. The two westside districts remain the most diverse parts of the city.
More extensive details from the decennial count, such as ages, ancestry, household relationships or if individuals own or rent the homes they live in, are expected later this year, likely after the city redistricting is completed.
With these results in hand, city officials say the optimal distribution size for the new district maps is 28,532 people. That means all seven districts should have close to that number to remain equal.
District 3 is the closest to that figure, while Districts 2 and 4 are the farthest from that number — meaning those districts are more likely to change to meet a number closer to the optimal size. Any neighborhoods close to district lines now are also strong candidates to shift into new boundaries.
City council members are allowed to remain on the council even if new district maps place their residence in a new district, said city attorney Katie Lewis.
Putting the data into a new map
Most of the process will be about the same as the statewide redistricting last year. Luedtke explained that the city will even use the same mapping software that the state used, meaning residents can draw and submit their own recommended maps as public comment.
"The city mapping tool is going to have some additional information, such as a layer showing a population heat map," he said. "This includes populations for specific blocks."
That feature is important because not every city block is distributed evenly. Some blocks may have 400 people while another has 40, just because one block may have mostly apartments while another has mostly businesses.
Luedtke advised the council Tuesday that it would be beneficial for members to outline different types of maps to create over the next few months. Even residents who don't apply to be on the redistricting commission are encouraged to attend meetings and submit public comments once those meetings begin next month.
"It takes a whole community to make this work fair and equitable," said Salt Lake City Council Chairman Dan Dugan. "We need everyone to care and get involved."
×
Most recent Utah stories