Estimated read time: 7-8 minutes
This archived news story is available only for your personal, non-commercial use. Information in the story may be outdated or superseded by additional information. Reading or replaying the story in its archived form does not constitute a republication of the story.
SALT LAKE CITY — The Beehive State on Wednesday broke its own short-standing record and not one that it would like to break, as Utah health officials reported a new daily high of 10,220 COVID-19 cases. That ongoing surge in cases has led some Utah schools to implement "Test to Stay" protocols, which require students to test negative before they can attend in-person classes.
Under state law, Test to Stay is implemented when schools with 1,500 or more students have 2% of their students test positive with COVID-19; and if schools with fewer than 1,500 students have 30 students test positive with COVID-19. The Salt Lake County Health Department and the Utah Department of Health will conduct all testing.
"We do all the (schools) within our jurisdiction, but because we have 18 to 20 (schools) that all need it simultaneously, we have to ask the Utah Department of Health to assist," said Nicholas Rupp, communications manager at Salt Lake County Health Department.
In the program, students who test negative will be able to continue attending school in person. Students who test positive will have to isolate at home, even if they have no symptoms or are fully vaccinated. They may return to school if at least five days have passed, they have no symptoms or symptoms have improved and they have had no fever for at least 24 hours without the use of fever-reducing medication.
To be tested, parents or guardians of students will have to complete a School COVID-19 Testing Registration form. Completion of this form will provide consent for students to be tested for the remainder of the school year.
If students are not tested on Test to Stay days, they will have to quarantine at home for five days, with the option to return on the sixth day if they have no symptoms, or before, as long as they get a negative test result.
"We have people who choose not to participate in Test to Stay, students who choose not to be tested, or their parents decline to have their child tested. In those cases, we do treat those people as if they're positive because we just don't know," Rupp said.
According to the Salt Lake City School District, students with special health care needs may be unable to participate in testing. Parents should work with their child's health care provider and the school to review testing options. In rare circumstances, a student who is unable to participate in testing may be allowed to attend school. The decision will be made by the school district after consultation with the school nurse, local health department, the student's parent or guardian and the student's health care provider.
How, exactly, the testing will take place is up to the school and the district.
"Generally we set up in the parking lot and people come through, but it will vary depending on the preferences of the school and the district," Rupp said.
He said health departments are seeing challenges with staffing, which inhibits their ability to conduct the Test to Stay events as they normally would. Davis County Health District canceled Thursday vaccination clinics at Northridge and Layton high schools in order to provide support for Test to Stay events there.
"This year, with so many schools needing Test to Stay events at the same time, we don't have enough teams to go out (to) all the schools that need it on the same day. We've had to push some Test to Stay events back to later days than they normally would be and again, ask the Utah Department of Health to help with some of those Test to Stay events so we could get as many done as quickly as possible," Rupp said.
School-age children accounted for 2,012 of the new cases announced on Tuesday — 680 of those were ages 5-10, 423 cases were ages 11-13, and 909 cases were ages 14-17.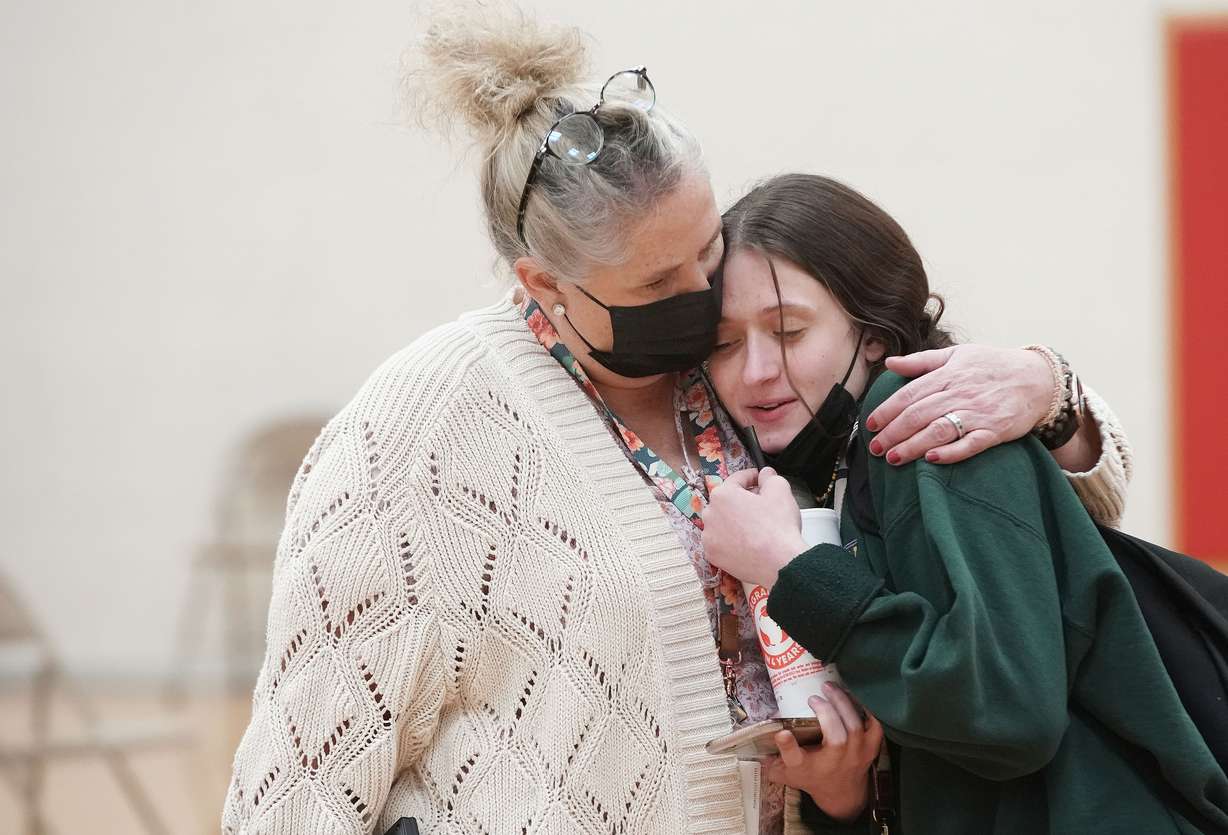 As of Wednesday, Salt Lake County schools that have met or exceeded the Test to Stay threshold according to the health department, include:
Bingham High
Copper Hills High
East High
Herriman High
Highland High
Mountain Ridge High
Riverton High
Skyline High
Utah County Schools that have met or exceeded the Test to Stay threshold, according to the Alpine and Provo School District dashboards, include:
American Fork High
Lone Peak
Mountain View
Orem High
Due to the high number of cases resulting in both student and faculty absenteeism, both Canyons and Alpine School Districts have issued "emergency at-home learning days" in the coming days to help curb the spread of the virus and "reset." Canyons will hold its virtual learning day on Jan. 18, which is the Tuesday directly following the Martin Luther King Jr. holiday, and Alpine will begin its at-home learning days on Jan. 14, followed by the holiday weekend, and then another virtual day on Jan. 18.
Nebo School District officials and Utah County health officials are closely monitoring Maple Mountain High School, Salem Hills High School, Spanish Fork High School and Springville High School to determine if Test to Stay will be implemented, according to the Nebo School District dashboard.
Tooele High School will implement its Test to Stay protocol on Jan. 18 after exceeding the 2% threshold.
Davis County Schools that have met or exceeded the Test to Stay threshold, according to the Davis School District dashboard, include:
Davis High
Layton High
Viewmont High
Woods Cross High
"Everything we're doing in public health right now is focused on keeping kids in in-person school, keeping our economy open. Every school day that we're closed or we have to go virtual is potentially a day that parents can't go to work because they have kids home," Rupp said.
He added that the Test to Stay events, along with the mask mandate, are in the interest of public health and safety and keeping things in operation.
"We know that masks are effective in preventing transmission and can help us stay in in-person learning and we know that identifying people who are positive is important to limiting the spread for the same reasons," Rupp added.
"Test to Stay and mask requirements, they're just two of the tools we're using in that layered approach to do the best we can to keep as many things as normal as possible."
Yándary Chatwin, executive director of communications and community relations with Salt Lake City School District, said schools aren't just places for education and for many students, they serve as a refuge.
"It's a place to be warm in the winter, it's a place to get meals. Keeping (kids) in schools is incredibly important beyond just the educational aspect, it is bigger than just COVID because not every kid has access to the resources to be successful," Chatwin added. "We view this as a positive tool, this is one more thing that we have to help us keep our schools, our staff, our community safe."
Additionally, Chatwin urged families to get vaccinated and receive booster shots, if they haven't already.
"Test to Stay is a tool, and it's an important tool, but another tool that families need to be implementing on their own is vaccination. We sincerely encourage you to do that," Chatwin said.
Since Feb. 1, people who are unvaccinated have experienced 6.8 times greater risk of dying from COVID-19, 5.2 times greater risk of being hospitalized due to COVID-19, and 1.9 times greater risk of testing positive for COVID-19 than vaccinated people, according to the health department data.
"The three clinics at our community learning centers are offering those vaccinations, so if you're interested, they're free, they're open to the public. You can walk in and be vaccinated if you haven't done that yet. We strongly encourage our community to make use of that tool to help us stay safe," Chatwin said.
×
Photos
Related stories
Most recent Education stories