Estimated read time: 4-5 minutes
This archived news story is available only for your personal, non-commercial use. Information in the story may be outdated or superseded by additional information. Reading or replaying the story in its archived form does not constitute a republication of the story.
SALT LAKE COUNTY — From state-supported college campuses to neighborhood schools, Monday marked the first school day under Salt Lake County's 30-day mask order, which went into effect over the weekend.
Granite, Jordan, Murray and Canyons school districts reported high adherence with the countywide mask order issued by Dr. Angela Dunn, executive director of the Salt Lake County Health Department. Residents of Salt Lake County are expected to wear masks indoors at all times and outdoors while waiting in line.
Salt Lake students had already been wearing masks to school under an earlier city order so there was no noticeable difference, said district spokeswoman Yándary Chatwin.
The county order recommends the use of respirator-type masks, which the school district also recommends, but it does not have sufficient numbers on hand to provide one to every student and staff member every day.
"Accordingly, we will encourage use of them, but students will not be penalized if their face covering is not a respirator," said spokeswoman Yándary Chatwin.
Some parents were seeking exemptions from mask-wearing in schools districts in the county, which was also the case last spring before state officials lifted the requirement.
Canyons School District received some 600 exemption requests from schools across the district on Monday, although the majority of requests came from the Draper area, said school district spokesman Jeff Haney.
"We encourage parents who wish to submit their exemption forms to contact either the district office or their child's school and it will be sent to them," he said.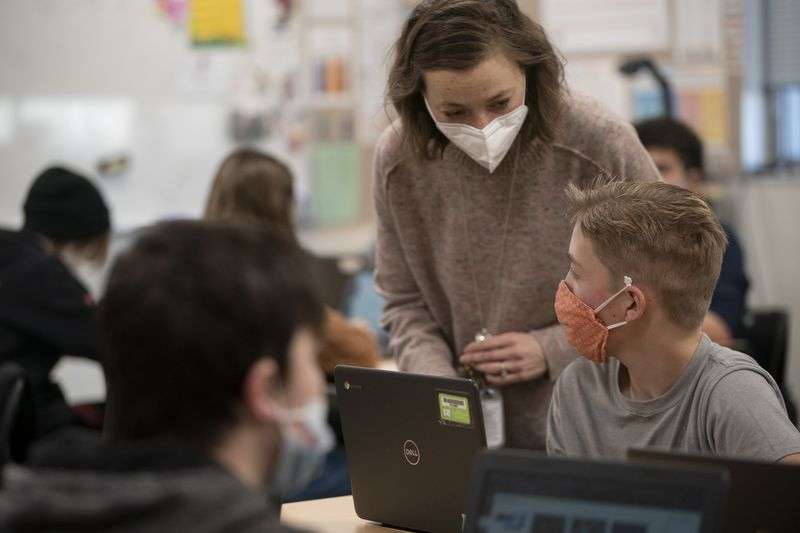 Both Granite and Murray school districts reported about 99% compliance to the order.
While the order is in place for 30 days, Murray District spokesman Doug Perry said that is only 19 school days and most parents are aware of changing conditions due to the rapid spread of the omicron variant.
"I think the collective hope is that in February everyone can resume the protocols we began the school year with. In the meantime, we are appreciative of the kindness and respect we have seen displayed among our district students and their families," he said.
Implementing the mask order was just one of several challenges school districts face on Monday as the variant's spread resulted in teachers, school bus drivers and other school employees calling in sick or quarantining after testing positive for COVID-19.
Eight bus routes arrived late to Canyon District schools after 12 school bus drivers called in sick. That meant drivers either had to drive two routes or office staff who have commercial driver licenses were pressed into driving kids to school.
Between sick day calls and unfilled positions, Canyons District's nutrition services department was down to 90 employees. "That obviously reduced the number of menu items that we can provide to our students," Haney said.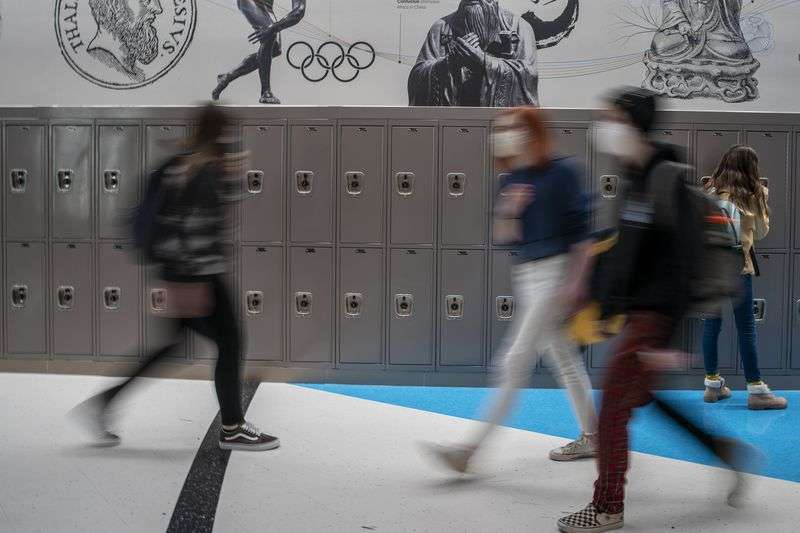 Illness is also prevalent among teachers, he said.
"Today, we received about 200 requests for substitutes for teachers who are out of the classroom for personal and health reasons. Seventy five of those or so were not filled by our pool of trained and approved substitutes. What that means is, we have to reassign a large number of paraeducators or office staff or call in employees who are not scheduled to work today or ask other teachers to double up in their classrooms so that every child has an instructor," Haney said.
District-level personnel are being asked to arrange their schedules so they are available to substitute at least four times in the next 30 days, he said.
Colleges, universities following order
The University of Utah and Salt Lake Community College notified their respective campus communities of the mask order, which applies countywide.
"Per a public health issued by the Salt Lake County Health Department, the use of face coverings is required at all SLCC facilities and activities from Jan. 8 at 12:01 a.m. through Feb. 7 at 5 p.m.," according to the community college website.
The U.'s website said: "Wear a mask in accordance with the Salt Lake County health order."
Dr. Michael Good, CEO of University of Utah Health, speaking during a town hall conducted by the U. on Friday, noted the high transmission rate of the omicron variant.
"Right now, the reproduction number for omicron, the dominant coronavirus circulating in the community, is up over two. That means each person who has an omicron infection on average infects two other people and those two each infect two more to four, four to eight and so on. You can see how powerful that multiplier effect is. Omicron is highly transmissible, more so than particularly delta and beta, earlier variants that we dealt with in this pandemic," Good said.
However, evidence suggests the infection is less severe than the delta variant and has less implication for the lungs, he said.
Still, the community is still struggling to address numbers of people who require hospitalization. At University Hospital, the number of people hospitalized for COVID-19 was down in the mid 20s heading into Christmas. Late last week, COVID-19 hospitalizations exceeded 70.
"So we still are in an area where we have capacity, but we're beginning to move up toward the upper end of that range," Good said.
At the same time, the health system is coping with large numbers of workers — 600 — who are ill or at home after testing positive for coronavirus, he said.
×
Related stories
Most recent Education stories