Estimated read time: 7-8 minutes
This archived news story is available only for your personal, non-commercial use. Information in the story may be outdated or superseded by additional information. Reading or replaying the story in its archived form does not constitute a republication of the story.
SALT LAKE CITY — Utah's largest county will once again have a mask mandate in place starting this weekend.
Salt Lake County Mayor Jenny Wilson signed a public health order Friday evening that Dr. Angela Dunn, the executive director of the Salt Lake County Health Department, issued earlier in the day. The order requires people, regardless of vaccination status, to wear "well-fitting masks" when indoors or gathering in large groups outdoors in Salt Lake County.
Now signed, the order is set to take place at 12:01 a.m. Saturday and expire at 5 p.m. on Feb. 7.
"We recognize the sense of urgency in our community as hospitals are threatened," Wilson said, in a statement. "We need to utilize every tool available to slow the spread and high-quality masks worn indoors in public spaces are a proven measure. Our county is open, we are running business as usual. This is a temporary step that is necessary to get us through this next phase of COVID."
People younger than 2 years old and people with medical conditions, impairments or disabilities that prevent the ability to wear a mask are exempt, according to the order. Anyone who works alone or works in a field where a mask would hamper work is also possibly exempt, as is anyone seated at a restaurant or bar that is actively eating or drinking.
The order urges people to use respirators, like KN95 masks, over cloth masks. But cloth masks are acceptable as a backup if they are unable to get a respirator. She tweeted Saturday that people should not use surgical N95s so those types can be saved for healthcare workers.
"We desperately need to use every tool available to ensure our hospitals can continue providing excellent health care through this surge," she said in a statement. "We also need to ensure that our essential services have the staff necessary to operate — from law enforcement, to plow drivers, to schoolteachers. It is my obligation as health officer to take the action I believe has the best chance to prevent unnecessary suffering throughout our community."
The Salt Lake County Council had the power to overturn the health order. But when asked whether the County Council would call a meeting to vote to either overturn the mandate or let it stand, Abby Evans, senior policy adviser to the council, said in an email after Wilson signed the public health order that "there are currently no plans to rescind the order."
"At this time the Salt Lake County Council is discussing the public health order issued by Dr. Angela Dunn and Mayor Wilson's administration," the email continued. "Considering the spread and urgency of the omicron variant of COVID-19, this issue will be a top priority for the Salt Lake County Council."
Salt Lake County Councilwoman Aimee Winder Newton also tweeted Friday that she had told Dunn she would support a mask order, saying that the uptick causes "great concern for our healthcare system, our residents and our economy."
The Utah Jazz announced Friday evening that they would abide by the order and require masks at games and other Vivint Arena events over the next 30 days. The Jazz already had a requirement for vaccinations or proof of negative test within 72 hours in place.
The Salt Lake County order also comes on the same day Utah reported another 9,469 new cases of COVID-19, breaking the state's one-day case reporting record for the third day in a row. Utah's seven-day running average for new cases is now at an all-time high with 5,766 new cases per day.
Salt Lake County joins Summit County having a mask mandate again. Health officials there announced a mask order on Thursday, which is expected to last through most of February.
The order was also issued about an hour after Salt Lake City Mayor Erin Mendenhall called on Salt Lake County leaders to enact a new mask mandate amid "unprecedented" COVID-19 case counts over the past few days. Data shows that the omicron variant is driving the uptick in new cases statewide, which prompted her to send a public letter to the Salt Lake County Council regarding the matter Friday morning.
In it, Mendenhall wrote that it is "our shared responsibility as leaders to protect every life we can" and the best way to do that at the moment, in her opinion, is to bring back a mask mandate.
"I'm imploring them to put in place a countywide public-based mask mandate," the city mayor added, speaking to members of the media outside of her office in Salt Lake City-County Building on Friday. "We know we've seen an explosion of positive cases throughout the state of Utah in the last few days — right now the urgency is the ability for our hospital systems to be able to survive the crest of this wave that we have yet seen but is surely coming in the next few weeks."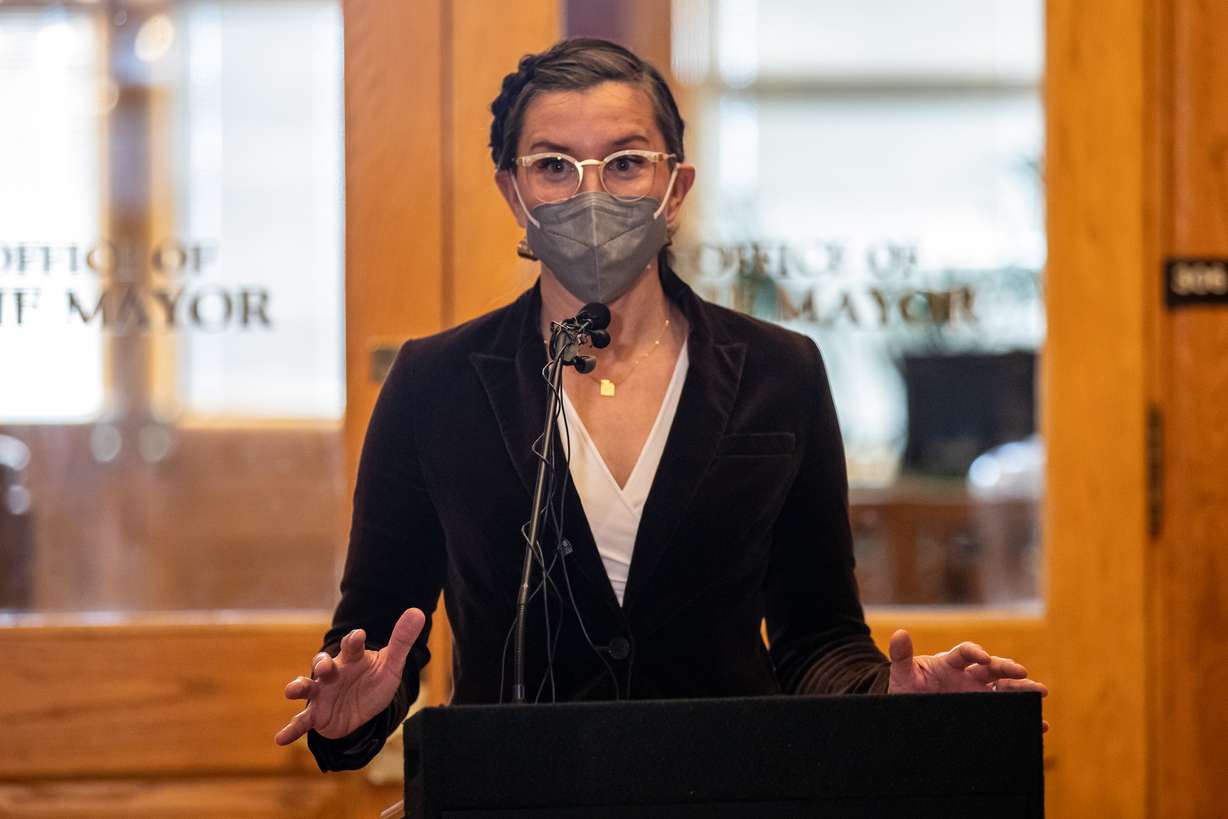 Salt Lake City and the whole county are experiencing an "explosion" of new cases along with the rest of the state. The Salt Lake County Health Department reported Friday a record 4,625 cases. Salt Lake City, Utah's most-populated city, broke its single-day record for new cases with 703 on Tuesday.
Salt Lake City's seven-day running average of new cases jumped from 64 new cases per day on Dec. 6 to 388 new cases per day, as of data updated through Thursday. While Mendenhall says 66% of the city is fully vaccinated, the health department reports that unvaccinated city residents account for more than 7 out of 10 of the city's new cases over the past month.
The mayor added about 90% of new countywide cases involve people who are at higher risk for hospitalization due to their vaccination status, including fully vaccinated people who haven't received a booster shot.
But as breakthrough cases also rise, Mendenhall says it's time to return to some of the measures that were put in place before vaccines in an effort to help reduce the number of COVID-19 hospitalizations, so hospitals can also help patients coming in for other reasons. She sees Summit County's decision to bring back mask mandates for everyone Thursday as a template for Salt Lake County.
"This is about everyone," Mendenhall said. "This is really not a Salt Lake City issue. This is about the state of Utah."
Hospital officials from systems across the state joined together Thursday urging Utahns to take precautions against spreading the disease, including a new focus on mask-wearing. They said their hospitals are becoming overwhelmed as many health care providers and essential hospital workers are out dealing with COVID-19 infections in their homes.
---
It's amazing to think that in two months we'll have been doing this for two years solid — and we are quite dynamic at it now as a community. Our character is shown, it's not created through these trials.
–Salt Lake City Mayor Erin Mendenhall
---
If the county council were to have rejected Dunn's order, Mendenhall said the city would look into measures on a citywide level. Salt Lake City did recently extend its COVID-19 emergency order, which means masks are already required in Salt Lake City schools through Spring Break.
In addition to calling for the restoration of a mask mandate, Mendenhall said an email was sent out to all city employees Tuesday telling them at anyone who can work from home would return to that option because of the recent surge. But that still won't impact "thousands" of employees, such as police officers, first responders and people who clear the city's streets.
No decision has been made yet if the Salt Lake City Council will return to virtual meetings after it returned in-person meetings for the first time in over a year in late 2021. While a mask order and other safety measures may end up an inconvenience, Mendenhall notes that it's the type of solution Salt Lake City residents have risen to the challenge with in the past and expects will do in the near future.
"We have had to quickly change plans and reinvent local government and I think our whole community-based approach as residents countless times in the last two years," she said. "It's amazing to think that in two months we'll have been doing this for two years solid — and we are quite dynamic at it now as a community. Our character is shown, it's not created through these trials."
×
Photos
Related stories
Most recent Coronavirus stories