Estimated read time: 7-8 minutes
This archived news story is available only for your personal, non-commercial use. Information in the story may be outdated or superseded by additional information. Reading or replaying the story in its archived form does not constitute a republication of the story.
BOUNTIFUL — When Aubry Bennion's kitchen renovation process began in October 2019, she had high hopes. It was the last big project in her Bountiful home, which she purchased a year earlier.
Bennion was told the renovation, which would be captured on film for a television show, would last a few weeks and cost around $20,000.
However, she said those hopes soon gave way to stress, anxiety and higher costs.
Bennion is one of a handful of Utah residents speaking out on social media and sharing how Candis and Andy Meredith, a Utah couple behind the television show "Home Work," left them hanging. The show was set to debut as part of the new Magnolia Network, the brainchild of "Fixer Upper" stars Chip and Joanna Gaines, which officially launched on Wednesday.
Magnolia Network president Allison Page announced on Friday that the network was removing the show from their lineup.
"Magnolia Network is aware that certain homeowners have expressed concerns about renovation projects undertaken by Candis and Andy Meredith," Page said. "Within the last day, we have learned additional information about the scope of these issues, and we have decided to remove 'Home Work' from the Magnolia Network lineup pending a review of the claims that have been made."
The show never aired on Magnolia Network, according to the company's TV schedule, though, it appears episodes were available to stream through the Discovery+ service. As of Friday, a web page with information on the show had been removed from Magnolia Network's website. Prior to its removal, 13 episodes of the TV show were available for streaming.
Despite the Magnolia Network's attempts to scrub their pages of the show, a post on Instagram featuring the Merediths was still active as of Friday. The post — which features the Merediths in the Sanpete County home they renovated as part of the show — has numerous comments from people who support Bennion and others who have also told their home renovation stories on social media.
How it began
Bennion had known the Merediths for a few years after meeting them at a DIY Network launch party, and the three stayed in contact over the years After Bennion bought her Bountiful home, she told KSL.com the idea of the three collaborating on a project was a no-brainer, especially with the prospect of the television series.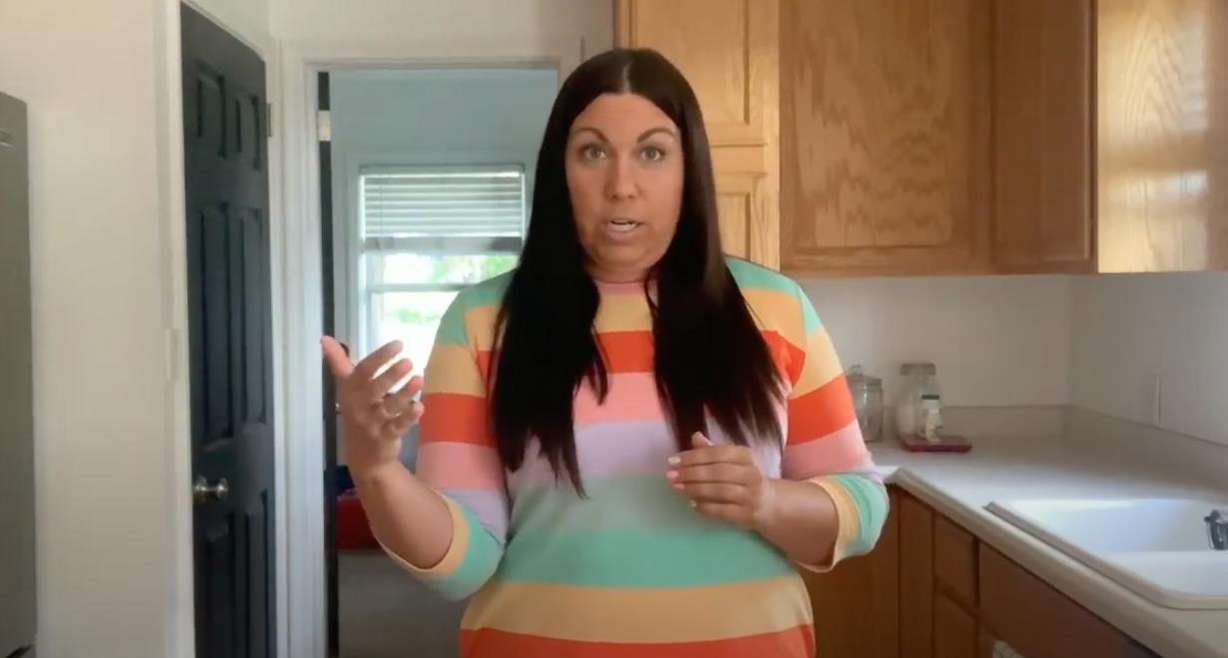 When they met to discuss the project, Bennion said she worried that a full kitchen renovation would cost around $50,000 — a price tag she could not afford. However, she said she was reassured it would cost much less.
"Candis said, 'Oh gosh, we can do it for 20 (thousand),'" Bennion told KSL.com. "In my wildest dream it didn't seem doable for $20,000."
Candis Meredith had been buying and renovating homes since she was a young adult. She later met and married Andrew Meredith and the two worked together on various projects, including the HGTV program, "Old Home Love," which was debuted in 2015. At that point, the couple told People magazine in October they didn't think they'd ever do TV again.
That was before the Magnolia Network reached out with a new idea to host a new version, beginning with the Merediths' renovation of a 20,000 square-foot schoolhouse into a home for their large, blended family, as well as renovations for other Utah families.
The idea that Magnolia was behind it excited many of the show's prospective homeowners, including Bennion. She even wondered if the addition of television money meant special perks like a price break or free labor, but the price seemed like a deal too good to pass up. She said she was told the gutting and remodel would last three weeks, starting in October 2019, so the project went ahead with a budget of $25,000.
However, construction persisted through March.
Bennion said there were long stretches of time without work being done on her kitchen or hearing updates from the Merediths. She received a bank transfer request Thanksgiving morning in 2019, for half the intended budget — $13,000. She happily paid the request, she said, as it was the first time the Merediths had asked. Bennion said she later learned that the couple had made the request from their vacation spot in Paris. She expressed she had also been frustrated that the remodel was in its sixth week, though only a handful of working days were spent in her home.
At one point, Bennion said the Merediths proposed an idea to knock out a window for a door leading to a brand new deck in her backyard, while also moving an egress window near her back door. Bennion's first question was about the price, and she was assured it was within the budget. She ultimately approved the deck, but the suggestion ended up decreasing her home value, she said, and would need a costly fix.
She later learned that the deck was built on top of existing sod and sprinklers in November. When spring rolled around, and she nearly avoided flooding in her basement, Bennion saw that the construction crews had changed the leveling of her yard. Fixing the drainage issue, she said, would ultimately cost her $18,000 — long after the renovation crews were gone.
After a late crunch to finish her kitchen, construction crews made the kitchen camera-ready, though, more work was needed to make the kitchen functional. The last day of filming was the last time Bennion spoke with Candis Meredith in person, she said. The footage of Bennion's home would end up not being used.
Months after the construction was finished, there were still more costs. A flooring company told Bennion that they tried to contact the Merediths about an unpaid flooring bill, and the last option they had available was to put a lien on Bennion's home. So, she paid the bill.
In the end, Bennion only paid the Merediths the $13,000, but the fixes to her yard far exceeded her previously established budget of $25,000. She also purchased her own appliances for the renovation, which cost around $6,000.
Amid the scrutiny, Candis and Andy Meredith took to social media Friday to defend themselves. The couple denied defrauding clients and said they have always paid outstanding balances.
"Watching a single-sided narrative unfold and these hateful comments from said narrative is extremely painful," the couple wrote. "We have always done what we could to remedy anything within and outside our control."
Candis Meredith spoke with KSL's Matt Gephardt on the allegations made about their work, and conceded that they took on too many projects at once. She also said they purchased many things out of their own pockets, and tried to right any wrong that she and Andy Meredith knew about.
"We were feeling very overwhelmed and doing our best to communicate, but I can understand how, when it's your home, that feels frustrating when things take longer," she said.
Through this experience, Candis Meredith said she and her husband have no plans to work for clients in the future.
"I will say we were naïve about the inner workings of it all, but we've spoken with the state and what we can do, what we could have and couldn't have done, and we have very much learned that was walking a line," she said.
It was time
Bennion has been quiet about her home renovation issues for nearly two years, but decided to share her story now because of the Magnolia Network launch and the spotlight being put on the Merediths.
"I share it because after two years, they're being celebrated and promoted while the people they hurt along the way have gotten nowhere," Bennion wrote on Instagram. "And, on the eve of a Magnolia Network cable launch, the well-edited version of the story will show only their side of October 2019 and beyond."
"People, bank accounts, livelihoods, families, our health, sanity ... all of us have been left on the cutting room floor," Bennion said in a Thursday Instagram post.
Since she shared her story on social media earlier this week, several more homeowners in Utah have reported similar, tumultuous experiences with the Merediths and the prospects of the Home Work show. Many had the same problems with their budget not making ends meet, shoddy workmanship and unfinished issues. One family said they were told by the Merediths to double their renovation budget in order to finish the project.
The developing story has been picked up by national news organizations, including the Today Show and Insider, among others, as renovation and do-it-yourself programs on TV have long been popular with homeowners, particularly involving Chip and Joanna Gaines. Though, except for their Magnolia Network signing the Home Work show, the Gaines couple had nothing to do with the Utah venture.
×
Photos
Related links
Most recent Utah stories